Chakhokhbili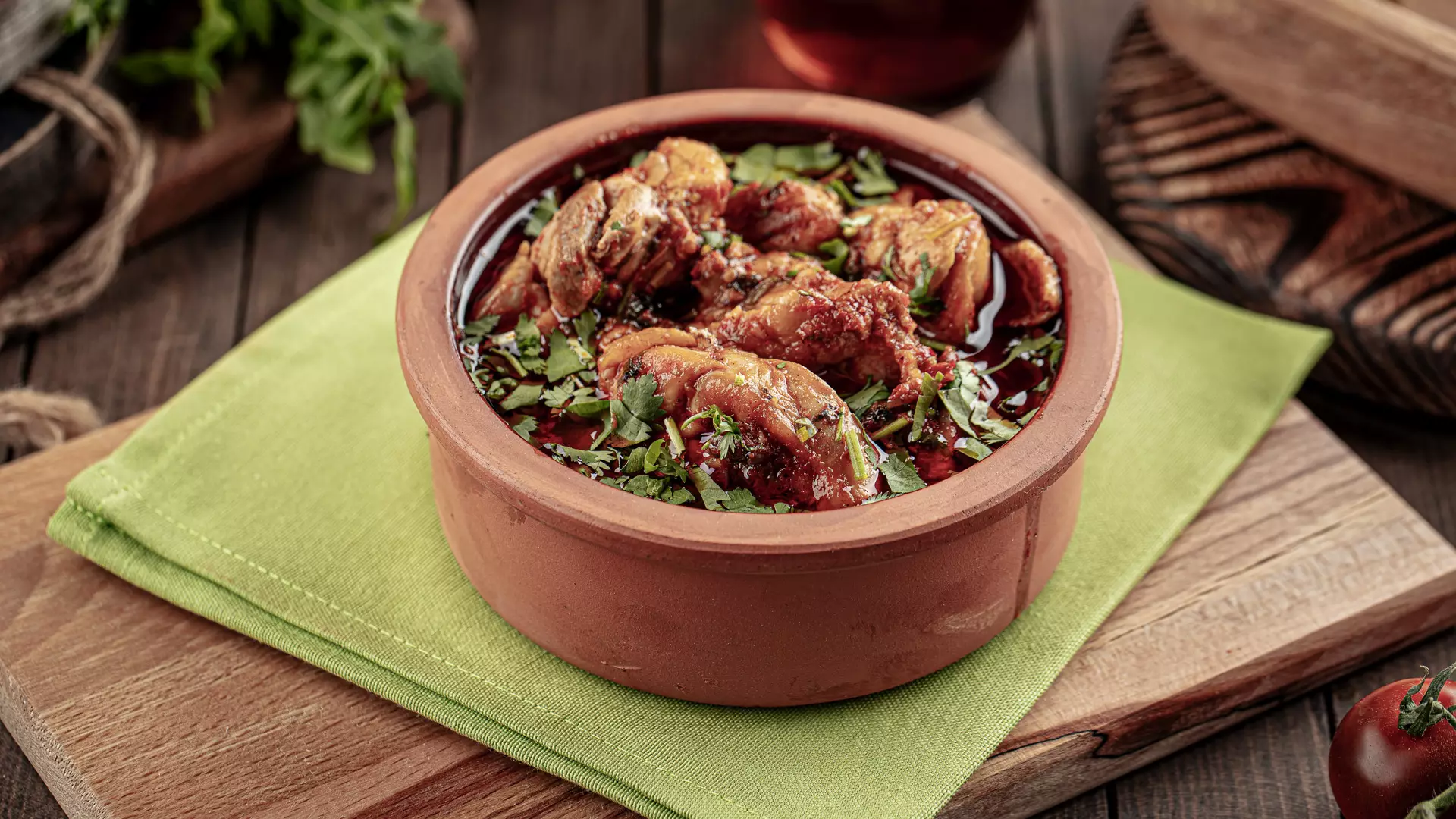 This dish is made only with poultry. The meat is roasted in its fat and juices over a very low flame and then garnished with vegetables and tomatoes to make a very delicious soup.
Chakhokhbili's name is connected to a legend about Tbilisi. Once while King Vakhtang Gorgasali was hunting, he wounded a pheasant (Khokhobi), and the wounded bird fell into the water and was scalded. The king ordered that a city be built in that spot and named it Tbilisi due to the hot (tbili) water.
It is because of that very pheasant (Khokhobi) that this Tbilisi dish got the name chakhokhbili.
Ajapsandali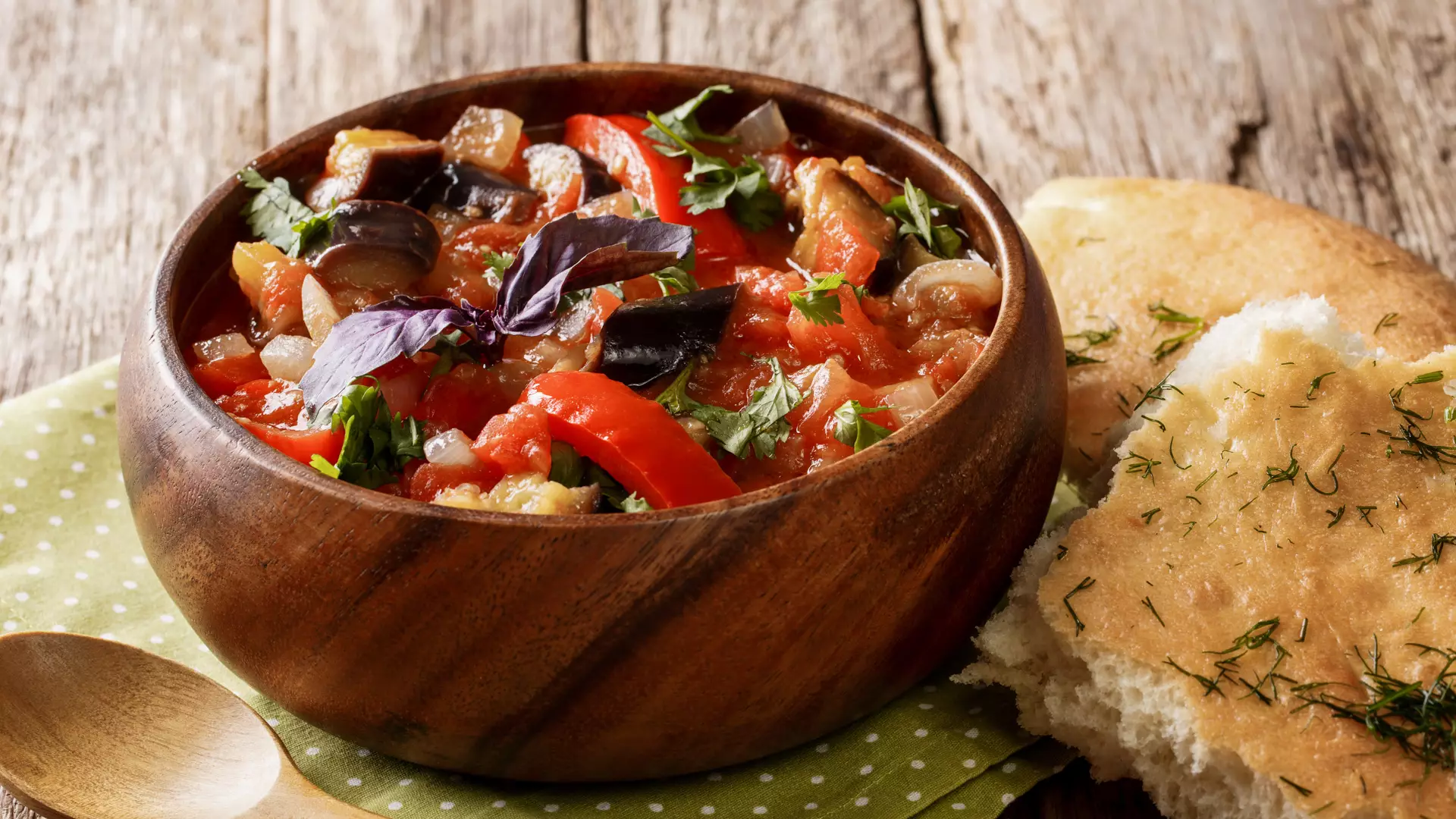 Ajapsandali is truly a Tbilisi dish, one which resembles a multi-ethnic city. It can be considered a depiction of Tbilisi, and its aroma can be smelled in nearly every district during the hot days of summer. Ajapsandali, which seems to belong to no region and all of them, is considered to be a fasting food, but you will often see it with meat, along with basil and many vegetables and herbs, but the main ingredient is always eggplant. You can make it with meat, green beans, peppers, potatoes, or rice. Some call it Georgian ratatouille, but it is a real native Tbilisi dish.
Shkmeruli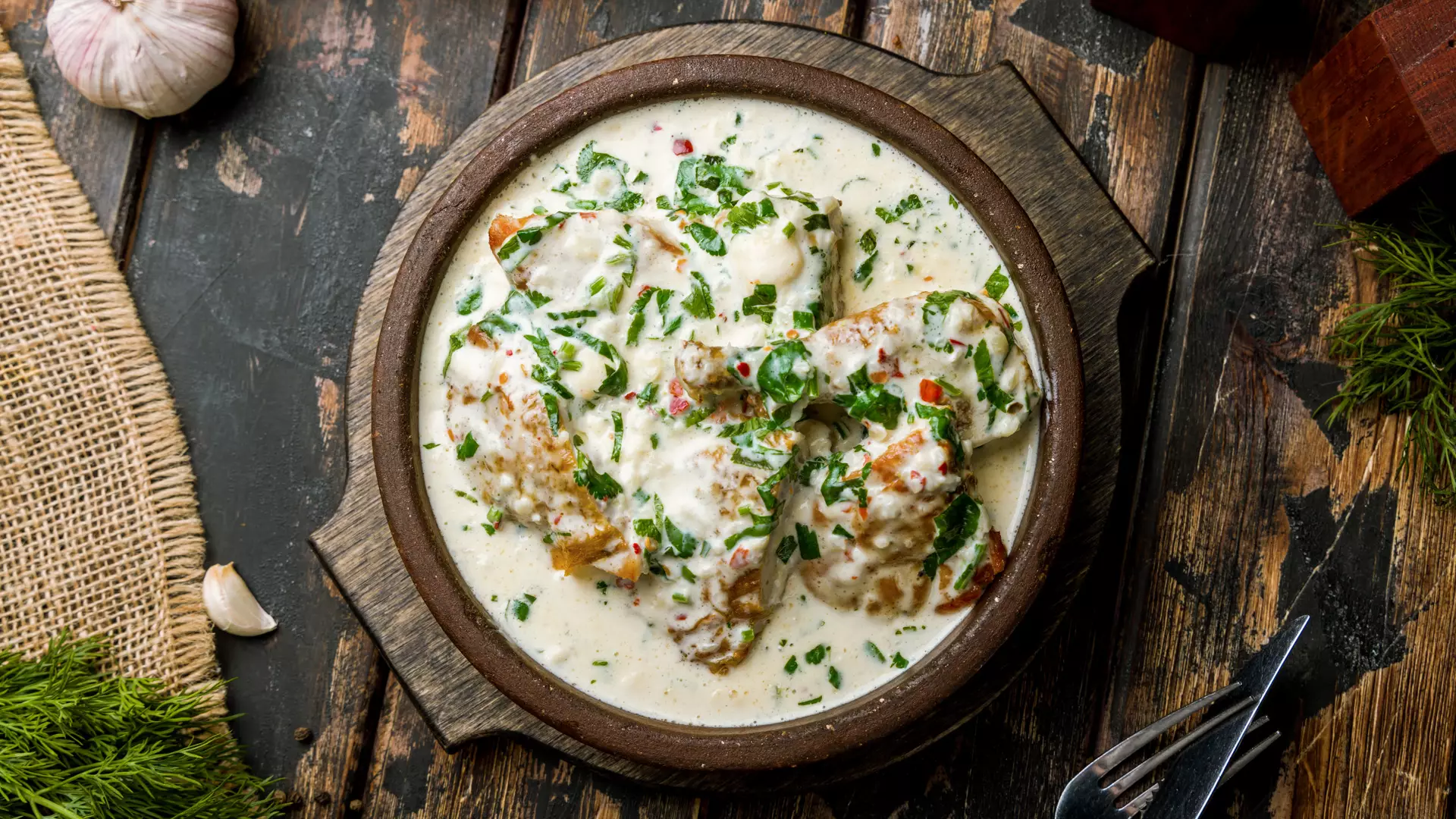 The capital is a unique collector and distributor of outstanding Georgian cuisine. It brings things that it can be proud of and host a visitor from every region. That is how shkmeruli came from Racha, the recipe for which was recently used by the Japanese. This is fried chicken in a broth of garlic, milk, and sour cream, seasoned with salt and pepper and is the most delicious when made on a ketsi. You may see it without cream in Racha, but in Tbilisi, it will always come with milk or cream.
Lobio (Beans)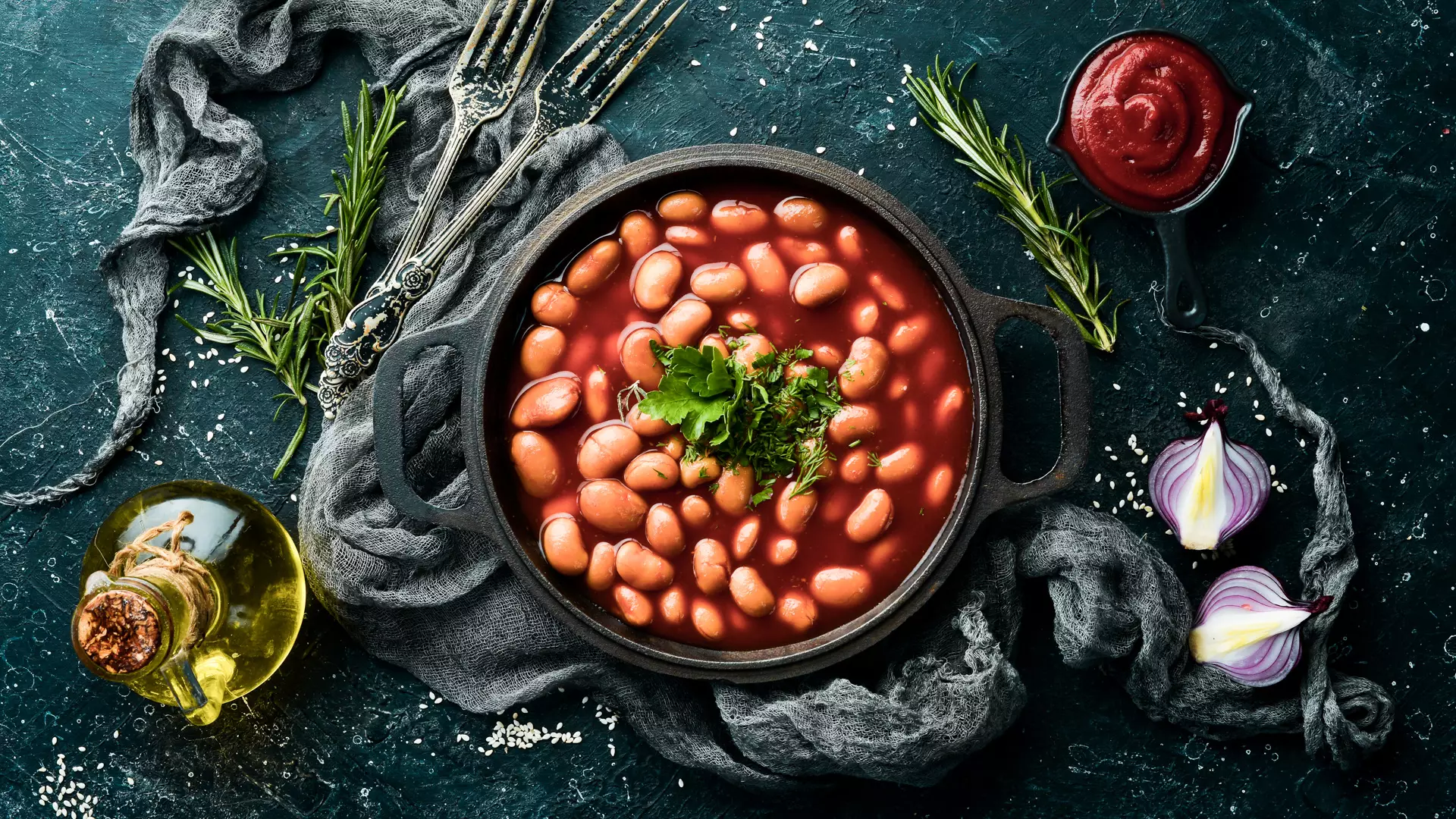 This is every Georgian family's favorite dish and there are many recipes for it, such as beans with tkemali, mashed beans, dried beans called "kirkazhi", and beans with ham. Beans in a pot are especially excellent, made in many Tbilisi restaurants.
Satsivi
You can order the Georgian national dish, satsivi, at restaurants, since it is considered to be a ritual New Year's dish. It is made with turkey or chicken, walnuts, and spices.
Chakapuli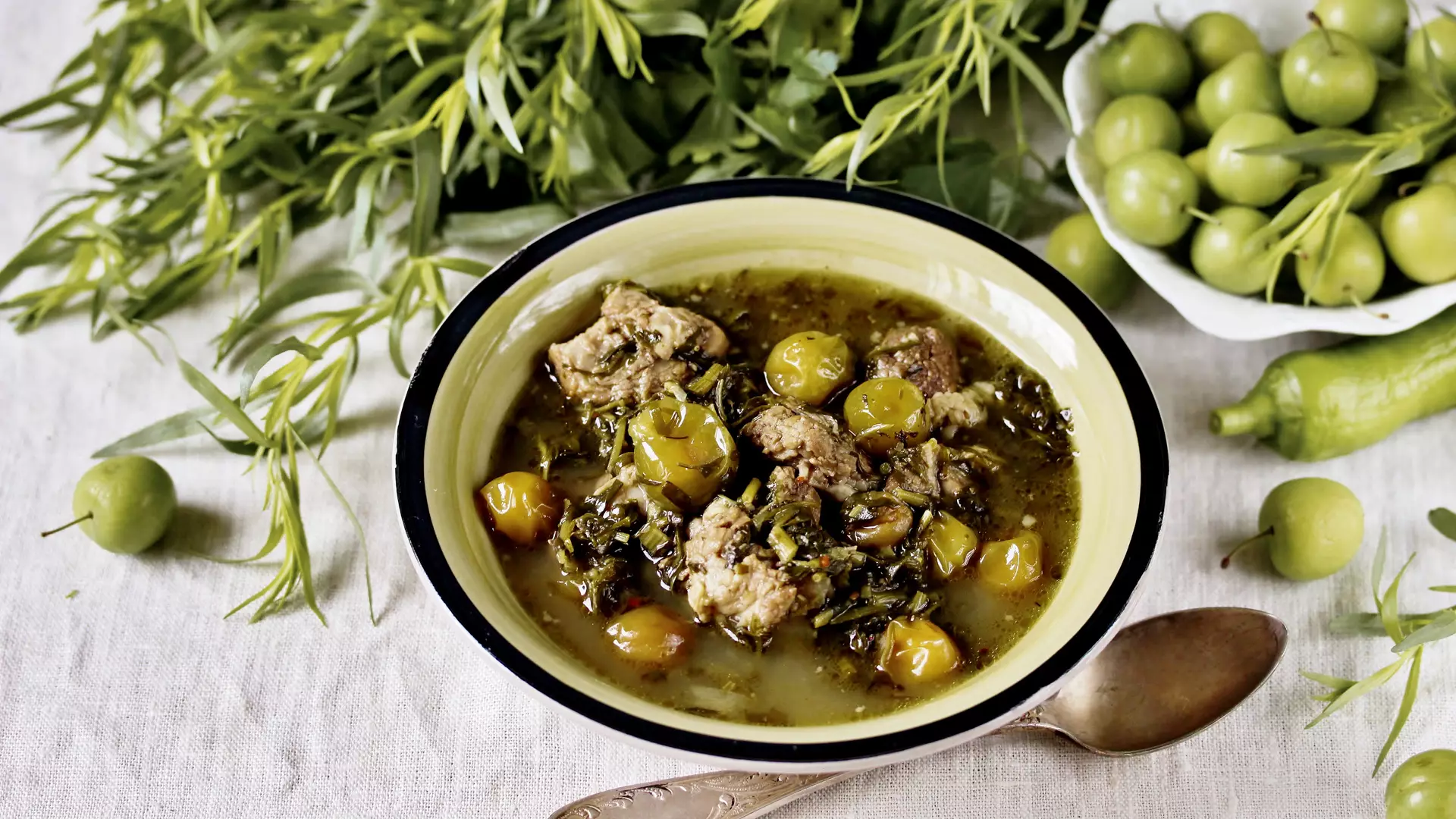 As soon as the outside starts to get green in the spring and the fresh plums start to appear, that is when chakapuli is made. If you are in Tbilisi at that time, try this outstanding dish made with lamb or veal, fresh herbs, a ton of tarragon, and white wine.
Mtsvadi on Grape Twigs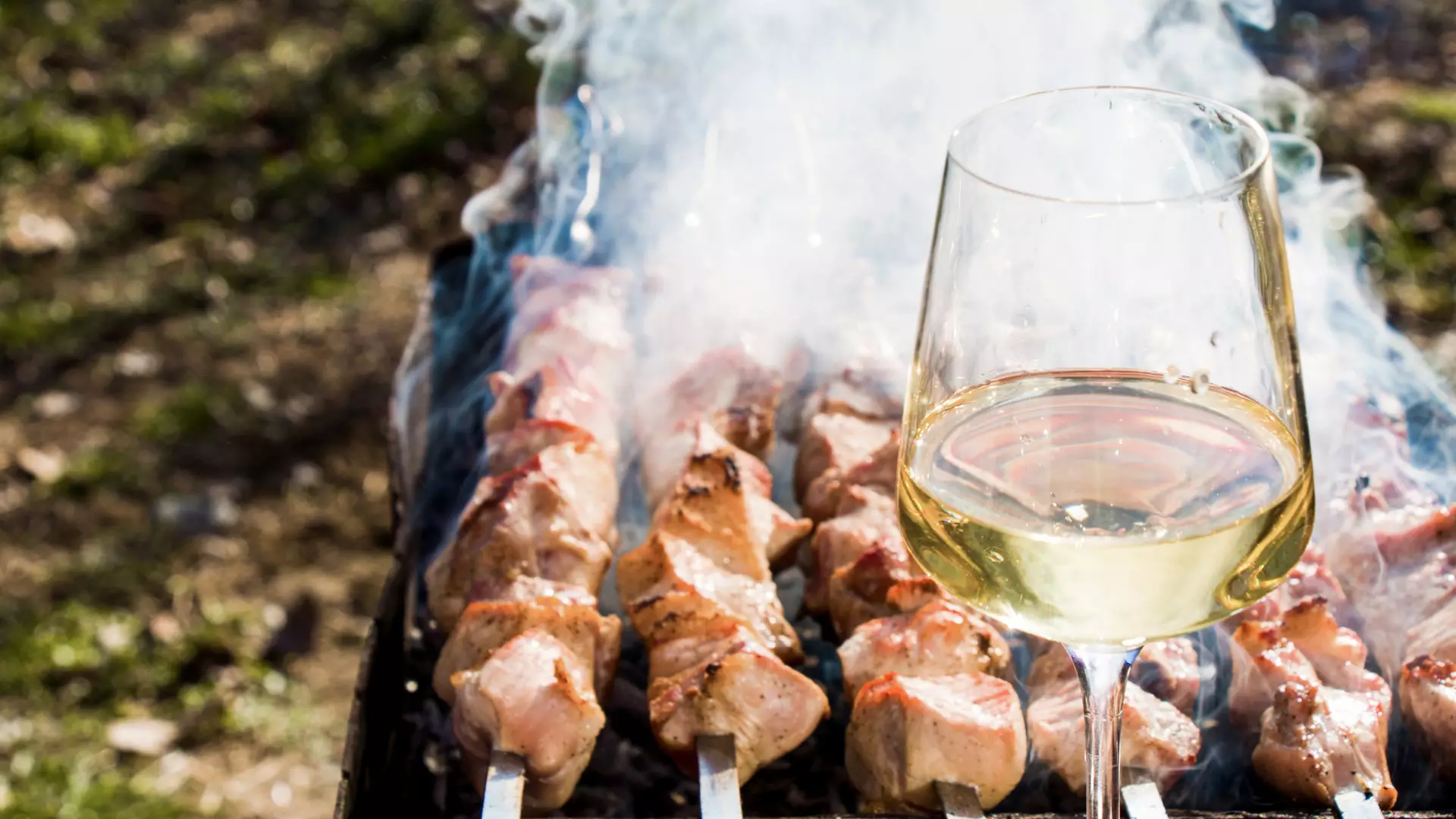 You may be able to try dishes like mtsvadi in other countries, but mtsvadi grilled on Georgian grape twigs has a flavor and aroma all its own. The grape twigs are called "tsalami" and are specially brought to the capital from nearby villages for grilling mtsvadi. Pork mtsvadi is the most popular type in Georgia. The best mtsvadi is, of course, made in Kakheti, but you won't miss out on too much in Tbilisi.
Khashi
Khashi was brought to Georgia from Asia many centuries ago. The city then gave it its taste, fell in love with it, and there was not a single district where you could not find a khashi shop. During your time in Tbilisi, do not be surprised if your host offers you khashi at the start of the day, especially if you are hungover. There are still many khashi shops in the city, and they are just as delicious as they've always been.
Kababi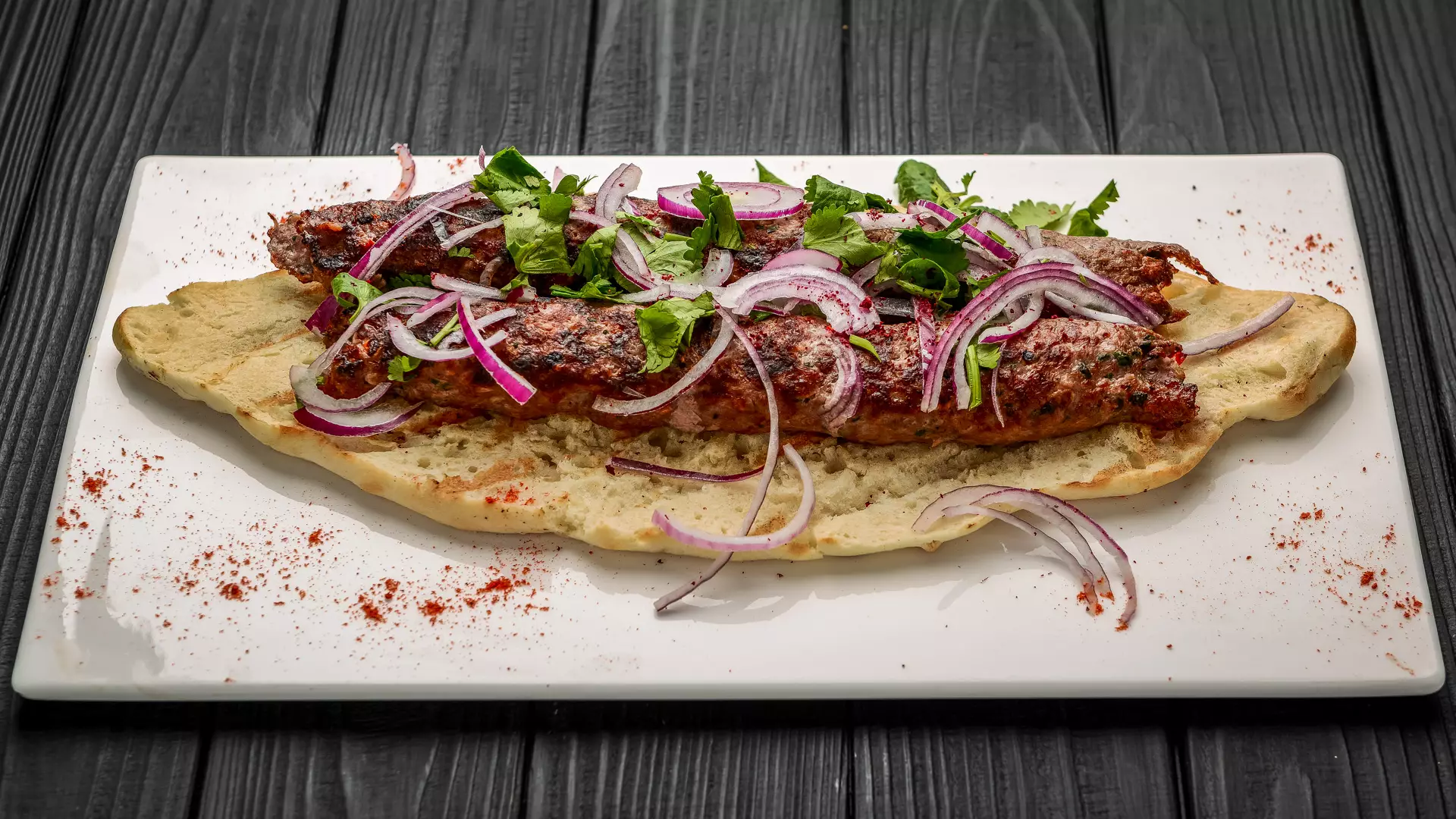 Soft, delicate, aromatic, and very juicy are all terms used to describe Tbilisi kababi. The Georgian spices make all the difference. Chefs will not spill the beans as to the secret of Tbilisi kababi, only saying that the special taste of the kababi is made by adding chicken fillet to pork and beef forcemeat. Georgian satsebela goes very well with kababi.
Khinkali
Minced meat wrapped in flattened strips of dough is juicy, aromatic, and tasty. Khinkali is in the top five of the most popular dishes in Georgian cuisine. In general, khinkali is a mountain dish, but the capital has given it a new spin, and thus was born "kalakuri khinkali", with herbs, shining dough, and many folds.
You can get good khinkali in Tbilisi either at a restaurant or at a chain khinkali store, where you can also try Georgian wine.
Khachapuri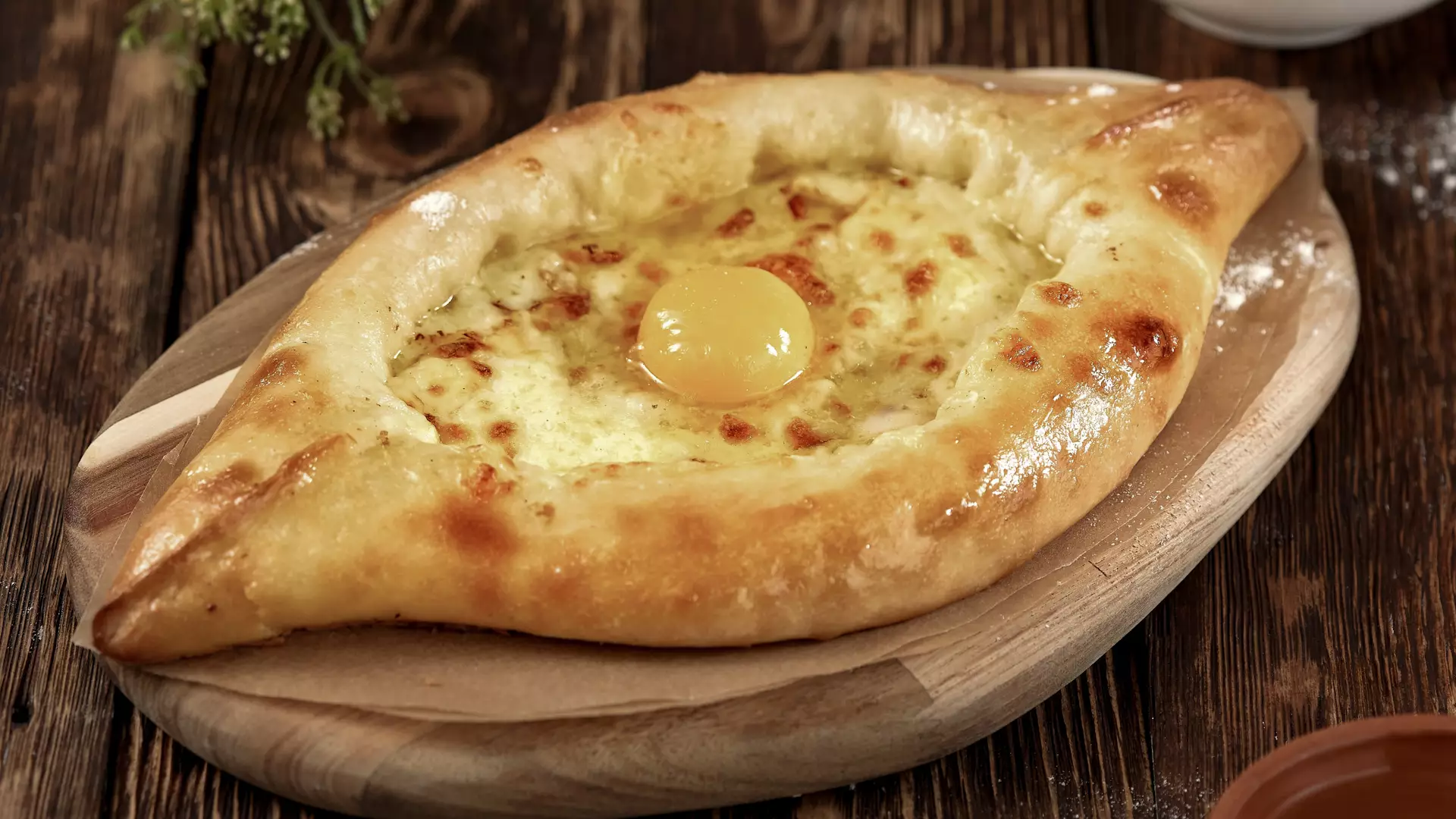 This is the kind of thing where you have to try all of its varieties, even though there are a lot of them. Almost every region has its khachapuri. The Imeretians bake traditional "mother khachapuri" with thin dough and a lot of cheese. The Megrelians put cheese on top of the khachapuri and Meskhetians wrap it in thin layers to serve. Ajarians make it in the shape of a boat, with an egg in the middle, like the sun setting into the sea. You can try khachapuri everywhere in Tbilisi, from bakeries to restaurants. Naturally, the high-class places have the best selection. Tbilisi has its khachapuri, kneaded haphazardly with matsoni, called "dedakalakuri".
Lobiani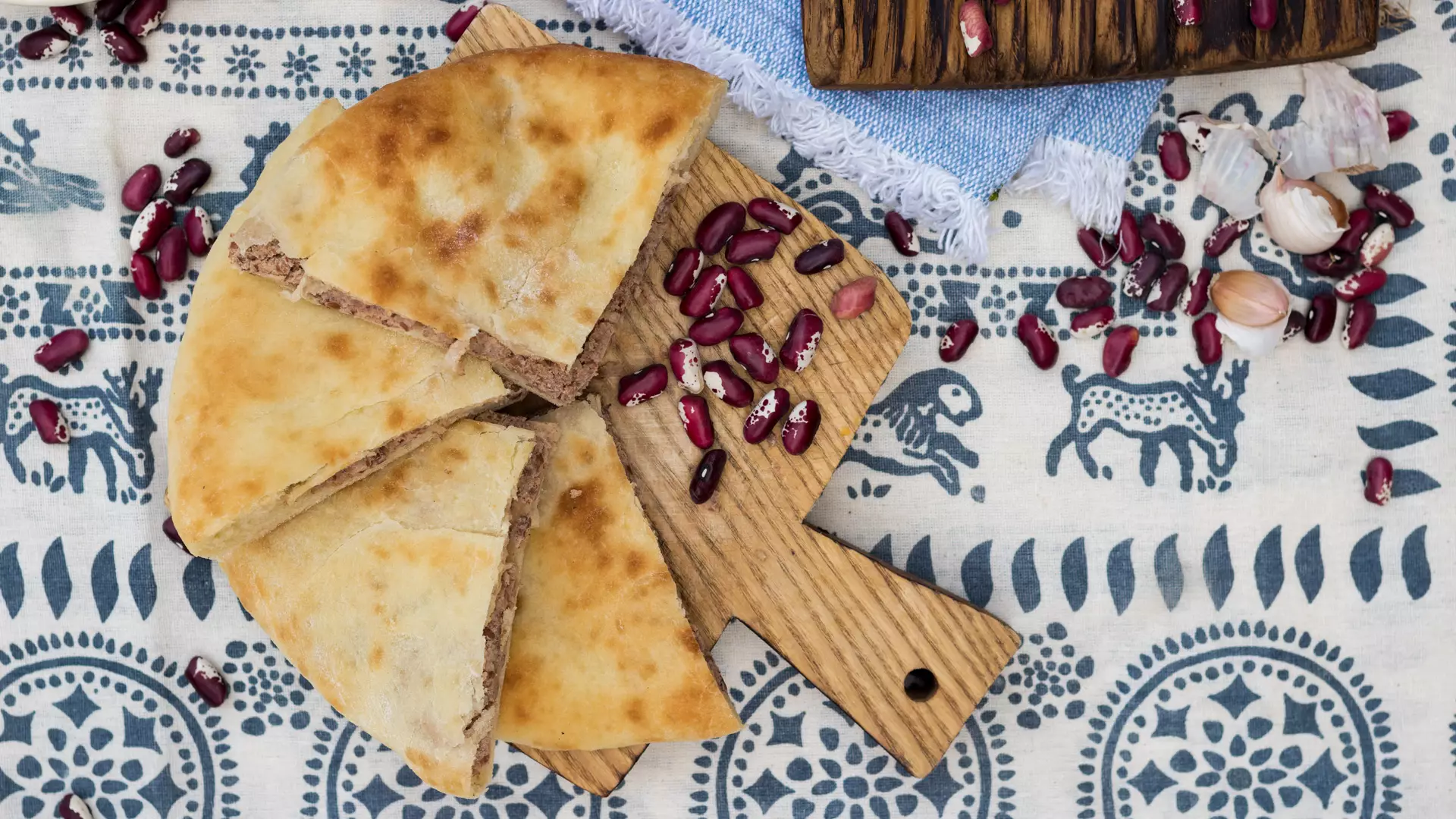 In addition, you can also try another representative Georgian food with a filling everywhere. Lobiani is very popular in Tbilisi and Rachan lobiani with ham is especially delicious. Rachans produce delicious ham and beans, so their combination is extraordinary.
Kubdari
This is a Svan dish with a filling made with chopped meat and gitsruli, which is forest savory, and Svan spices, which give off an aroma characteristic only of them. You should try it, but only at a good restaurant or the home of a warm-hearted host. Kubdari is not easy to make and requires proper knowledge.
Cheese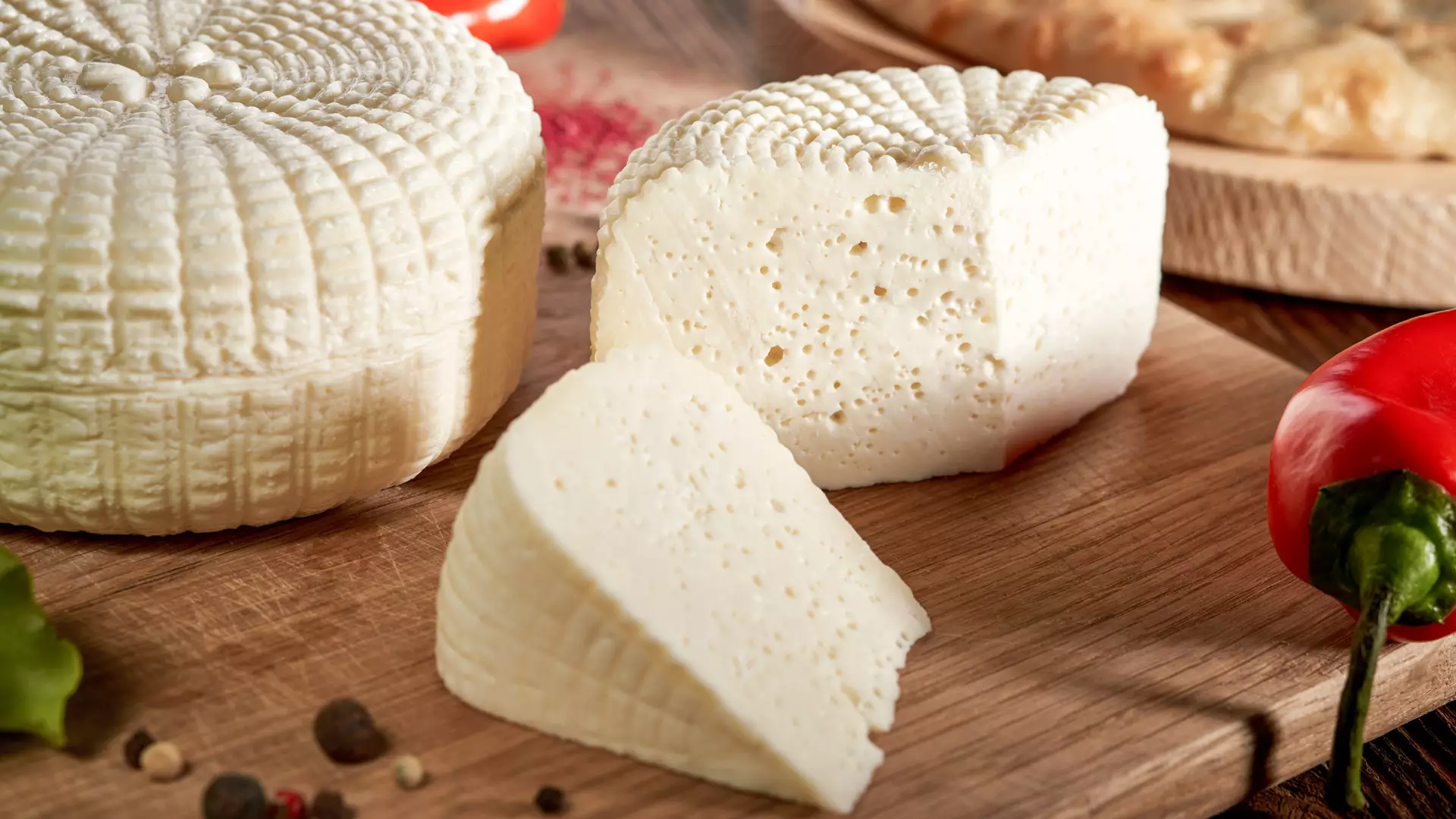 Georgia can be considered a paradise of cheese, with around 60 varieties and each region has its kind of cheese. In Tbilisi, you can try many various types of cheese in specialty stores, supermarkets, and markets, like Imeretian, guda cheese, sulguni, Kartli cheese, Meskhetian tenili, dambalkhacho, Svan narchvi, kalti, goat cheese, and Khani cheese kept in a jar.
Bread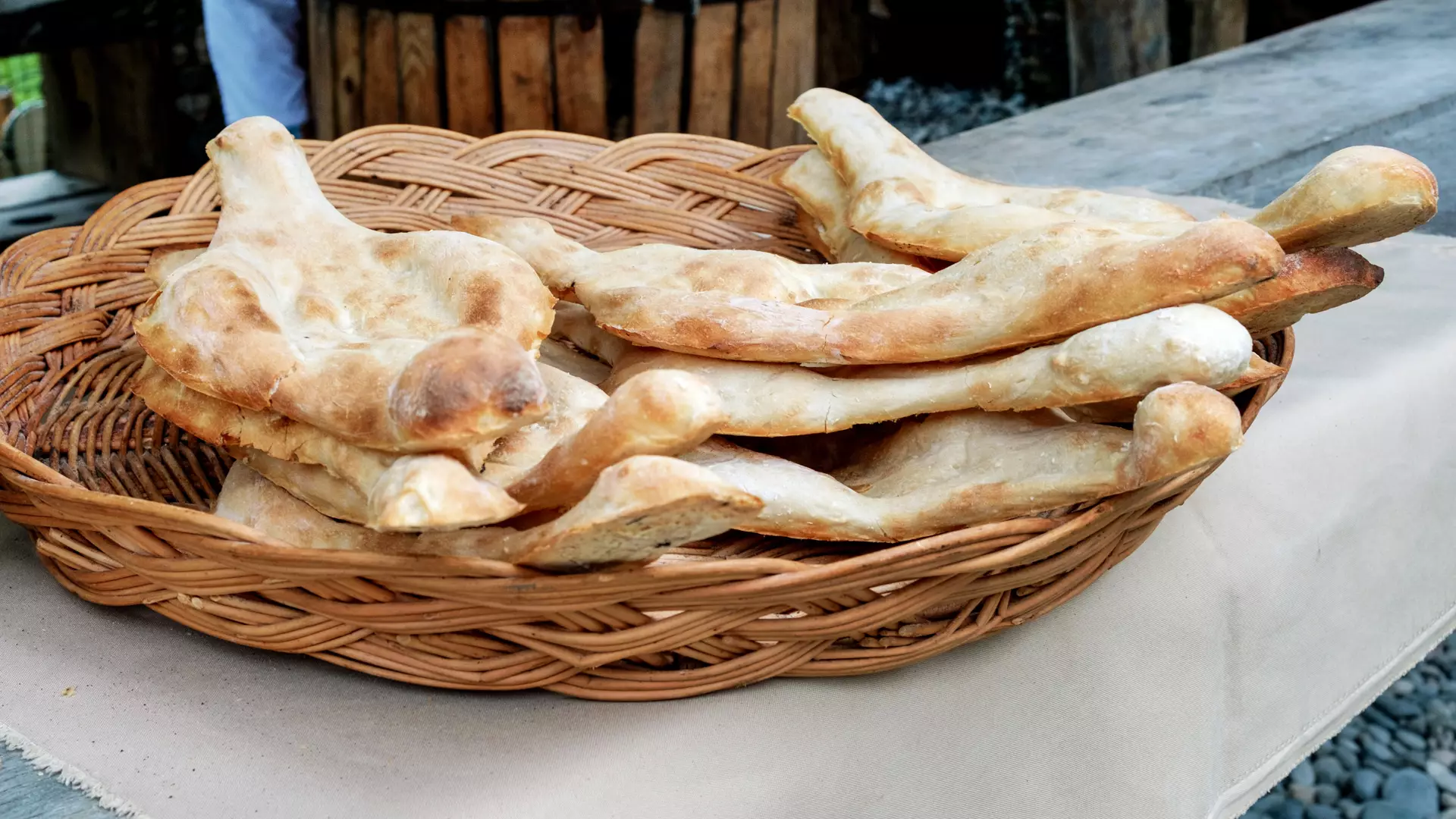 Tbilisi has always been famous for its bakers and every district has its type of bread. The most well-known district is still called "Bread Square".
At a tone oven, you often see people gathered with hot-tone bread to share. There are still many bakeries in Tbilisi where "mother's bread", shoti, lavash, and unleavened Armenian bread are baked. You can find baked bread with ancient endemic Georgian varieties of wheat, and doing so will help you understand what is often said by Georgians, "the grace of bread".
Tbilisi is an exceptional culinary city, where you can have a real gastronomic adventure.