Georgian Cloisonne Enamel Accesories
Did you know that Georgia is renowned for its jewelry? All sorts of attractive pieces can be found here to win your heart, from bijouterie to gemstones. Taste and quality are of course the two defining features of jewelry, and both are in good supply in Georgia. Cloisonne enamel in particular is not something that can be found everywhere, so when in Georgia, be sure to check it out.
Delving further into this area, look at the partitioned enamel technique, which entails the practice of covering a glass over a picture or an ornament. Similar to the world-famous Murano, which is purely Italian, Georgia appears to have its own art form. It is worth mentioning here that enamel has been used for both religious and public purposes for centuries here.
Old and more exclusive Georgian enamel samples are collected by museums, but some shops and galleries sell the modern pieces. Depending on your taste, you can choose your favorite shape of an earring, ring, bracelet, brooch, pendant, or necklace.
If you need assistance when working out which enamel item is right for you, don't hesitate to ask a consultant.
Georgian Ceramics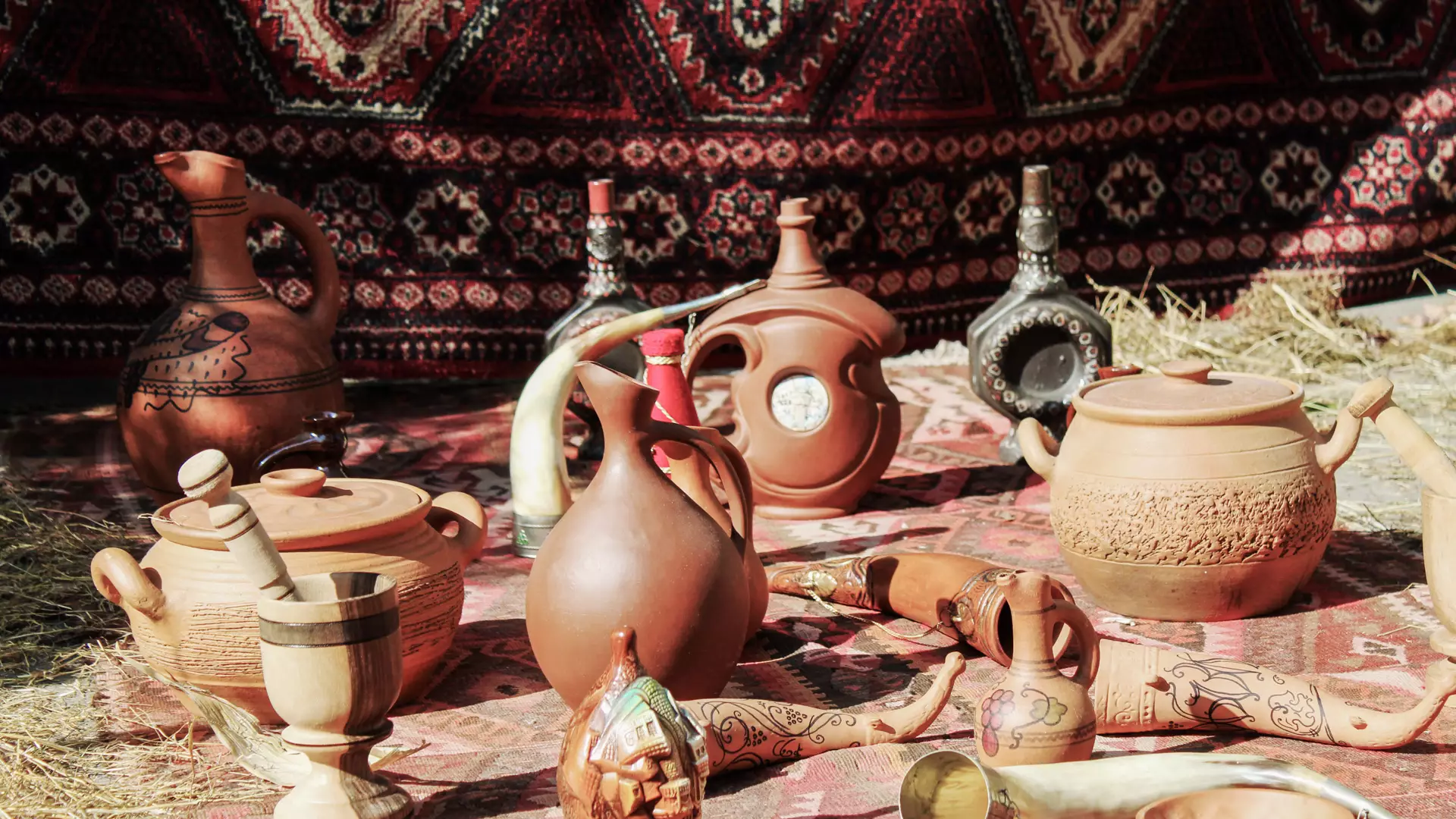 No archeological expedition has been conducted on the Georgian soil without finding ancient ceramic products. Clay remains a very popular medium for artistic expression, while the production of ceramic products is widespread. However, in western Georgia, close to the village of Shrosha, you can still find stalls crammed with artistic pottery. In Tbilisi and Telavi, there are several ceramic studios, where you can not only choose gifts, but also participate in the pottery and ceramic painting classes.
Georgian Blacksmithing
The craft of blacksmithing has been an integral part of Georgia's history for centuries. Blacksmiths would traditionally make swords, armor, and other metal implements used in battle. That is why such craftsmen were mostly associated with warfare in medieval times.
You don't need to visit a museum to see contemporary Georgian blacksmithing, as the streets themselves serve as an open exhibition of metal goods including street lamps, benches, fences, gates, and doors. The Georgian market features a wide variety of embossed sculptures, artwork, and home décor items available for purchase.
Interesting fact: In every region of Georgia, there is a surname designating a blacksmith with an ending unique to that region.

Georgian embroidery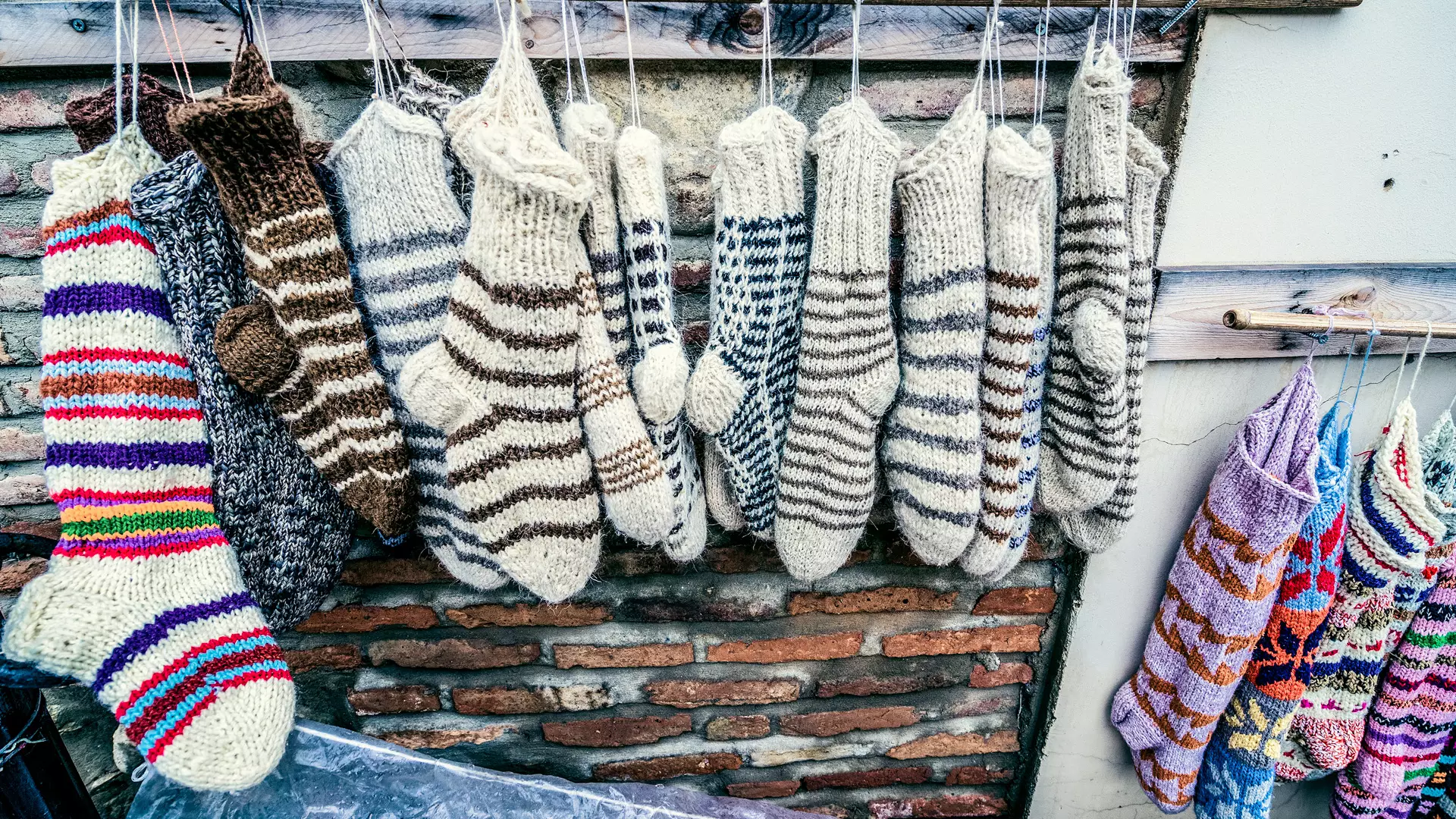 The art of embroidery has been passed down from one generation to the next for centuries. For girls, learning to sew was once essential because embroidery was thought to be a crucial component of a woman's education.
While embroidery is no longer included in the educational curriculum, the culture persists in many places.
In the technology of embroidering, natural colors are frequently used. The traditional method of treating thread is with vinegar and salt water, allowing with embroidered items to retain their color over time and avoid fading away easily.
Embroidery on satin, silk, and velvet are among the most common Georgian ways of preparing this handicraft. This technique is used to embroider beautiful landscapes that are so detailed they make it look like paintings have come alive. There is another technique called cross-shaped embroidering, which is prevalent in eastern Georgia, and mainly used on traditional clothing in Khevsureti and Tusheti.
Using gold and silk twine represents another style of embroidery here. Icons and garments worn by religious people used to be embroidered with metal threads. Moreover, Georgian embroidered bracelets, caps, bags, purses, chests, socks, and leggings are available in a variety of salons, and are both stylish and precious.
Georgian Wool and Felt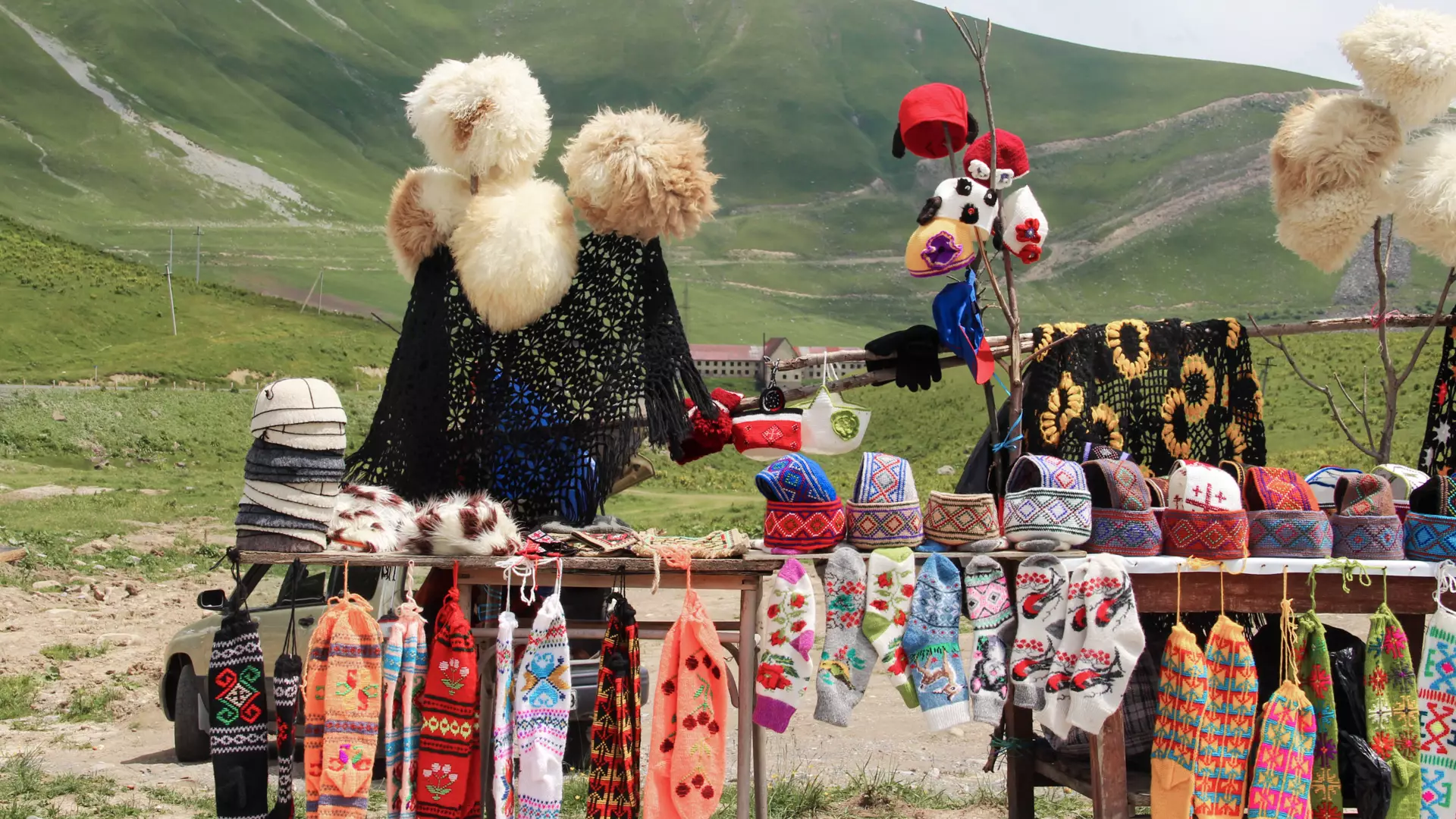 Wool thread products are highly prevalent in Georgia and can be found in every region, but especially in the mountains. Women primarily were traditionally trained in wool processing, with their clothing knitted using the wool itself. Today, materials lighter than sheep's wool are used.
Be it Kakhetian, Svan or Lechkhumian, traditional woolen hats characteristic to every region are regularly produced. Meanwhile, although warm and cozy socks can be knitted everywhere in the world, the Tushetian and Pshavian socks - chitebi - have leather soles, giving an instant warmth and pleasure to those wearing them.
Georgian Lace
Though you would have already seen this if you had been in Kobuleti Museum, lovely lace can be seen in every home in Kobuleti.
In the old times, beginning at age 10, girls in Kobuleti would take up embroidery, which would become a part of their daily lives. Embroidered sheets, covers, and handkerchiefs would be included in their dowry. Therefore, the more embroidery they produced, the greater value the bride would have.
Using a needle and a thread, Ajarian women would sew flowers, animals, and a variety of ornaments onto meticulously-chosen white fabric. The best-known decoration is known as "baklava," and it is every bit as good as the dessert of the same name.
Georgian Blue Supra
The traditional Georgian tablecloth is blue and was created in eastern Georgia. The blue supra has a variety of motifs, including astral and vegetal, domestic, zoomorphic, and human figures.
Georgian Wooden Toys
If you intend to buy children's gifts, charming wooden toys are made in Georgia. These help with a child's development, and are ecologically clean. Any child would be overjoyed to receive such a gift.
If you like wooden products in general, Georgia offers an array of options from kitchenware to ornaments. For centuries, wood cutting has been a popular practice in Georgia for both construction and artistic purposes.