Khachapuri is gradually conquering the world. Every visitor looks for khachapuri, and if they try it for the first time, they will admit that they have "grasped" a truly delicious, nutritious, and unique flavor.
Khachapuri shops have opened in numerous countries, and have quickly become popular. For instance, the famous Finnish actor Ville Haapasalo opened a khachapuri shop in the resort city of Puumala, mastering the skills himself, and sold 25,000 khachapuris in 68 days.
"Khachapuri is, for me, the answer to all problems. When the apocalypse happens or there is a war, khachapuri is my symbol, my method of resistance." - this is how the famous French writer, Frédéric Beigbeder characterizes khachapuri.
After studying the diversity of khachapuri, an American journalist admitted in an article published in Forbes that "the most decadent, outrageous and sinful is Megrelian, a veritable dairy tsunami flooding the bread, inside and out".
Khachapuri ingredients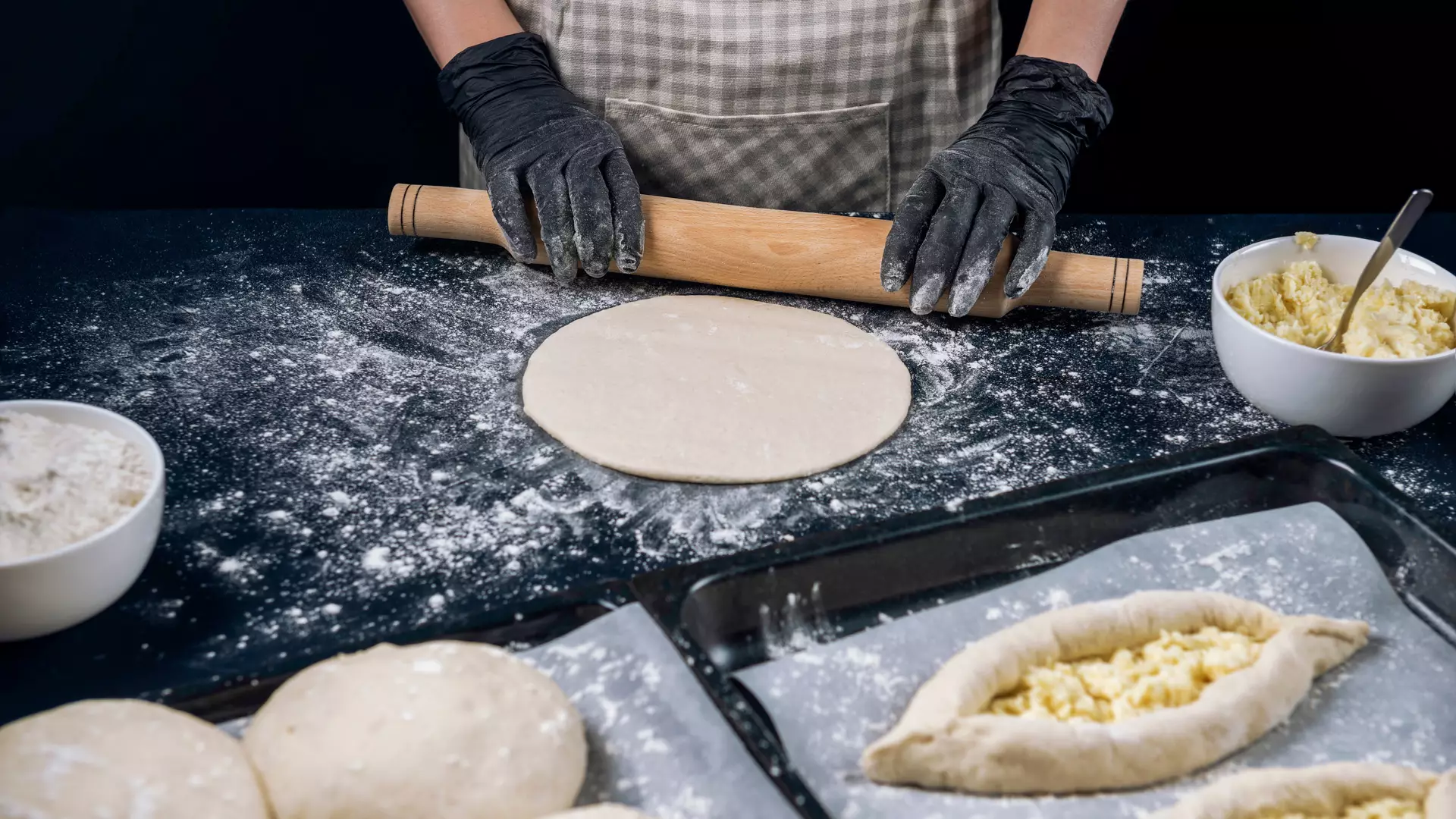 There are no religious, cultural, or family events in Georgia that do not feature khachapuri. It is also a unique impromptu breakfast. Every traditional housewife knows how to make this delicious filled food.
The main ingredients change from region to region, but the major ones are flour, cheese, sourdough, salt, milk, whey, and water. The flour can be from millet, wheat, corn, or a mixture of chickpeas.
Georgia is considered not just the birthplace of wine, but of wheat and cheese as well, because of the 27 varieties of wheat existing in the world today, 14 come from Georgia, with five of them endemic to the country.
We have information about the spread of wheat in ancient Georgia from the works of the ancient Greek historians Herodotus and Xenophon, Strabo, Sulkhan-Saba Orbeliani (1658-1725), Vakhusti Batonishvili (18th century), foreign travelers in Georgia like J. Tournefort, J. Chardin, and foreign ambassadors in Georgia at various times (17th-19th centuries).
As for cheese, researchers believe that Georgian cheese is as old as Georgian wine. That may be why Georgians have called cheese and wine the "bride and groom" of the Georgian supra. Scientists think that cheese is four millennia old, but an 8,000-year-old cheese container has been found in Georgia. As such, in this country of cheese and wheat, foods with a cheese filling are truly ancient products.
Variants of Khachapuri and the Oldest Recipe
Khachapuri, at first glance, is a mix of wheat flour and cheese, but Georgians have approached it very creatively. As a result, nearly every region in Georgia now has its version of khachapuri.
In every region of the country where khachapuri has traditionally been baked, there are different ways of making it. Khachapuri from different regions differs in baking method, shape, types of cheese, and even their names.
The oldest recipe for khachapuri is very simple; the dough is kneaded with sourdough starter. The started was called "the mother of bread" in Georgia and is made in different ways. Generally, it is salty dough that was kneaded a few days in advance, stored in a clear jar, and left to ferment. Then it would be dissolved in milk or warm water and kneaded gradually into flour to get the desired thickness. Then it would be wrapped and left to rise.
Later, people would figure out how to make the dough very quickly and without preparation. Dough kneaded with matsoni and baking soda does not require time to rise. That kind of khachapuri stays soft even when it is cold.
Nowadays they knead the dough with mineral water, various fats, or milk at khachapuri shops, but it is still said that dough kneaded with "mother of bread" is the most delicious and healthy.
As for how it is baked, there is khachapuri on a stone pan, a clay pan, an oven, a tone oven, or a frying pan. In restaurants they will serve you khachapuri on a skewer, fried on embers, or with skim milk. Khachapuri may be Rachan, with ham, Meskhetian, layered, or Kvalam Kveri, another kind of layered.
Despite this diversity, when the word "khachapuri" is mentioned, a Georgian will first think of Imeretian khachapuri, because it is the most widespread and is also called the "mother of khachapuri".
Imeretian – The Mother of Khachapuri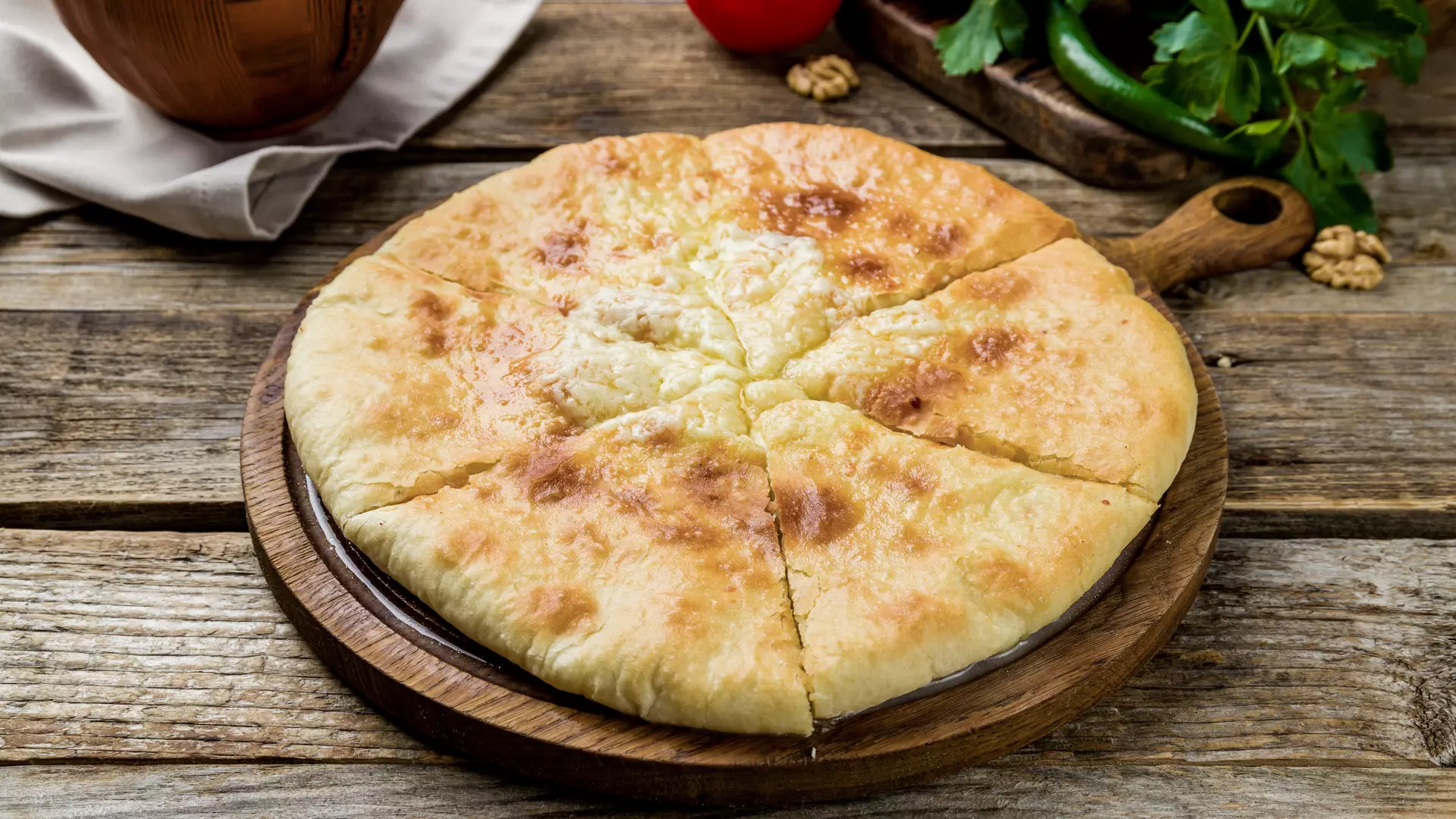 Imeretian "pan khachapuri" enjoys special popularity in Georgia, and its method of preparation is characteristic of the traditional one. Imereti is an ancient historical/ethnographic region, whose foundation is buried in the depths of ancient Colchis.
You will find Imeretian khachapuri in every region of Georgia, restaurants, and café. There are many ways to evaluate its quality. It must be baked moderately and have a thin, delicate dough. The cheese must be Imeretian, fresh, and crumbly, of medium fattiness, not too salty, and with a milk aroma. Imeretian cheese is often called khachapuri cheese. In many villages in Imereti, the khachapuri is still made traditionally, by baking it in a clay pan, called a ketsi, on top of stoked embers. The clay gives a unique flavor and smell to the dish. That is why Imeretian khachapuri is also called ketsi khachapuri.
Megrelian Khachapuri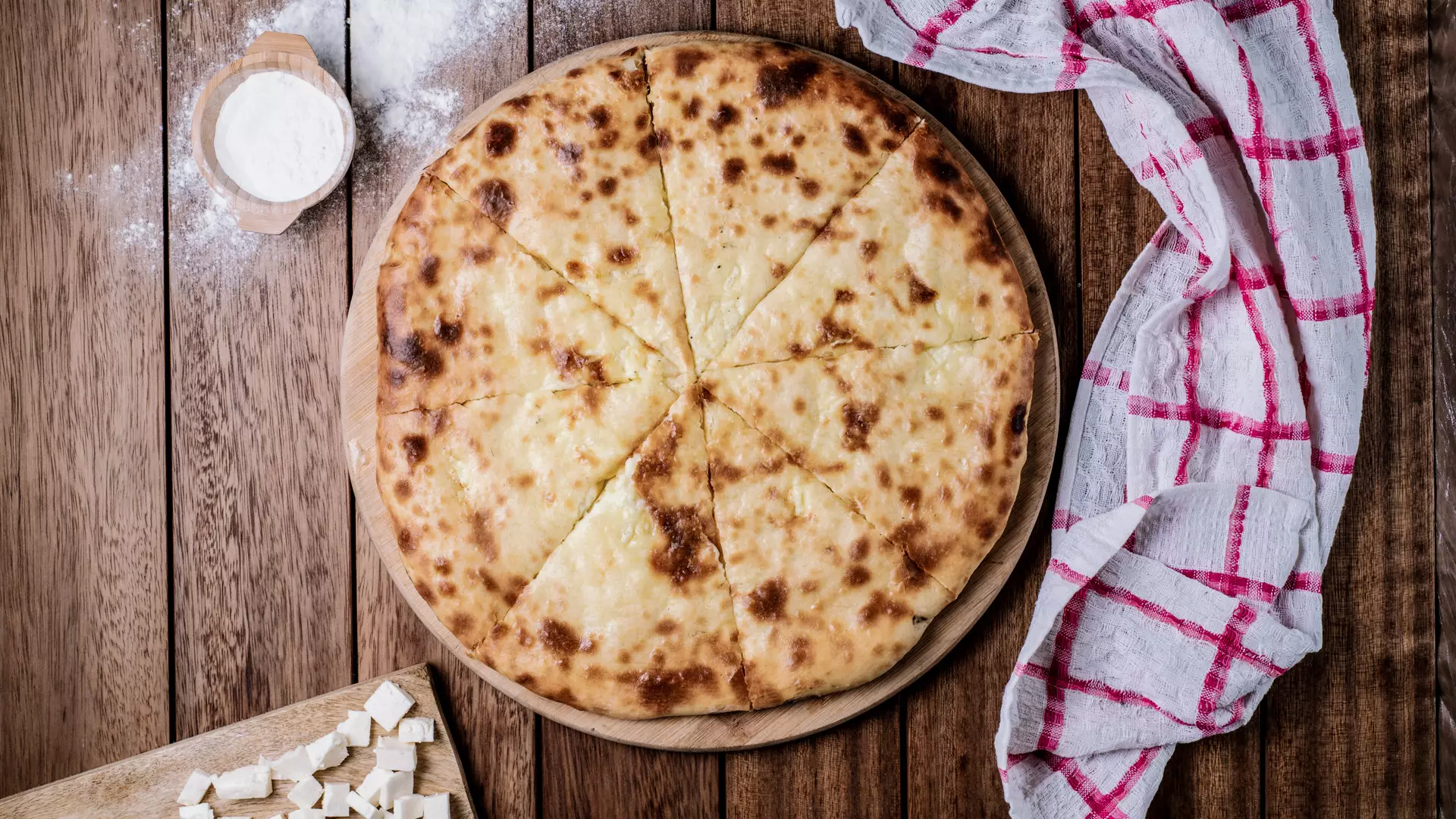 Along with Imeretian, Megrelian khachapuri is one of the most popular in Georgia. We encounter khachapuri under this name in the writings of Arcangelo Lamberti and Cristefore Castelli from the 17th century.
The characteristic feature of Megrelian khachapuri is its two types of cheese – freshly made "chkinti" ("squeaky") and sulguni. Sulguni with eggs was used for grating on top in Samegrelo. There were also variants where the sulguni was layered in the khachapuri or laid on top of it in stripes. Mingrelian khachapuri dough was always kneaded with milk or whey.
A widespread khachapuri for holidays was ghandami, a khachapuri with chkinti cheese inside and sulguni on top. It would be wrapped with a twisted dough grate, called a "ghanda", in which sulguni with eggs or strips of sulguni would be placed. This khachapuri would often have a cross made of braided sulguni on top and was traditionally baked on an angura, a Mingrelian stone ketsi.
Ajarian Khachapuri – Inspired by Sun and Ship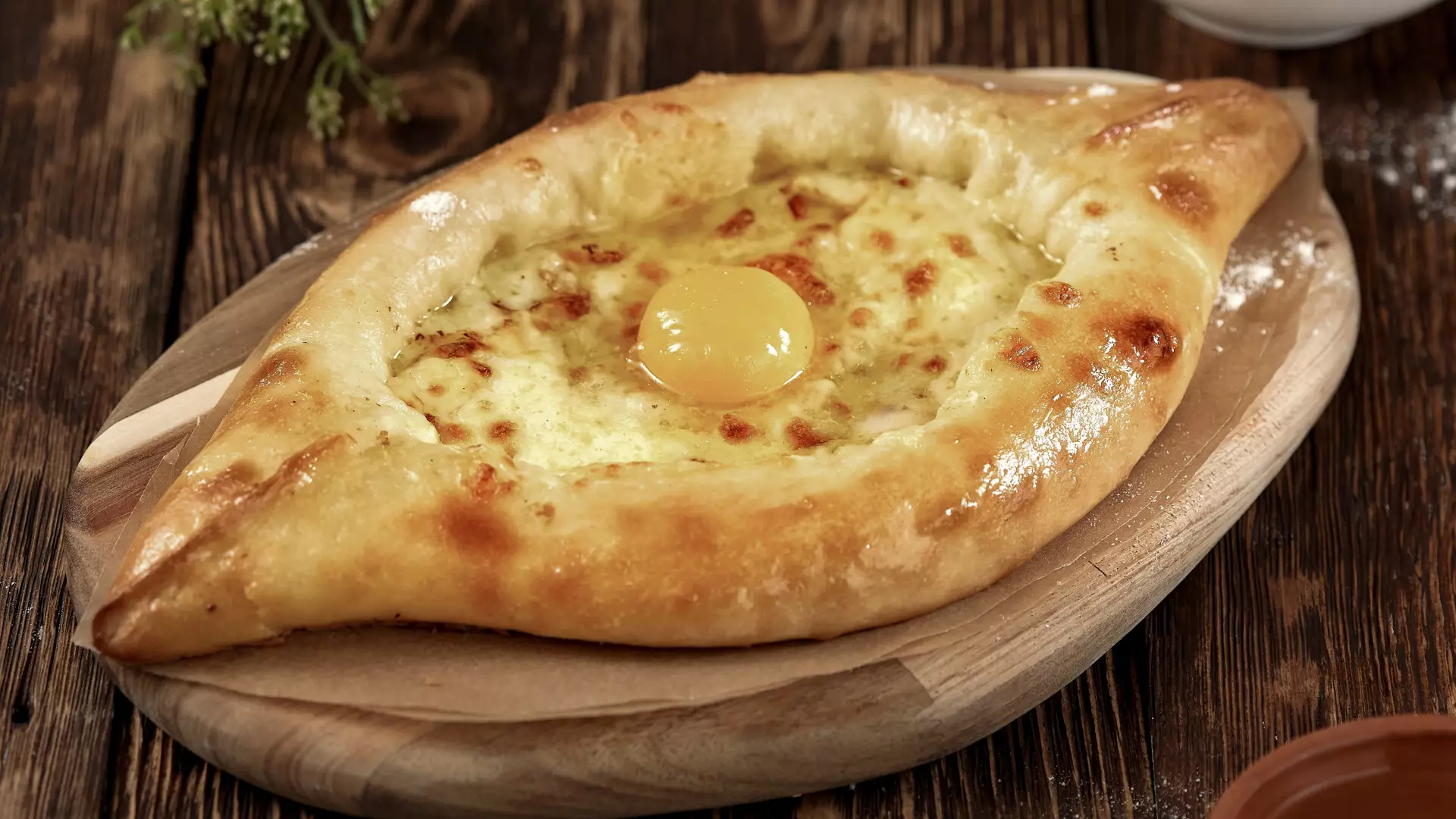 Adjarian khachapuri has a distinct form and origin. It is said that it was first made by the Laz, who were traditionally sailors and fishermen. They gave the dough the shape of a boat, filled it with cheese, and cracked an egg onto the filling, just like the way the sun sets over the sea. After the khachapuri was baked, they would add a pat of butter as a sign of abundance and good harvest. This is our Ajarian khachapuri. Ajarian khachapuri has become a unique symbol of Batumi and no visitor leaves the city without having tried it.
Meskhetian – Turban Khachapuri
Meskhetian khachapuri is the most difficult to make due to how the dough is worked, how its shape is given to it, and how you bake it.
It is called turban khachapuri because of its unique shape. The dough becomes very thin, is worked with a pig, goose, or cow fat, wrapped around the hand, and then takes on the form of a turban. Finally, Meskhetian tenili cheese, or fresh, soft cheese is put inside it.
The dough is rolled out very thinly, treated with pork, goose or beef fat, wound around the hand and shaped into a turban-like shape. Then it is flattened by hand, a mixture of scrambled egg yolk and sour cream is spread over the top of it, and then it is baked in a Meskhetian purne oven, which is a unique phenomenon.
The piquancy of Meskhetian khachapuri is due to the unique Meskhetian tenili cheese and the fat.
Rachan "Geometrical" Khachapuri
In the Racha region there are many types of khachapuri, with the most common being bachulebi, bokhchuana, ganatekhi, layered, chakhrakina, and khachapuri with spinach, walnuts, or ham. Racha is the only region where khachapuri is made to look like geometrical shapes, with square, rectangular, triangular, and circular khachapuri being made.
A tradition of this region is the so-called "becheddasmuli´ (stamped) Rachan khachapuri. Rachan carpenters would make rings of wood, especially for khachapuri, and nearly every family would have one. The method for using it is still preserved in many villages of Racha.
Bachuli is a Rachan khachapuri made the Saturday before Lent, baked in a rectangular shape reminiscent of a religious envelope, with chkinti cheese and leavened dough.
Svan Khachapuri - Petvraali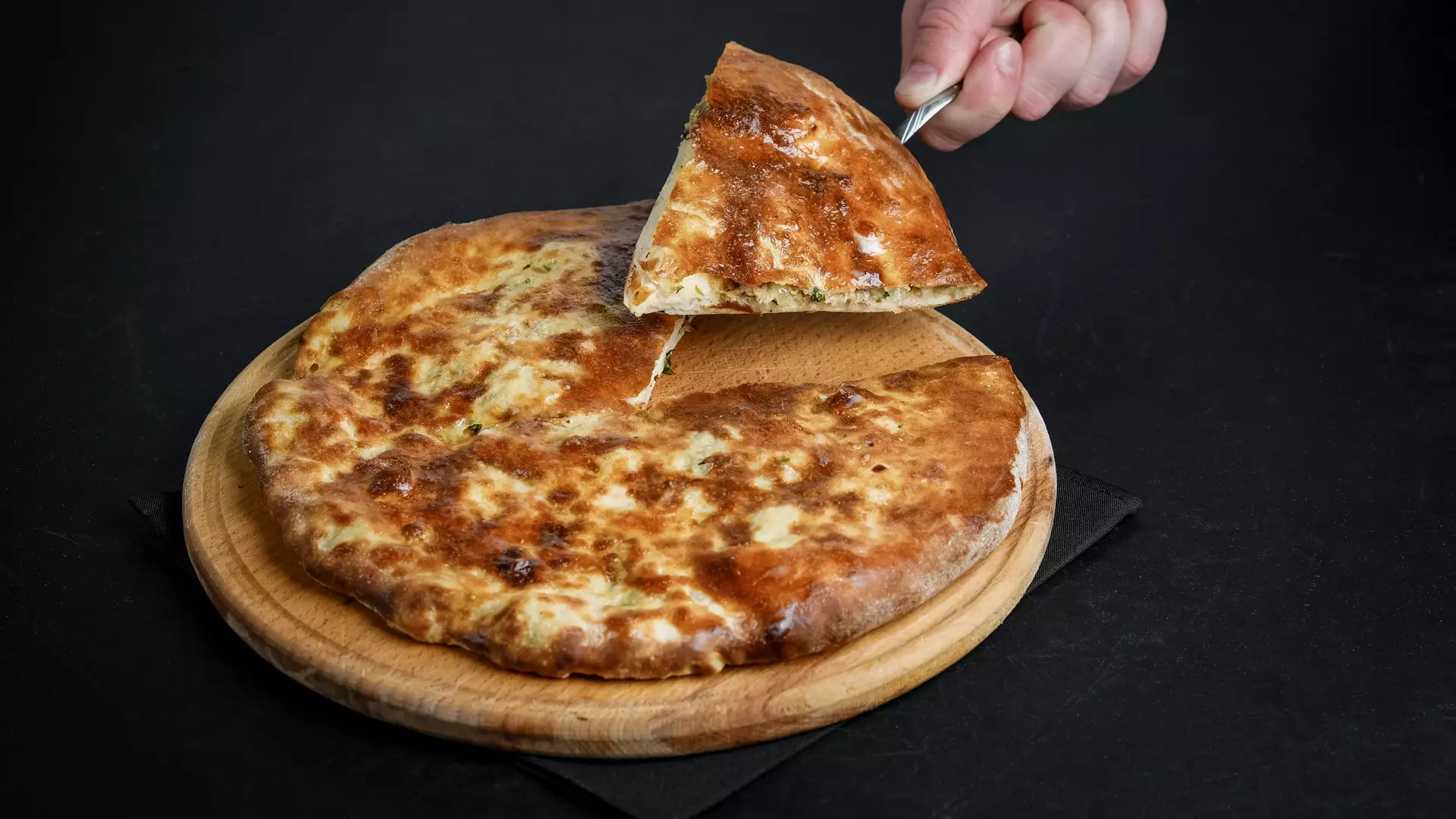 After Racha, Svaneti is the region where the most different types of khachapuri are baked. The majority have been preserved and are still made in many families. Making food from a combination of wheat and cheese began longer ago than anyone can remember in that region. Mostly, only products that grew well in that region were used. That is how "kartoplare, lukvne, and ltservali" khachapuri flavored with potato, green onion and hemp was created.
Petvraali is a filled food with a completely different flavor, made by adding millet, and distinguished from every other kind of khachapuri by its color, leading to it also being called "dirty khachapuri" by the locals. The preparation method for petvraali has been granted an Intangible Monument of Cultural Heritage of Georgia status.
Khabizgina – Ossetian Khachapuri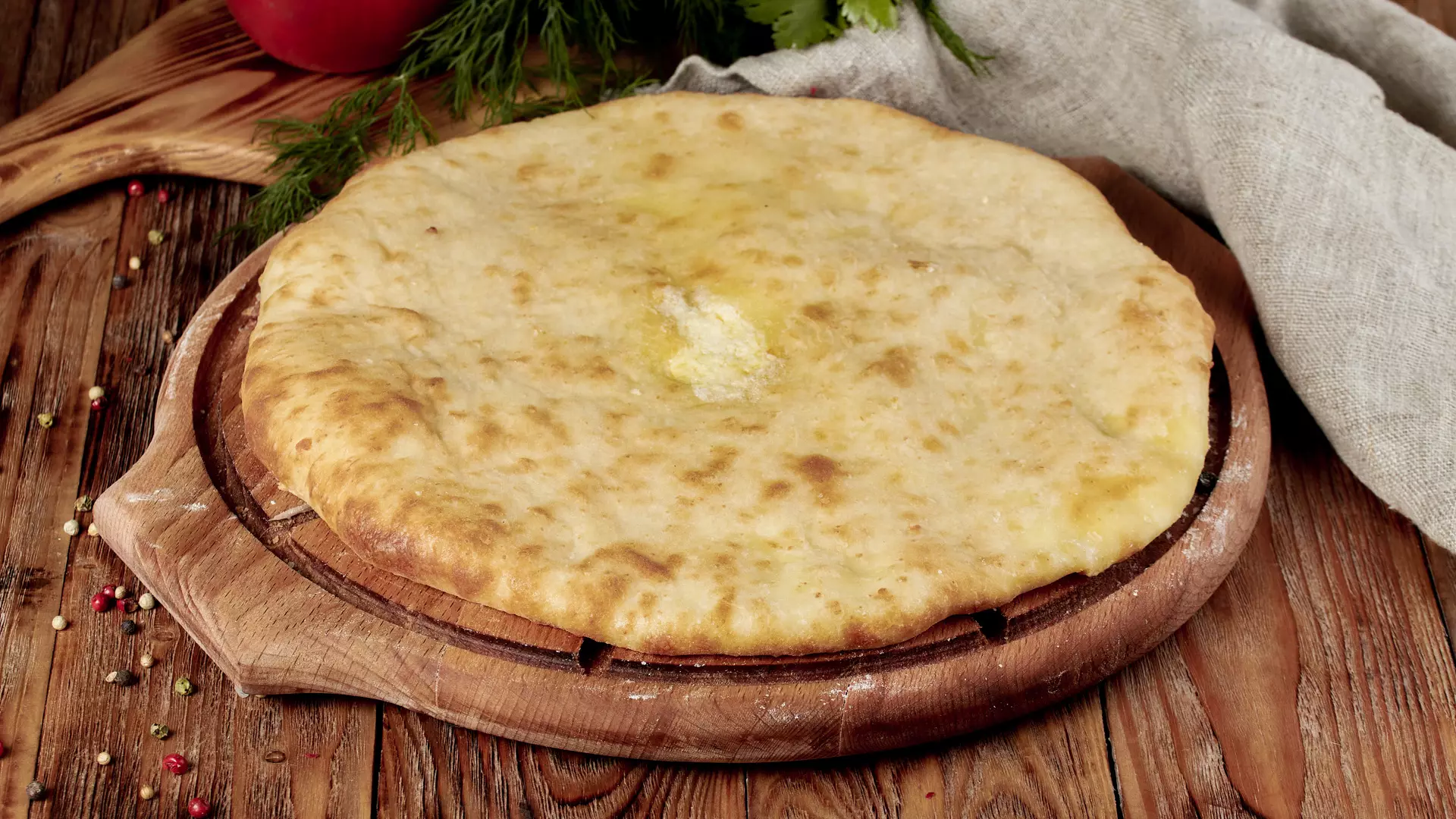 In the Ossetian village of Samachablo, as well as the densely populated Ossetian villages in the other regions of Georgia, there is a wide variety of filled pastries. There, they make "khabizhn", or khabizgina, a khachapuri for holidays made with potatoes and Ossetian cheese. The milk and dairy products there are distinguished by their high-fat content. It was to balance the fat content of the cheese that potato was added to the filling of the khachapuri. Khabizgina is especially common in Shida Kartli, and you will see it all over at both celebratory and mourning supras.
Tushetian Kotori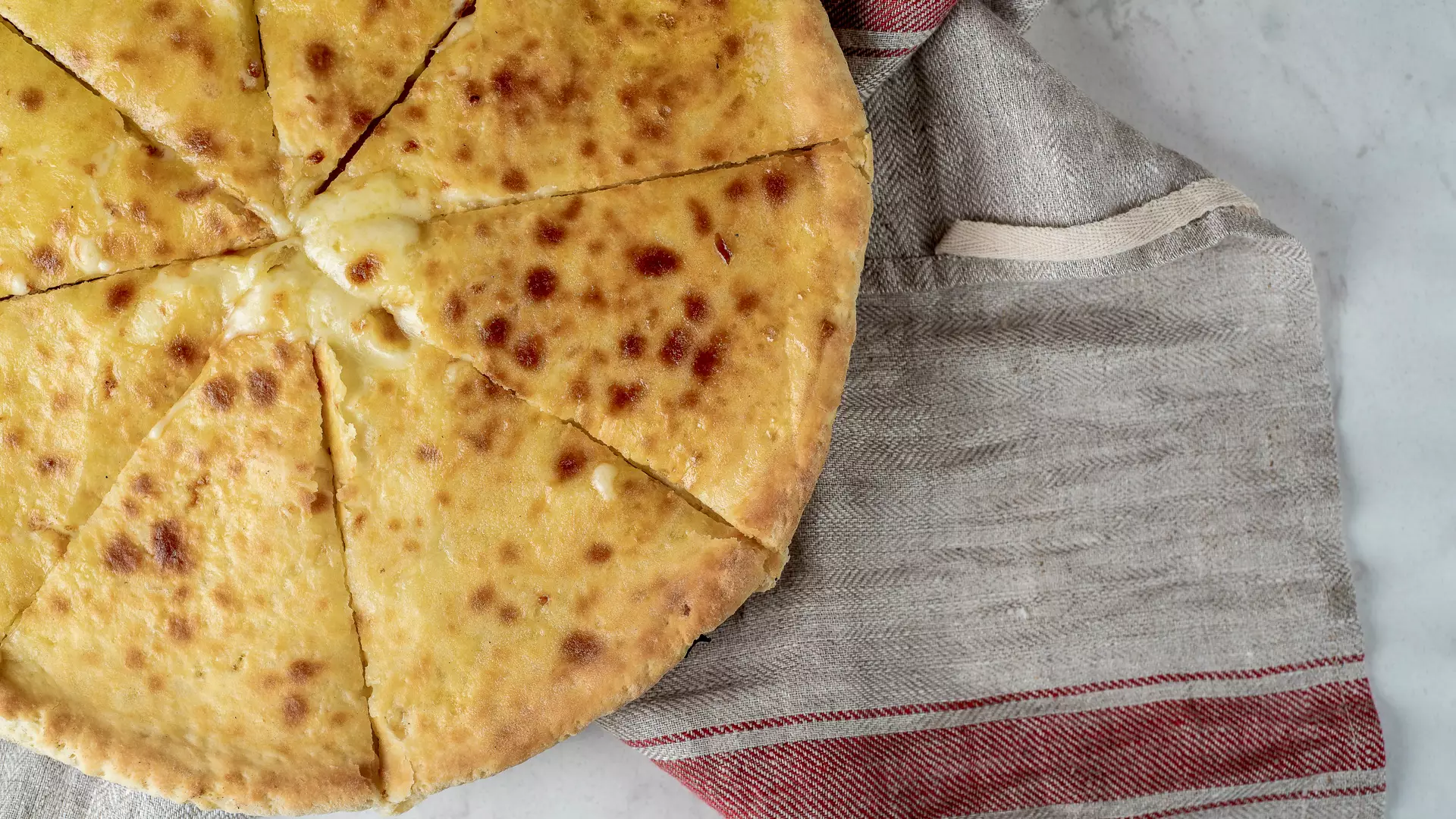 Kotori is a kind of khachapuri that is an indelible part of the cuisine of Tusheti, an extremely beautiful region of Georgia. It is the only khachapuri that is not made with cheese, but rather with aged curds or kalti, dried curds.
Tushetian is also called kotori "purtslovani" ("paper-like"), because the dough is simply flour dissolved in water and kneaded for a long time so that it becomes elastic and very thin. It used to be baked on a sipi (a stone), but now on a pan for only a few minutes, then melted Tushetian clarified butter is spread on top.
The thinner the kotori, the better. It was mainly baked for New Year's and was also called "Christ's provisions".
Gurian Christmas Khachapuri (Ghvezeli)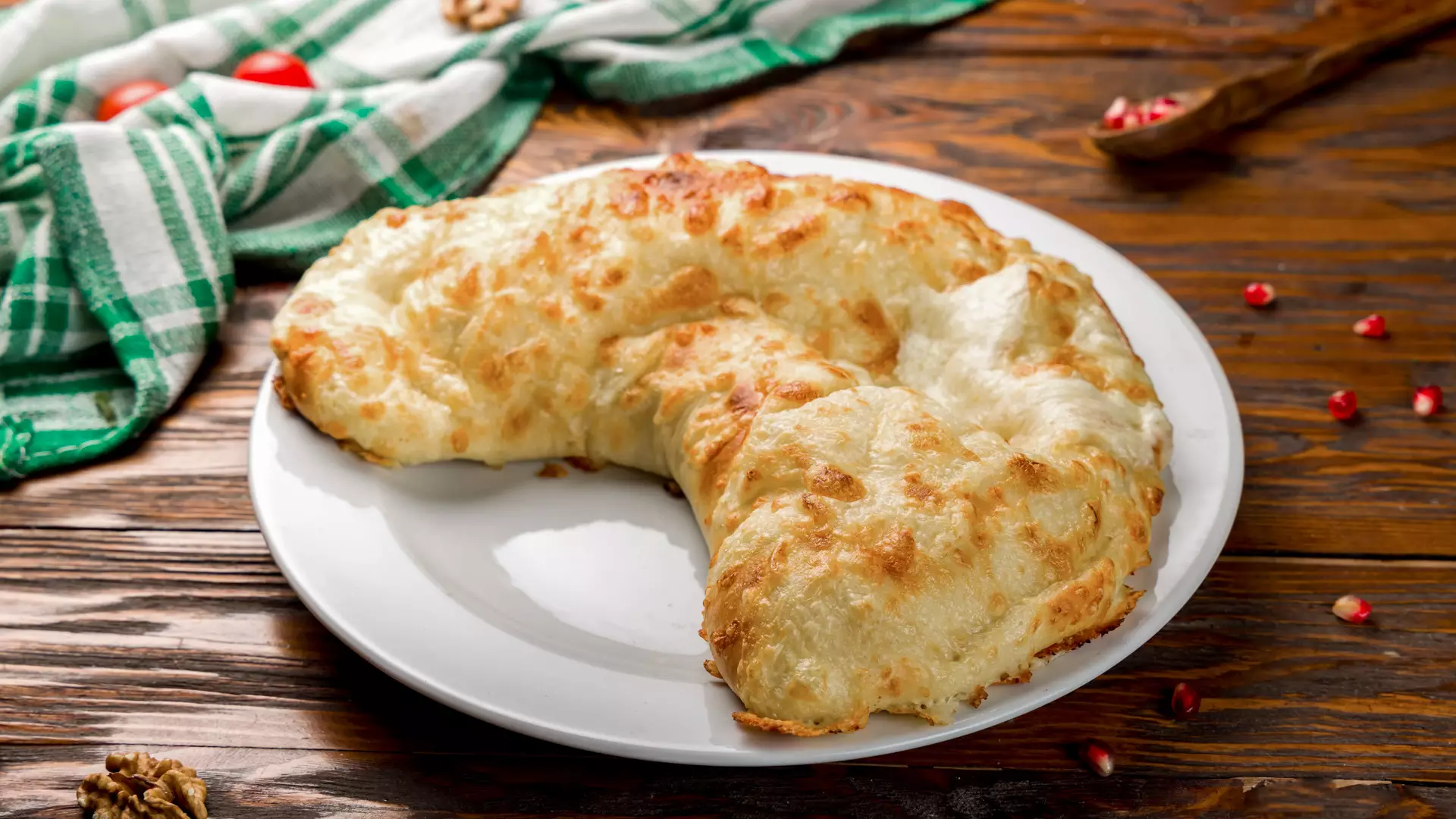 Guria, like all the other regions, has its khachapuri. If you have heard someone say "I have baked Gurian khachapuri or I know a recipe for good Gurian khachapuri", then you should know that when people say Gurian khachapuri, they are referring to Gurian ghvezeli (crescent-shaped pie). This is a traditional, religious, filled bread associated with Christmas.
Ethnographers say that Gurian ghvezeli has been baked in Guria since before the Christian period, with its crescent moon shape and somewhat pagan character.
The main characteristic of Gurian khachapuri is its boiled, smoked eggs that give the filling its characteristic piquant taste.
Urban khachapuri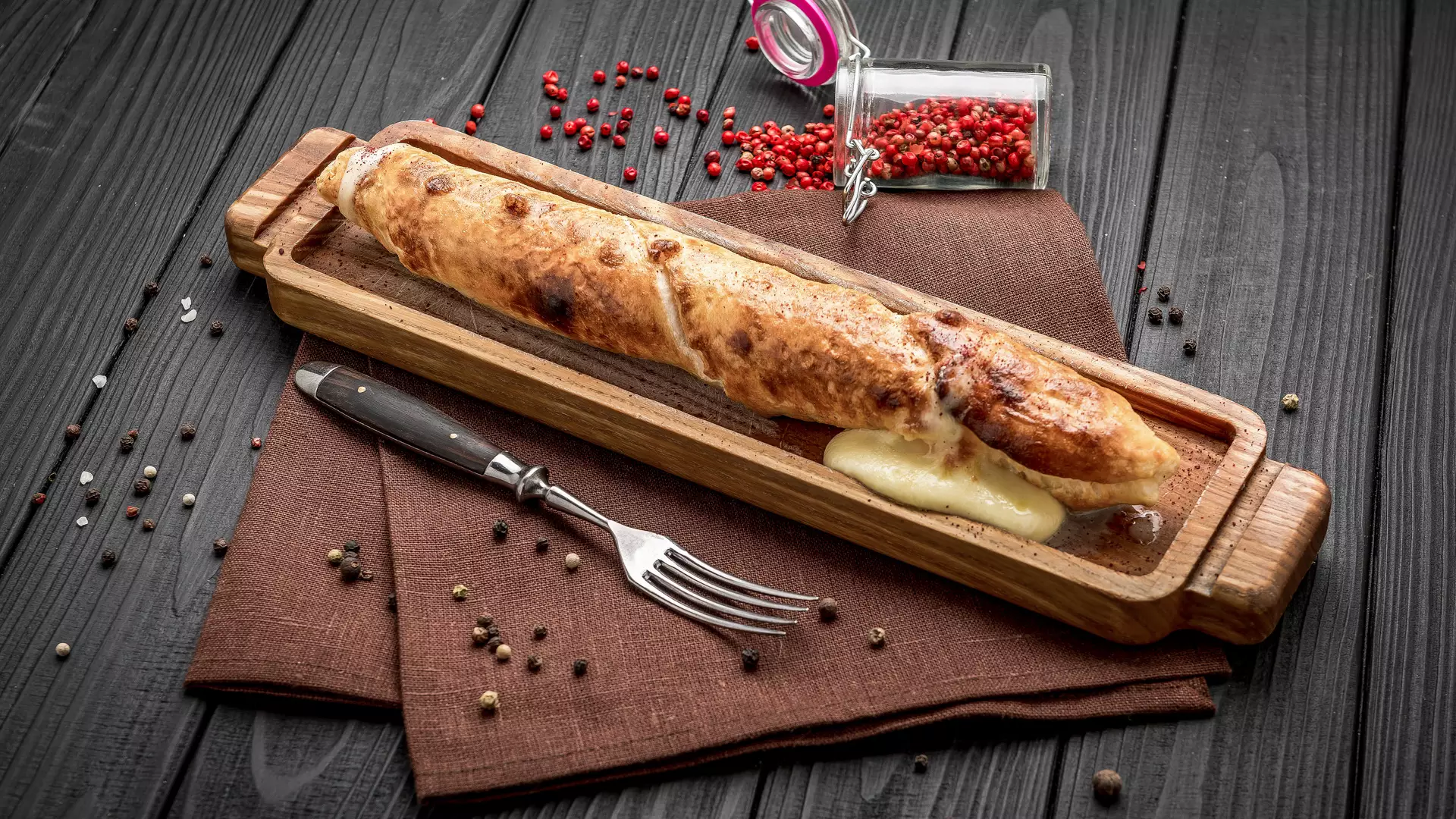 Khachapuri has kept pace with the rhythm and noise of the cities. At 21st-century fast food places, the preparation time for khachapuri has been reduced as much as possible. Various kinds of khachapuri are displayed in European-style glass display cases.
In the culinary spaces of modern Tbilisi, many types of khachapuri that are not associated with any region and are a result of Tbilisi's culinary experiences can be found. For example, there is sulguni kebab khachapuri on a skewer, urban impromptu khachapuri, khachapuri kneaded in matsoni, and more.
You cannot form a complete impression of khachapuri just from those in the display cases. In Georgia, khachapuri travels along every road and route, and you have to try it in the regions where it was "invented", where they are always expecting visitors and will tell you, "Sit down, I'll make you some khachapuri right away!"