Borano
Borano is the most common and easy-to-prepare dish in Ajara. Shredded cheese is placed in melted butter (as the Ajarians say, burnt "yagi") and boiled in water. They pour beaten egg over it and keep it burning for a few minutes. Some also add pre-cooked and chopped potatoes to the "yagi". In this case, the dish is called potato borano. Borano is a hearty, high-calorie dish and should not be eaten late in the evening.
Satsivi
Traditional satsivi should be eaten in Guria, but it is also prepared in other regions of Georgia. It is a famous dish eaten around New Years that is prepared in poultry broth with turkey (or chicken), walnuts, and spices and is served with "ghomi" (thick corn porridge).
Chicken in isrimi and blackberry sauce
This is a traditional Imeretian dish that you won't find anywhere else. The sauce prepared with crushed semi-ripe grapes (isrimi) and blackberries adds an excellent taste to the fried chicken. The dish is made in an earthenware frying pan and looks very appetizing. Since isrimi is seasonal, the chicken is prepared with blackberry sauce any other time.
Gebzhalia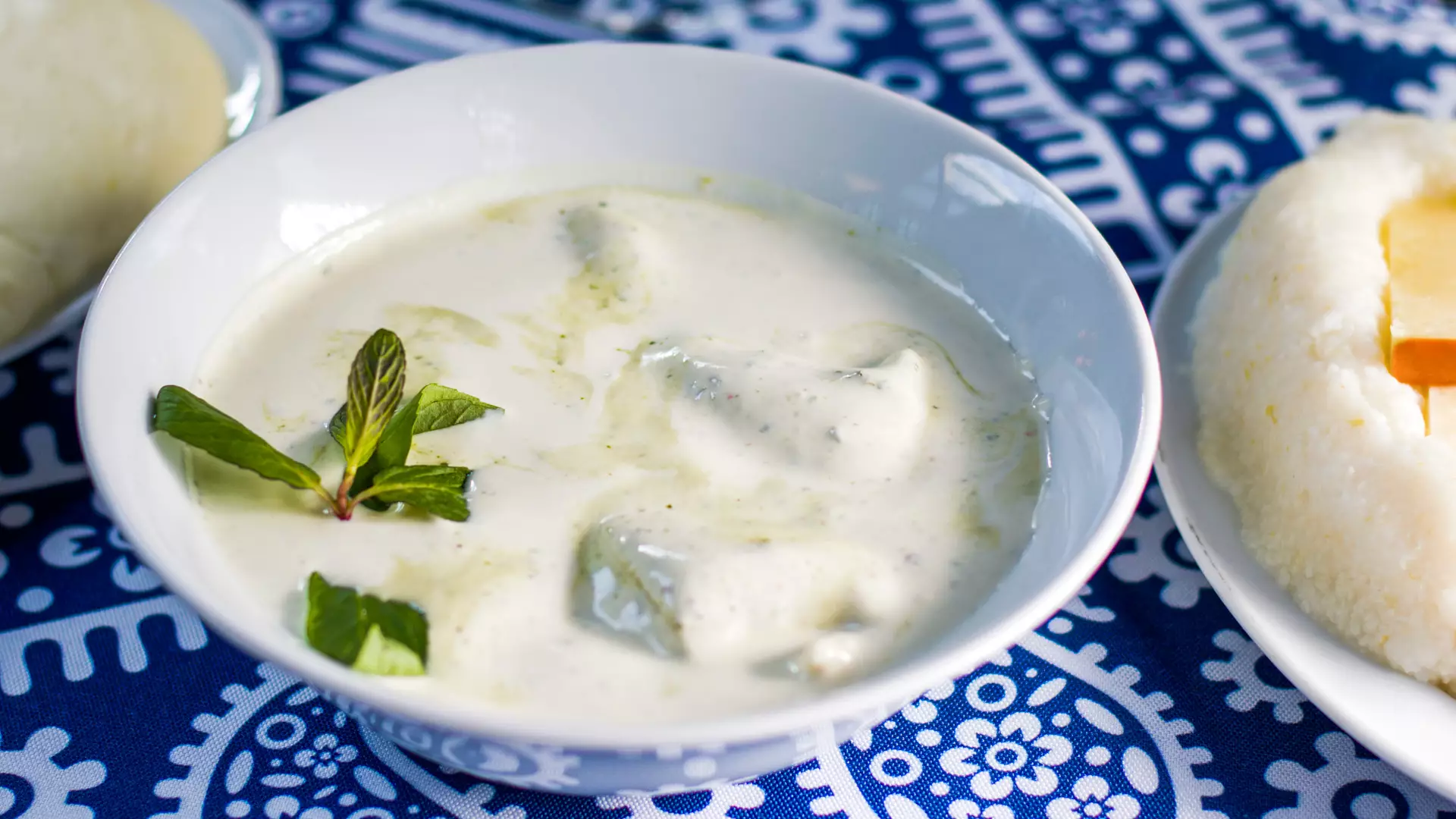 True to its name of Megrelian cuisine, the pearl-white, flattened, and rolled cheese is tempered with Gebzhalia ajika, sprinkled with green mint, and packed in juice prepared with milk. "Gebzhalia" is a Megrelian word for what is put in milk. It is an ancient, sacred dish, used at ritual feasts, which must be accompanied by hot ghomi.
Megrelian kharcho and ghomi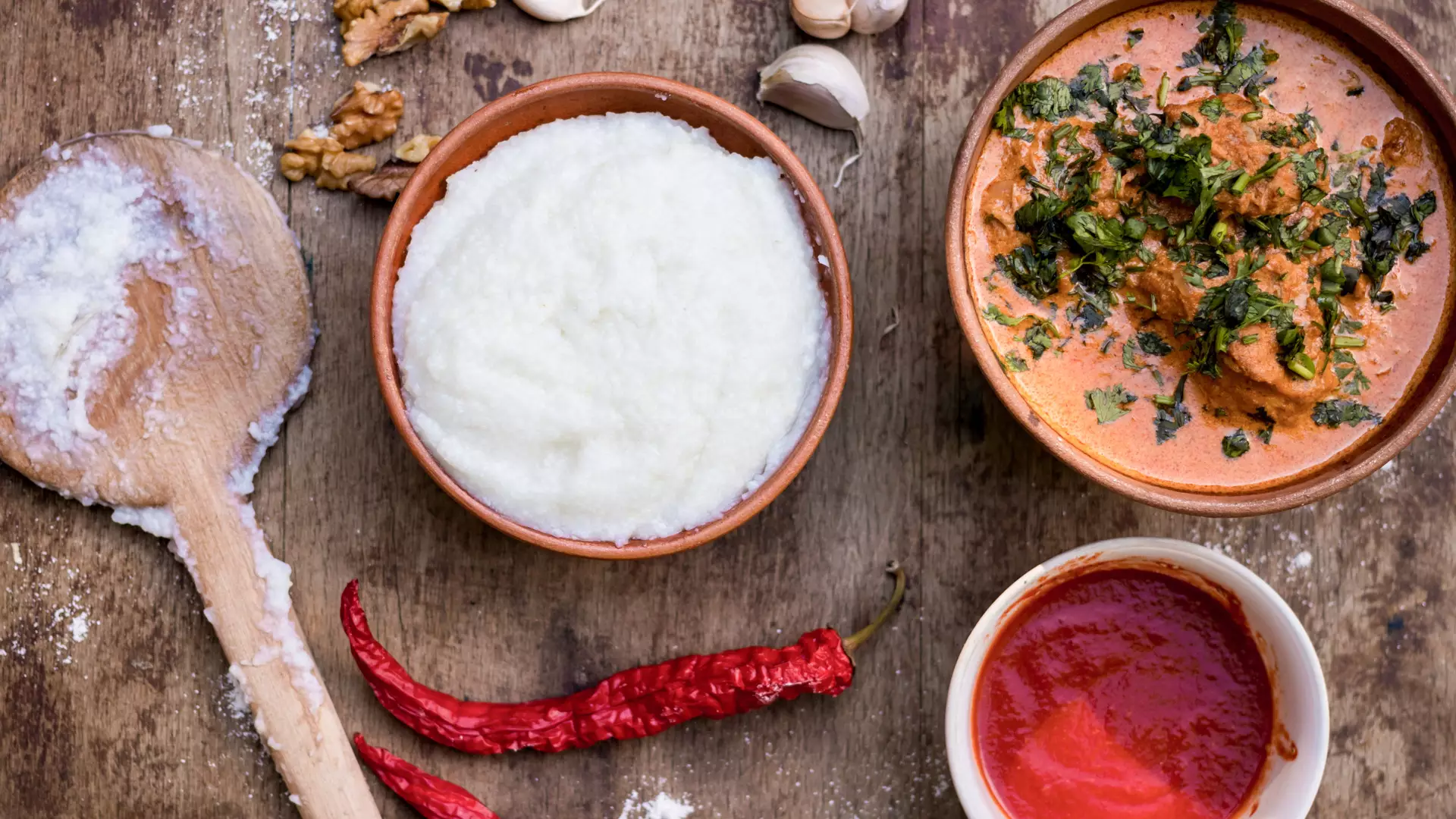 This autéed ground beef is prepared with walnuts, vinegar, and Megrelian ajika. As a rule, this dish is very spicy, and to neutralize it, it's served with ghomi. Ghomi is prepared from corn flour to balance the heat of the kharcho.
Abkhazura
Abkhazura is prepared in different regions of Georgia. These are balls of seasoned meat wrapped in caul fat and seasoned with garlic, pomegranate and spices. You can distinguish the Abkhazura taste with one by one ingredient, the aroma of smoked pepper or smoked ajika. Abkhazura is fried in fat and served hot surrounded by onions cut in half rings and pomegranate seeds.
Chakapuli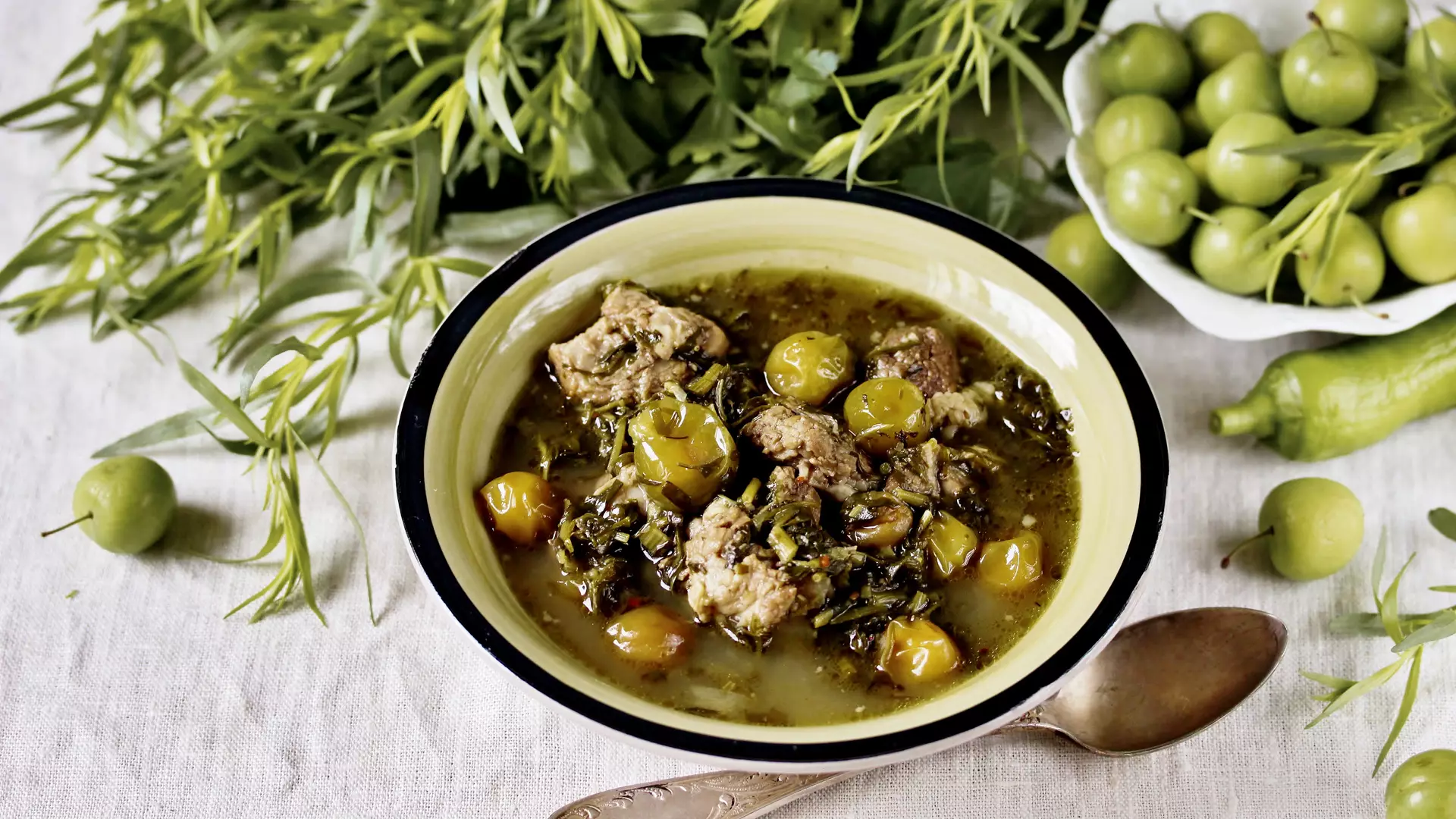 Taste real chakapuli in Kakheti. This hot dish is made with lamb or veal, mainly served in the spring. At this time, it has a significant flavor - thanks to tarragon, parsley, fresh garlic, onion, coriander, fennel, pepper, and fresh thyme. White qvevri wine is a defining part of preparing the dish, and it's served with the "Dedas Puri" (mother's bread).
Dockweed soup
This is Kartli's specialty. In general, Kartli has no equal in preparing soups. Hot soup made with dockweed leaves, toasted walnuts, vegetable boullion, some herbs, and wheat flour appeals to vegetarians and vegans.
Shkmeruli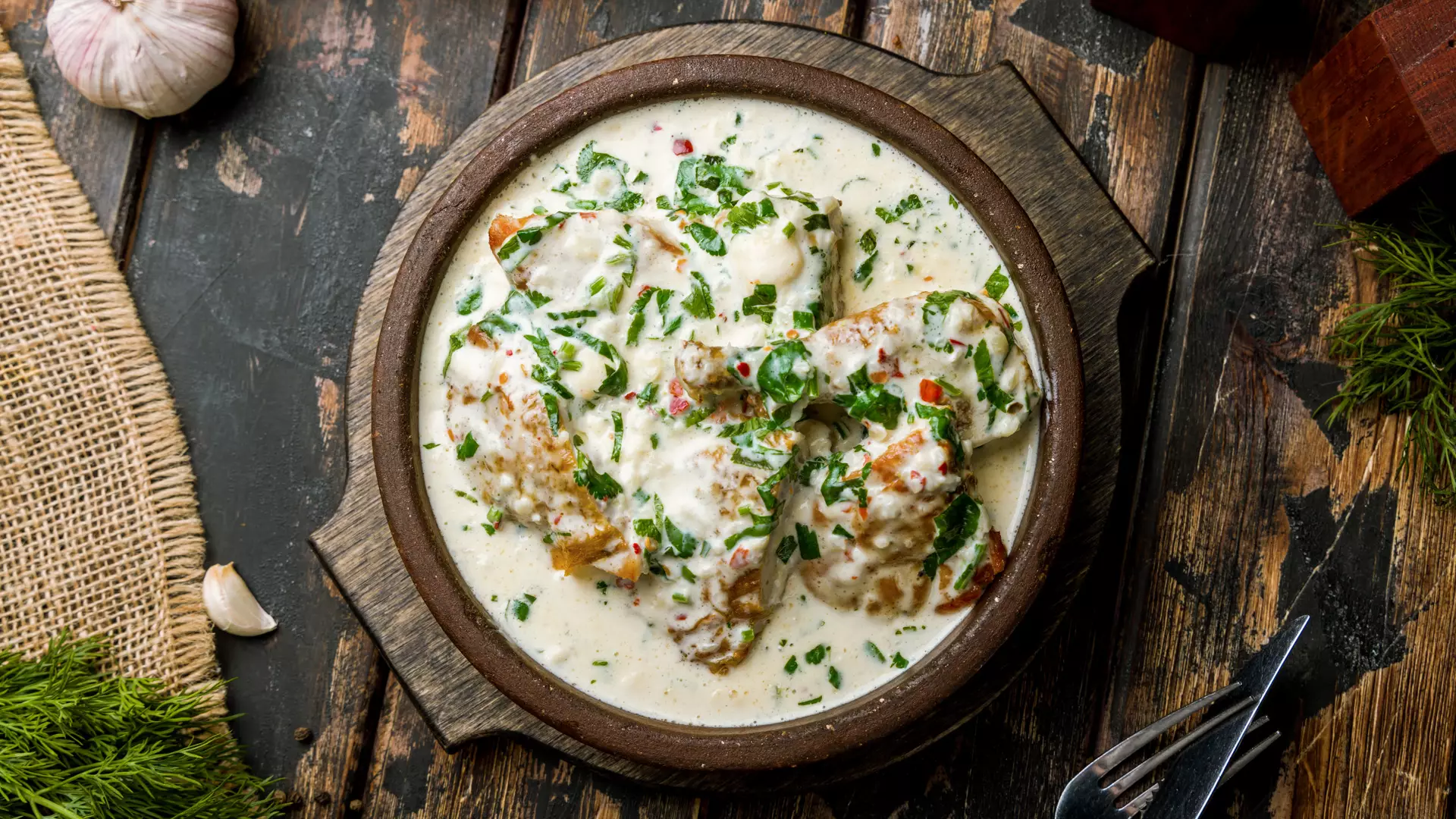 Shkmeri is a beautiful village in Racha. This dish, as they say, was born in Shkmeri, hence its name. It is fried chicken marinated in salt, pepper, crushed garlic, and milk. The Japanese took the recipe and started preparing this Georgian dish in Japanese restaurants.
Mtiuletian khinkali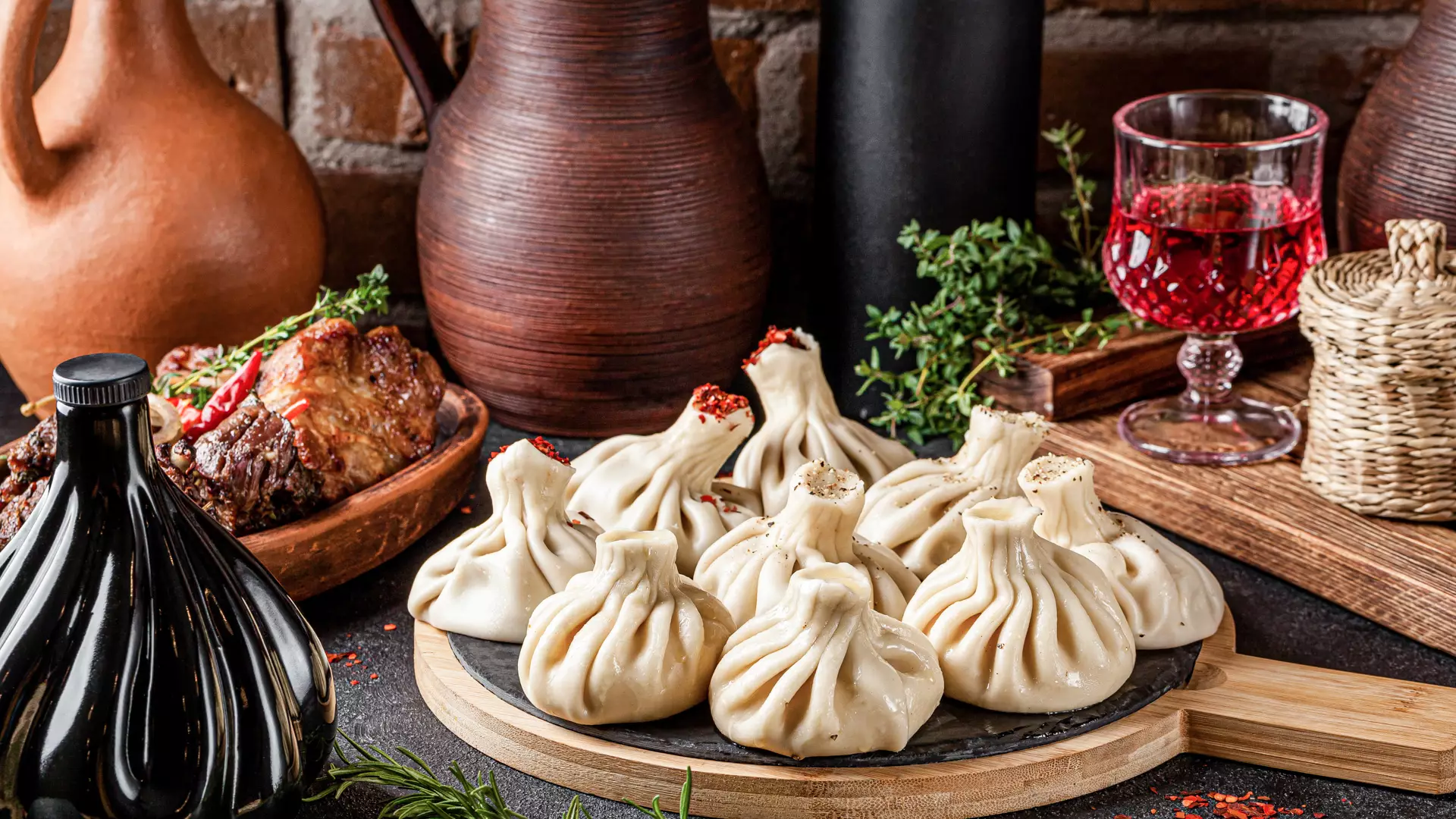 Mountainous Georgia: Khevsureti, Khevi, Pshavi, Tusheti - wherever you go, khinkali is unrivaled here. Mountain savory is the spice that gives khinkali its rare taste. Seasoned minced meat is wrapped in wrinkled flattened sheets of dough and boiled in brine.
Apokhti
Apokhti is a salted and sun-dried meat, prepared by almost every family in Samtskhe-Javakheti villages during the winter. Apokhti can be pork or poultry, but goose apokhti and the khinkali made from it are the most popular. It is completely different from the usual khinkali in terms of dough preparation, shape, and filling.
Khachapuri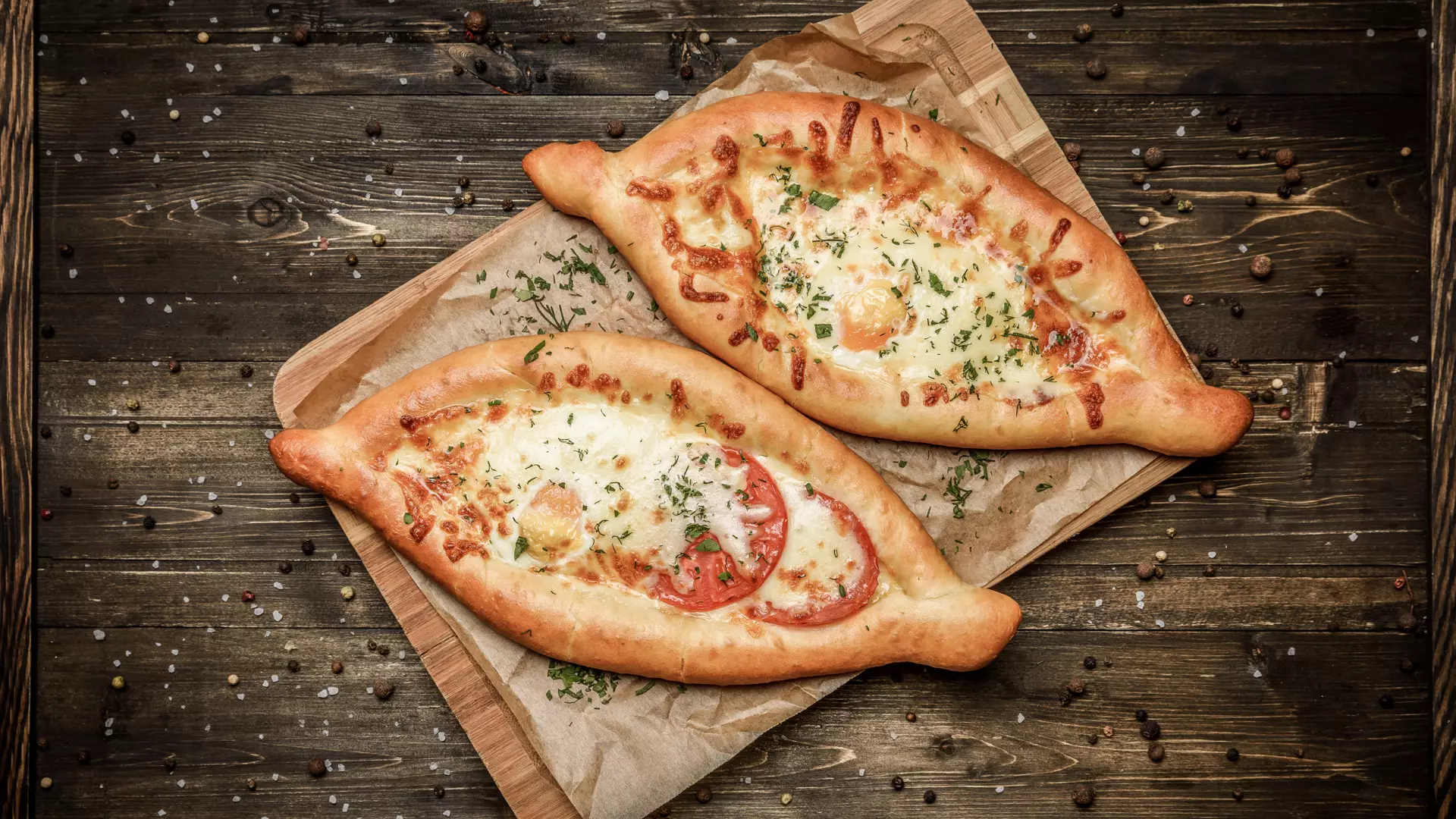 The tradition of making khachapuri is included in the list of the intangible cultural heritage of Georgia. Every region here has its variation of khachapuri. The most common variation is the Imeretian khachapuri and the most popular is the boat-shaped Ajarian one. Meskhetian layered dough one is also outstanding, so no matter where you are in Georgia, try khachapuri!