Founding Tbilisi – a Royal Decision
If the history and tales of the early centuries intrigue you, then get comfortable! Tbilisi has been inhabited since ancient times – as is confirmed by various archaeological discoveries in the city - from the Eneolithic (4th-3rd millennium BCE) to the ancient period (1st millennium BC - 3rd century CE).
It was King Vakhtang Gorgasali, in the second half of the 5th century CE, who decided to build the capital city here. One day, as the legend goes, King Vakhtang was hunting along with his sparrowhawk. All of a sudden, the sparrowhawk caught a pheasant and was just about to fly down to collect its prey. However, it disappeared into a ravine.
The king and his companions followed, where they saw the sparrowhawk and pheasant both boiling in scalding water. Without hesitation, King Vakhtang decided to start building the city, as he was so enamored by the location. Due to the naturally warm water flowing through it, the new capital city would be called Tbilisi (meaning "warm place" in Georgian).
Walking Along the Banks of the Mtkvari
Maps, directions, and well-planned itineraries for exploring Tbilisi can be found everywhere, while blogs can also be handy supplements.
Tbilisi is split by the Mtkvari River into the Left and Right Bank.
Right Bank of the Mtkvari River
Initially, there were three settlements in Tbilisi: Tpilisi, Kala, and Isani.
Old Tbilisi had an interesting and, for the time, well-organized structure. In the 5th century, Klidisubani – which is overlooking Gorgasali Square or Meidani now - was considered to be the center of the city.
"In no other area of the world can you find so many various types of foreigners as here... you will encounter Armenians, Greeks, Jews, Persians, Indians, Tatars, and Europeans" claimed the French traveler Jean Chardin in the 17th century, describing this very place.
The location continues to be as alluring for tourists today as it was for business people in the past. Since the 5th century, this location has served as a market and trading hub for goods coming from various regions. Merchants and artisans frequently flocked to this area. Indeed, the names of the streets and squares, which are still preserved today, are largely indicative of those activities, i.e., Silver (Vertskhli) Street, Iron Row (Rkinis Rigi), Bread (Puri) Square, Wine Rise (Ghvinis Aghmarti), Cotton Row (Bambis Rigi).
In addition, there is Shardeni (Chardin) Street, well-known for its bars, restaurants, and nightclubs, named after Jean Chardin who explored Tbilisi, and promoted it around the world.
The naming of some districts in Old Tbilisi also reflects the ethnicity of the majority of the local population.
Some parts of Old Tbilisi were also named after prominent buildings such as Anchiskhati district, Sioni district, and so on. Meanwhile, some parts were named after people who resided there - like Orbeliani district.
Gorgasali Square (Meidani) served, and continues to serve, a vital role for the city, with architectural planning here having been treated with the utmost importance.
You can also explore Kala, an ancient city in itself situated on the right bank, surrounded by a fortress wall of Narikala, and at one time home to a royal residence, palaces, churches, and baths.
Due to their history and urban planning, the upper and lower districts of Kala were and continue to be focal points of Tbilisi. However, what is there today dates back to at least the 19th century. Moreover, there are Georgian and Armenian churches, mosques, and a Catholic church in this area.
A significant portion of Tbilisi was destroyed during an invasion in 1795.
The Left Bank of the Mtkvari
The historical district of Isani is located in the eastern part of the city.
Here, during the period of Arab domination, the settlement was fortified with a wall, and the Arabic name Hisni – Isani was given to it. Later, this part of the city took the name of Avlabari.
The Metekhi Church is also located here, from which a glorious statue of King Vakhtang Gorgasali overlooks the city since 1965.
Queen Darejan Palace, Holy Trinity (Sameba) Cathedral, Metekhi Bridge, Rike Park, and Peace Bridge are all nearby, offering a wonderful collage of sights.
Porakishvili Hall, a house surviving from the 17th century, and a rare example of a Georgian folk house, is also located in Avlabari. After exploring it, you will be able to artistically restore Georgia's social image from previous centuries. In addition, when you exit Metekhi Bridge towards the Right Bank, you can also check out the St. Dodo Garejeli cell carved into the rock.
Bridges of Old Tbilisi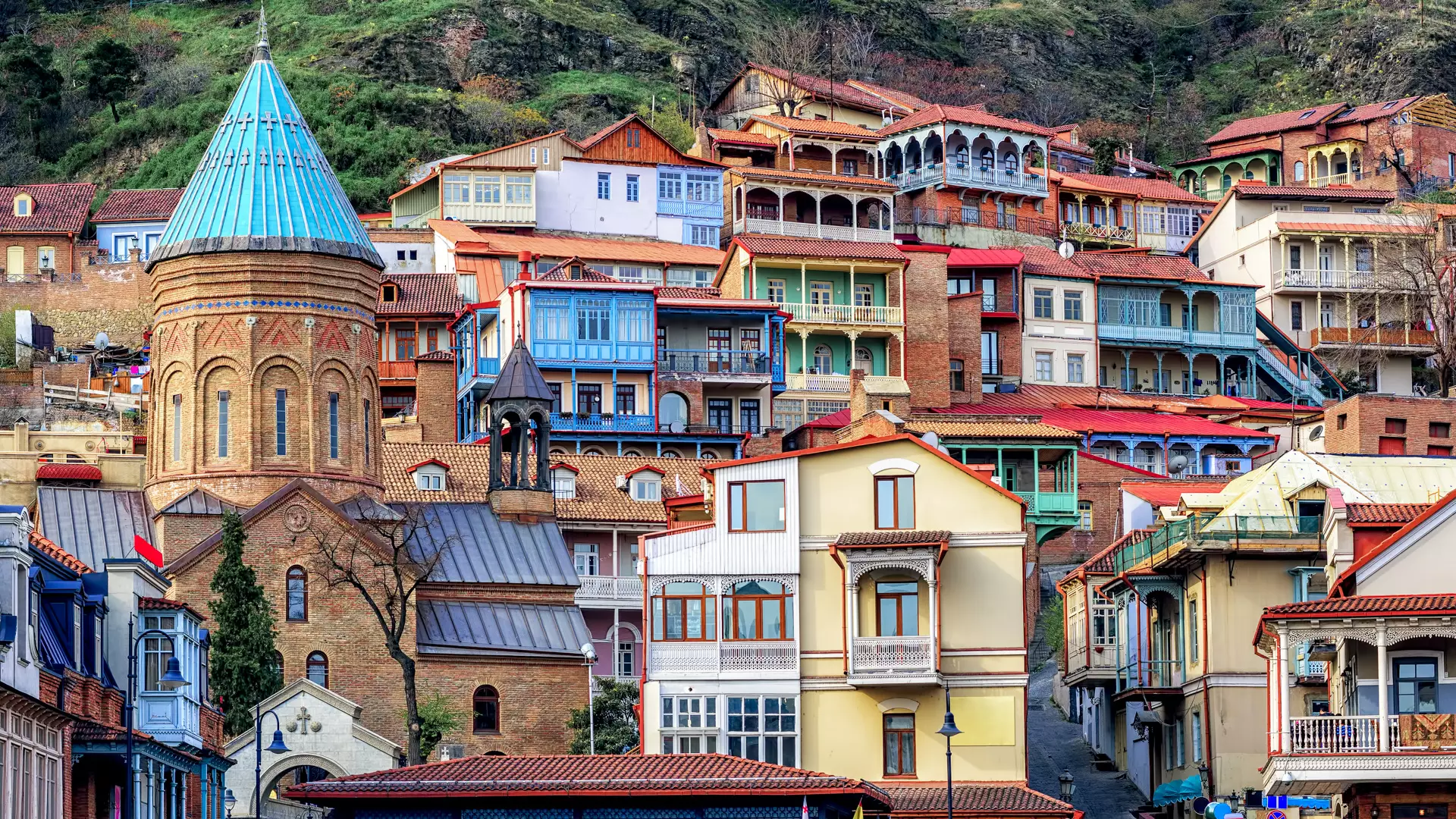 There are just 10 bridges in Tbilisi today, and none of them are particularly old like the Mirabeau Bridge in Paris or the Rialto Bridge in Venice. It should be kept in mind, though, that other bridges have previously collapsed where Metekhi Bridge now stands. In 1951, a reinforced concrete structure was erected here.
Elsewhere, Baratashvili Bridge in Tbilisi is a good starting point from which to tour the city. From there, you can head into Old Tbilisi, start to explore a more modern part of the city – the choice is yours!
Be sure to also check out the beautiful pedestrian glass bridge called Peace Bridge, sandwiched between Baratashvili and Metekhi Bridges. Designed by an Italian architect Michele De Lucchi, it is much newer than other bridges, but very popular among Georgians and foreigners alike.
Walking Along the Cobbled Streets
On Baratashvili Street, there is a an old tram carriage called "Konka" - that's how the city's old trams once looked like.
Just a few steps away, on Shavteli Street, there is a Rezo Gabriadze marionette theater and a fairy-tale clock tower. There is almost certainly another exciting adventure awaiting if you continue down this narrow street.