The History of Tbilisi's underground
Georgian underground culture is not only music, but a big movement of united people who value freedom, equality, tolerance, and love for each other. Georgian electronic music is retelling recent history, with stories woven into DJ sets, discoveries, hard work, and, most importantly, a desire for constant progress. Ten years ago, it was hard to imagine that the Georgian electronic stage would compete with leading clubs from America or Europe. However, nowadays, when the whole world knows about BASSIANI, we can proudly say that Georgian clubbing is not only about relaxing and hanging out with friends, it is also an important factor in the development of the economy and tourism of the country.
Georgia has always connected with music, and it is not surprising that in the XXI century, modern Georgian society made the world fall in love with something it loves and believes in. Underground and clubs are not only rhythmic music and heavy tunes but are sentimental, emotional, and sincere.
The scene is the synthesis of free movements, airy transitions, and a body accompanied by a sound. Sometimes it seems like it's an explosion of energies and sometimes it feels calm and eternal.
One of the main achievements of underground culture is dance, and you'll not find a dancefloor like it anywhere else.
Pioneer underground clubs in Tbilisi
If you decide to look into Georgian clubs during your trip, start your dance route from BASSIANI, a pioneer club located at Tsereteli Avenue 2. This club has hosted many popular DJs and producers since 2014. BASSIANI started writing the history of the Georgian electronic stage when techno and house weren't well-known musical genres in Georgia. The club created Georgian underground culture, behavior, and rules, which are respected by the guests. The two stages of BASSIANI are BASSIANI and HOROOM which host thousands of people every weekend. Brilliant modern electronic music artists lead improvised performances throughout the night.
BASSIANI has had many famous artists take the stage including, Function, Ben Klock, Vril, Courtesy, Setaoc Mass, Jeff Mills, Dj Nobu, Hector Oaks, Dr. Rubinstein, Etapp Kyle, Dax J, Dopplereffekt, Zenker Brothers, Neel, Antigone, SPFDJ, Marcel Fengler, and Vtss.
HOROOM has had artists such as Roi Perez, Paramida, Efdemin, and Ateq with Georgian Djs – Hamatsuki, Kvanchi, Olly, Sophie Phare, DJ surge, Asked, and Nina Supsa.
Zitto, NDRX, Newa, and HVL are the resident Georgian artists at BASSIANI, whose music has also spread through the underground clubs of Berlin.
The development of electronic and underground culture in Georgia encouraged the creation of new stages. In 2016, "KHIDI" opened under the Vakhushti Bagrationi bridge in Tbilisi. Over the years, "KHIDI" hosted artists such as Regal, Ancient Methods, Inigo Kennedy, Matrixxman, Phase Fatale, Pablo Bozzi, Luke Slater, Volvox, James Ruskin, Tensalofficial, and more. The stage "G2", on the first floor, allowed up-and-coming artists to perform in front of a large audience.
New stages for electronic music
Nowadays, in post-pandemic reality, many new stages are established in Tbilisi. The most popular ones are TES, Left Bank, Mutant Radio, and Mono Hall. Meet Georgian artists on Fridays, Saturdays, and sometimes on Sundays too. For them, DJing is the sincerest way to express emotions and dynamics. Some spaces combine the concept of electronic sound and relaxing evenings with Georgian and foreign DJs such as Dedaena Bar, Love Bar, Paz Bar, BANANA STAGE, Prinz Bar, etc.
Veteran clubs
Besides the new spaces, Tbilisi also holds unforgettable parties in well-established clubs. In the early 2010s, Cafe-Gallery was actively operating. It was created with artistic motives and is one of the first tolerant Georgian clubs, where Georgian and foreign music lovers gathered at the dawn of the electronic music boom in Georgia. One of the "old" clubs is "MTKVARZE", which has a quirky interior and concept built above the Mtkvari river and used to be a fish restaurant.
It's interesting to observe how different spaces in our country transform. This culture is precious to Georgian youth and these places feel like home. For visitors, it is an unforgettable experience that keeps on giving.
DJing schools
Various DJ schools contribute to the development of underground culture in Georgia. Professional Georgian creatives at Creative Education Studio, 303Hz, and 11TH share their experiences with beginners. This structure is significantly different from standard educational institutions, but gives even more motivation to young students and adds enthusiasm to the learning process.
Electronic music festivals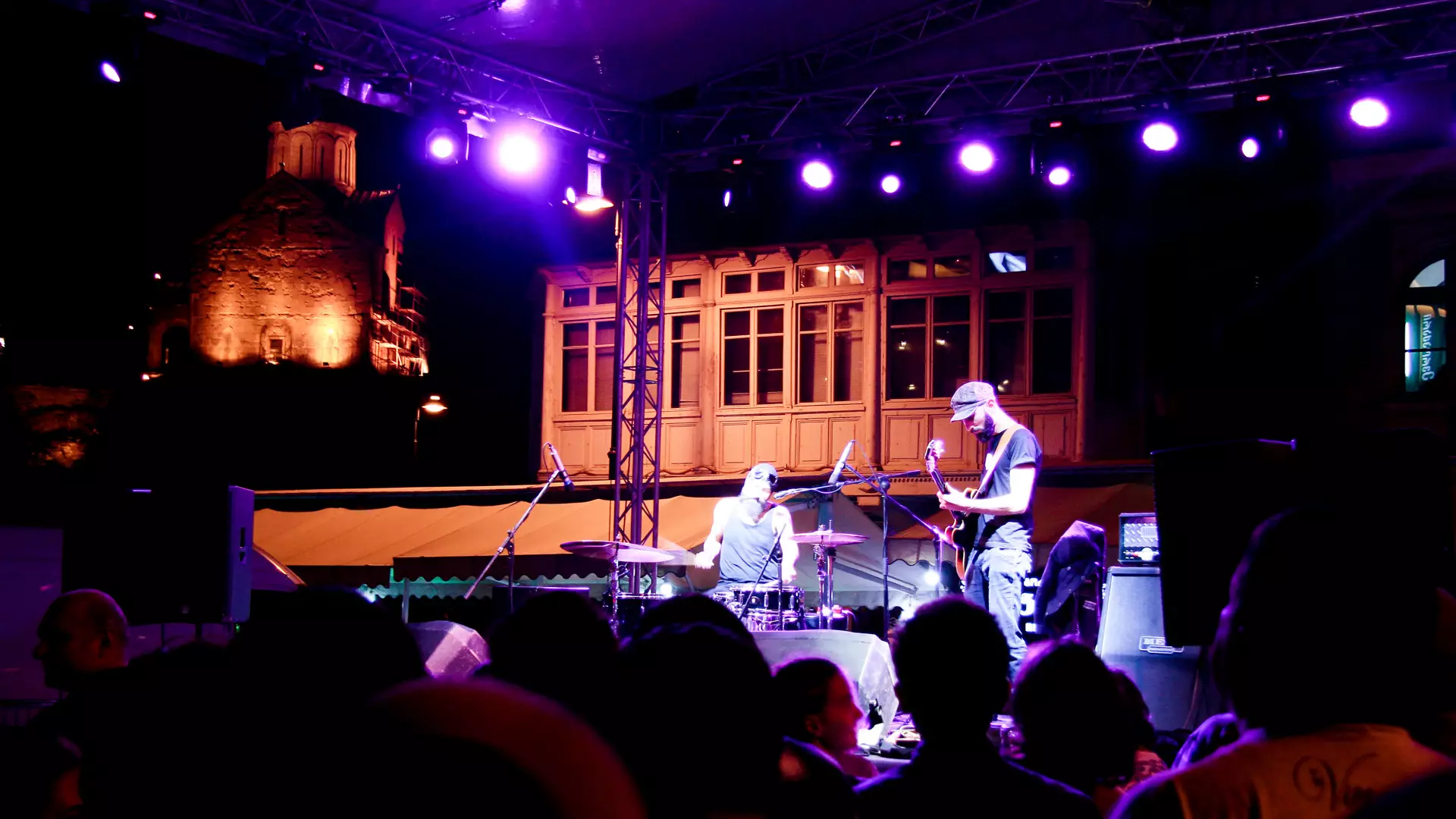 Tbilisi's underground development supported the advancement of festival culture. The number and quality of Georgian festivals in recent years have steadily increased. Tbilisi Open Air was one of the first festivals with electronic music, classic rock, metal, indie rock, pop, and hip-hop. This festival brought a lot of experience to the local music stage and gave the audience many unforgettable performances.
The 4GB festival established a great history with cosmic energies and mystical sounds. Every year it fulfills loyal listeners.
"Mzesumzira", on the territory of the "Ezo Festival", is a real EDM party. Together with famous foreign DJs, residents of the festival and outstanding Georgian artists play on 3 stages all night and into the sunny morning. "Mzesumzira" is an adventure in nature, defining the eclectic stage.
Different stages are opening in different regions of Georgia. For instance, it's been several years since the mountains of Racha hosted the "ROKVA" festival. The Black Sea combines the crashing waves with the heavy music and transforms the sandy beaches into dance floors.
Electronic Seaside
New spaces are created every summer in Batumi. However, old, well-established venues continue to operate including "Gate", "Zgvaze", and "Kibe" giving the stages to Georgian and foreign DJs throughout the summer. The most outstanding city of Ajara, Batumi, makes the summer trip unforgettable.
A dignified achievement
It is difficult to determine why the Georgian underground is so special, what ignited the passion for electronic music, and how the capital of Georgia, Tbilisi became the "New Berlin". The country has a unique spirit and energy, which can be seen every Friday in the shining eyes of thousands of young people.
The underground shares the emotions of our city with visitors, leaving room to fall in love with Georgia.