Dmanisi - Residence of the First Europeans - Mzia and Zezva
In Georgia, more than 500 Paleolithic (Old Stone Age) settlements have been discovered, some of which are considered monuments of outstanding universal value.
One of them – the Dmanisi site, located in what is Kvemo Kartli Region today, is 1.8 million years old and is the oldest hominid settlement in Europe.
At the Dmanisi site, the most significant anthropological collection of homo erectus was discovered (five skulls, mandibles, and partial skeletons). The first human migration from Africa brought homo erectus from Dmanisi to this area, with Dmanisi residents hence referred to as "the first Europeans."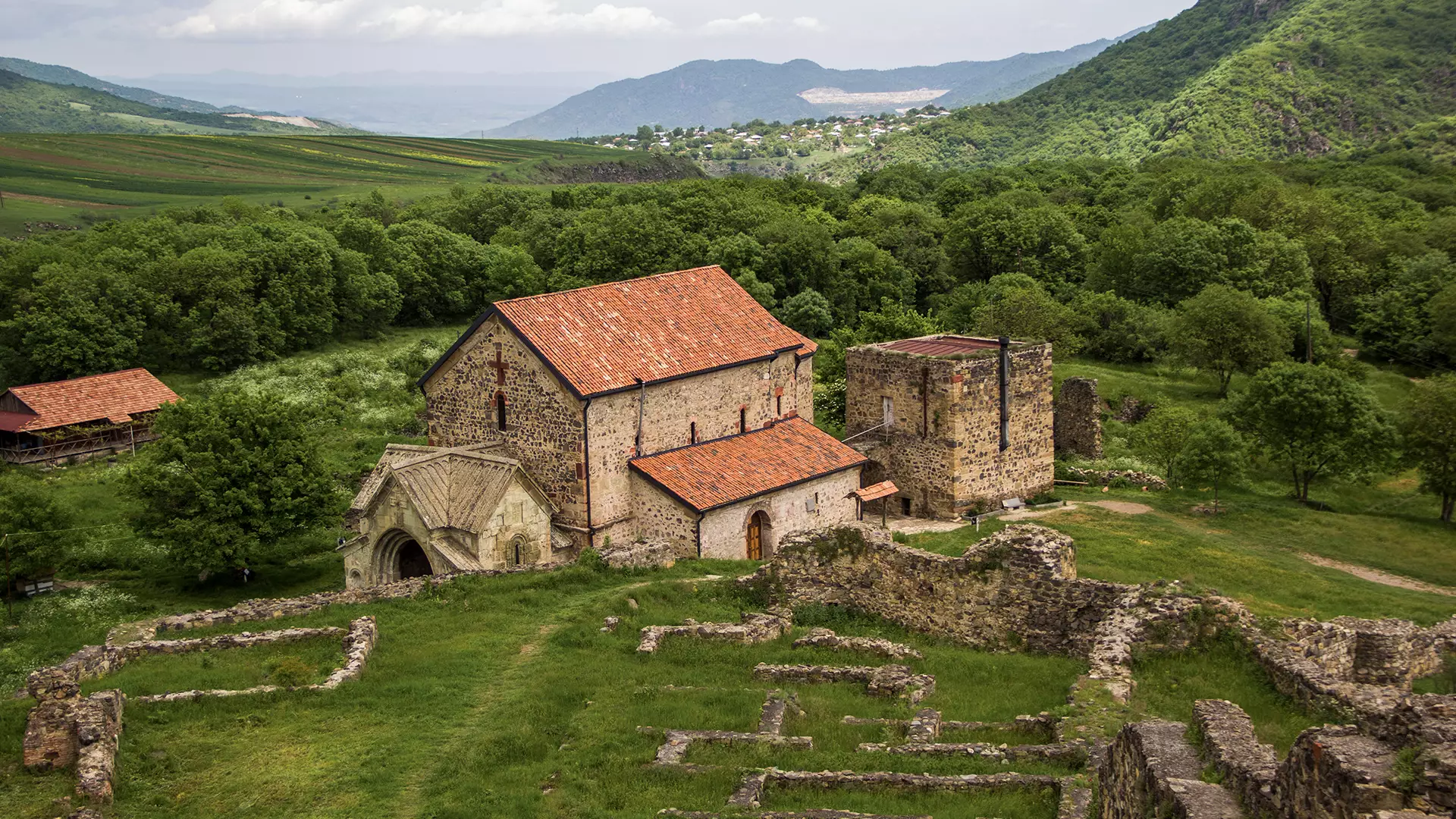 The skulls of Dmanisi were artistically recreated, giving them the medieval Georgian names Zezva (to the man) and Mzia (to the woman). By the way, if you're curious about how they look, the Simon Janashia State Museum of History has a display of the earliest European ancestors. From a broader perspective, the study of human evolution and the history of human colonization of Earth has greatly benefited from the findings of Dmanisi.
The Dmanisi Museum-Reserve also displays archaeological layers as well as medieval settlements of the Late Bronze and Early Iron Ages. In those settlements, one can discover cobbled streets, a sewer, gates, workshops, stables, cellars, baths, and dwellings. The caravan route leading to Asia passed through there too. In a word, the town was bursting with life. From the end of the 14th century, Dmanisi was attacked by various invading forces, on multiple occasions. By the 18th century, only ruins of the town remained.
Grakliani Hill
In Shida Kartli, Kaspi municipality is home to an extremely unique archaeological site known as Grakliani Hill.
Grakliani settlement's material also shows 11 different periods of society's evolution, from the Stone Age to the antiquity period. The earliest tools discovered at Grakliani date back to the Dmanisi era, or roughly 1.8 million years ago.
The historical significance of Grakliani Hill is amplified by an inscription. Indeed, a mysterious writing sample dating back to the 7th century was found at the temple here, providing evidence of Georgia's long history—2700 years—of writing.
Scientists believe that because of its strategic location, Grakliani Hill is likely to have been a major thoroughfare for the aforementioned caravan route.
Hundreds of tombs and settlements, residential complexes, religious buildings, clay vessels, bronze, iron, silver, and gold items, household and military tools, and jewelry have all been found in this area. Moreover, six unique scales - a most important tool for trade - were discovered here, including a particular local unit of weight - 363 grams.
Traces of human activity on Grakliani Hill came to end in the 2nd-1st centuries BC. Before that, it is evident that a culturally-developed society lived there, which maintained commercial and economic ties with all of the major centers of civilization at the time.
Dzudzuana Cave - Ancient Flax Thread
In the Dzudzuana Cave in Imereti, in Chiatura municipality, another significant discovery was made. In particular, the oldest processed flax thread ever found was discovered in a cave dating back to the Paleolithic era. This finding provides evidence that flax was being utilized to make thread and rope 34,000 years ago. The cave also housed flint and obsidian tools, animal bones, and the remnants of an ancient horse and dog.
In addition to its historical importance, the cave is also distinguished by its marvelous beauty, with a flowing stream and rock formations creating an impressive sight.
Arakhlo and Shulaveri Hills
Evidence suggests that people in Georgia were cultivating grapes to make wine and sowing wheat throughout the Eneolithic era.
Arakhlo Hill is a multi-layered settlement in Kvemo Bolnisi municipality, dating back to 6th-5th millennia BC. The household and agricultural tools found there provide evidence of the area's highly-developed agriculture and animal husbandry. In the Eneolithic period, wheat and barley were sown in Georgia, and fruit trees and vines were cultivated too.
Fossilized grape pips have also been found on Shulaveri Hill, the age of which are estimated to be 8,200 years. It is believed by many experts worldwide that this is the oldest cultivated vine in the world, making Georgia the birthplace of winemaking.
Sataplia – 120-million-year-old Footprints of Dinosaurs
About 200 fossilized footprints of dinosaurs, which became extinct 120 million years ago, were found in Sataplia State Nature Reserve, located in Imereti Region, near the city of Kutaisi, on Sataplia Mountain. Moreover, it is the only known place in the world with traces of the existence of different species - both herbivorous and carnivorous dinosaurs.
Two tourist paths in the reserve allow visitors to see the distinctive Colchic Forest too. A dinosaur conservation facility, exhibition galleries, a biospeleological museum, and a glass panoramic viewing platform with a stunning perspective of Imereti are also present here.
Prometheus Cave - a Fabulous Underground World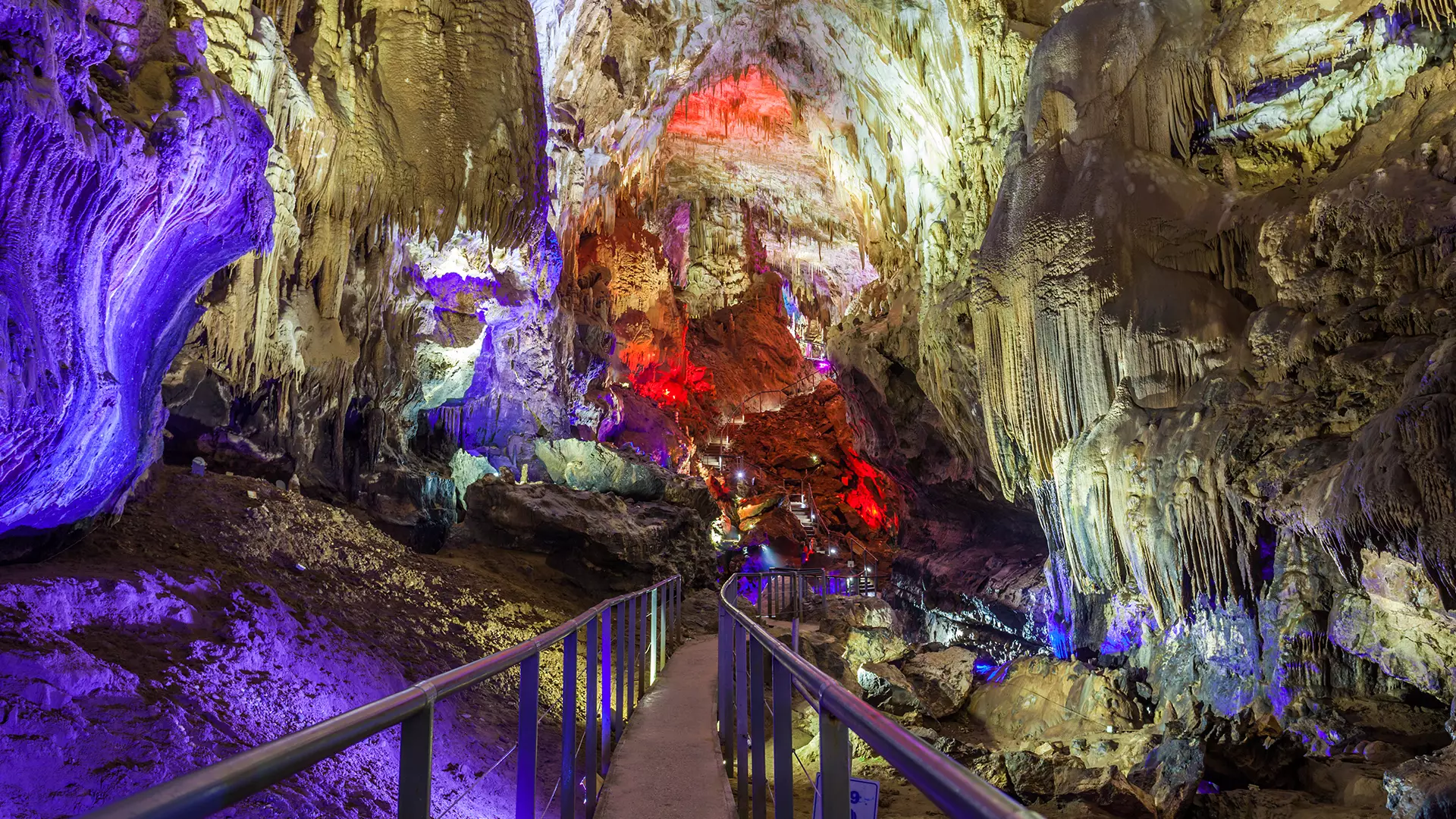 It would hardly be an overstatement to say that you will never forget the sight of Prometheus Cave, located in Imereti Region, 20 km from Kutaisi. Here, you may observe petrified waterfalls, ice sheets, calcite rocks, and other natural wonders as you travel 1,420 meters into the cave.
You can explore a part of the route by boat too.
Samshvilde - Cultural Continuity from the Eneolithic Age to the Middle Ages
Samshvilde is a settlement associated with the Mtkvari-Araxes culture, although it is not a monument of only one specific period. Here, all eras from the 4th millennium BC through to the Late Middle Ages converge.
The monument sits 1.5 kilometers to the east of the contemporary settlement of Samshvilde. In this area, 22 monuments, including homes and tombs have been discovered through archaeological excavations.
Ceramic products and tools, circular religious structures, family and collective burials have all been found in Samshvilde. It is remarkable that Samshvilde, as historians contend, was one of the hubs of handicraft production throughout the medieval era; additionally, clay, glass, and jewelry industries operated there.
Nokalakevi – Home to the Golden Fleece
Nokalakevi, referred to as Tsikhegoji or Archeopolis, is located in Samegrelo Region, in Senaki municipality. Nokalakevi used to be the political center of the ancient Colchis Kingdom. Traces of life there date back to the 4th-3rd centuries BCE, continuing until the 4th-5th centuries CE.
The archaeological material found here indicates a high standard of living in Nokalakevi. Gold, silver, bronze, glass beads, rings, and earrings from the 3rd-1st centuries BCE have been found there.
The most intriguing aspect is that, according to some researchers, this region is home to the mythical city of Aya, which is connected to the stories of Jason, Medea, and the Golden Fleece.
So now you know where in Georgia to go if you wish to travel back in time!