Caves of Georgia
About 1,500 caves have been explored in Georgia. Most of them are abundant with underground water, rivers, lakes, stalactites and stalagmites forming marvelous halls. What's more, Georgia's Abkhazia is home to Veryovkina Cave - the deepest cave in the world.
Sataplia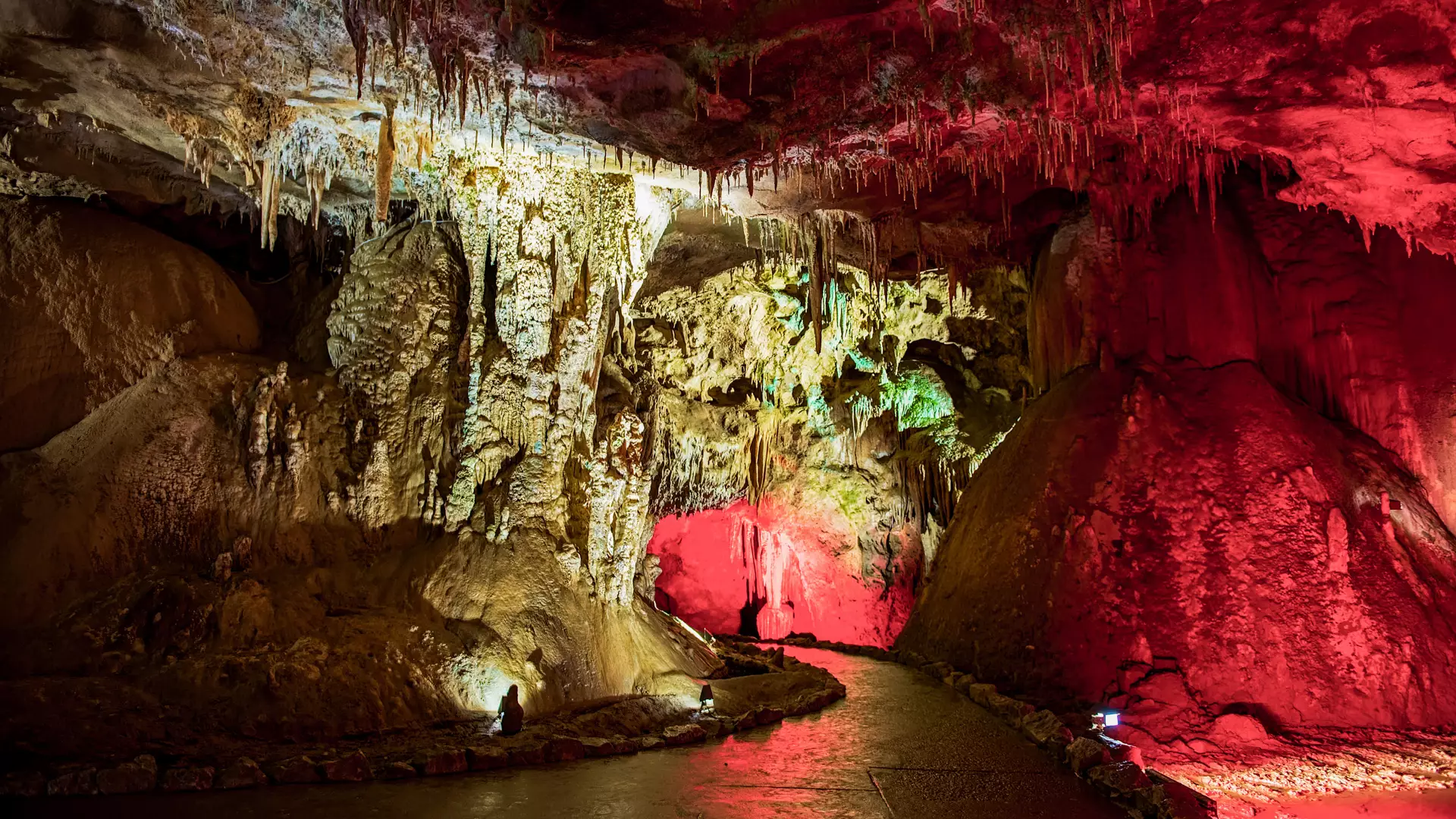 In Georgia, your underground journey should start from Sataplia. Sataplia is located 7 kilometers away from Kutaisi, in Tskaltubo Municipality, and combines not only a wonderful karst cave, but also a Colchic forest, full of relict and endemic species, and dinosaur footprints. It is a state reserve and constantly attracts visitors from all over the world due to its extraordinary beauty and significance.
Sataplia Cave is one of the top tourist attractions in western Georgia. The cave consists of multiple halls, covered with stalactites and stalagmites.
The length of the cave is 900 meters, it is more than 10 meters high, and the width varies between 14-15 meters. Sataflia Cave was discovered by the scientist Petre Chabukiani in 1925, while he was searching for settlements of primitive people.
Prometheus Cave
Prometheus Cave, your next stop, is even more remarkable because of its colorfulness, size, and natural sculptures. Here, right in front of your eyes, the past 60–70 million years are brought to life, where you can witness incredible works of nature. Prometheus Cave will make it all look like a fairytale, leaving you asking: "Is this real or am I dreaming?"
The cave is located in Kumistavi village of Tskaltubo Municipality. In total, there are 22 halls, six of which are open to visitors. A 1,420-meter-long road makes the cave pedestrianized, and boat tours are also offered.
Stalactites and stalagmites encircle the halls like a dense forest, looking like stone waterfalls, curtains, and columns. Everythign is lit up in different colors and will definitely lift your spirits making you feel like you are part of one big adventure.
Underground world of Khvamli
After Imereti Region, Lechkhumi, with its natural wonder, Khvamli Mountain, is just waiting to be explored! This limestone massif is located on the territory of Tsageri and Tskaltubo municipalities. A historic cave, also known as Kvab-Sakhizari - "impregnable by enemies, full of treasures of kings" is located here too. Don't be mistaken - this is not the only reason why you should visit Khvamli! What about going through a beech hole to explore Tekenteri caves, or the icy cave of Boga?
Tekenteri is a 16-meter-deep well in a karst hollow, and is a unique monument. The wall is connected to a horizontal tunnel which can be accessed from a big beech hollow. There is also a running spring at the bottom of the wall, and the old baskets found in this location demonstrate its antiquity.
Meanwhile, Boga Cave is a karst cave located in the Khvamli limestone massif. The cave has not yet been thoroughly investigated. The examined portion of the Boga Cave is around 50 meters long overall. There are ice and snow structures in this area as well.
Dzudzuana Cave
Georgian caverns are not only stunning to see, but they also carry cultural significance. The Dzudzuana Cave near Chiatura, a significant archaeological site, is one such example. Here, archeologists have found a processed and dyed thread dating back to 34,000 years ago. This proves that the cloth was first made 34,000 years ago in Georgia, according to the knowledge currently available.
As for the cave's role as a tourist destination, it is noteworthy that there are beautiful rock formations, as well as a lovely creek. It has two floors, the first of which is straightforward to navigate while the second is a bit more challenging.
There are many more caves in western Georgia including Tetra - a cave where, it is said, respiratory tract problems and hypertension can be treated; Navenakhevi - a cave consisting of four halls, and is full of stalactites and stalagmites; as well as Vanis Kvabebi, Ghliana, Akhali Atoni, etc.
This list of caves is almost never-ending; however, it should be highlighted that exploring all of them, especially without a guide, is not recommended. If you have the desire to visit a cave, ask a guide, and they will undoubtedly inform you about the tourist infrastructure available at the site of interest while recommending which cave is worth visiting.
Rock-hewn caves
Unlike caves, rock-hewn caves are man-made. Georgia is home to several complexes of rock-hewn caves. There used to be buildings and even entire cities cut out of rocks in Georgia, according to historical documents and archeological artifacts.
Uplistsikhe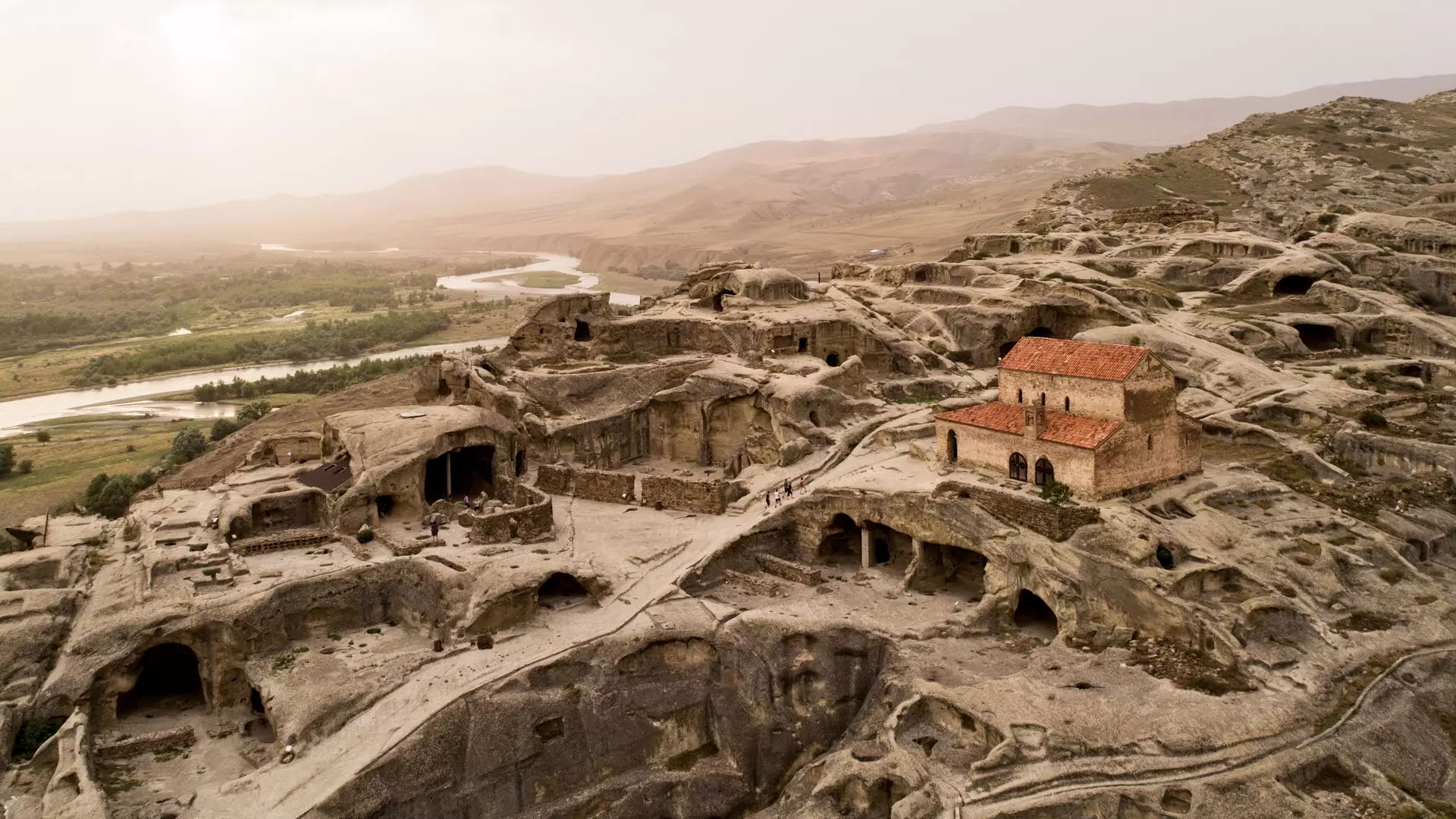 If you would like to explore one of those cities carved out of the rock, you should check out Uplistsikhe. It is located in Shida Kartli Region, Gori Municipality. This location has residential halls, storehouses, and buildings carved into the rock from various epochs; nevertheless, what sets Uplistsikhe apart are the halls constructed with geometric precision. The complexes are connected with one another by roads, and the buildings themselves provide a variety of functions. Here you can explore a wine cellar, tunnels, aqueducts, a church, houses, halls, rooms, and other infrastructure. Uplistsikhe is an immovable cultural monument of national significance.
Vardzia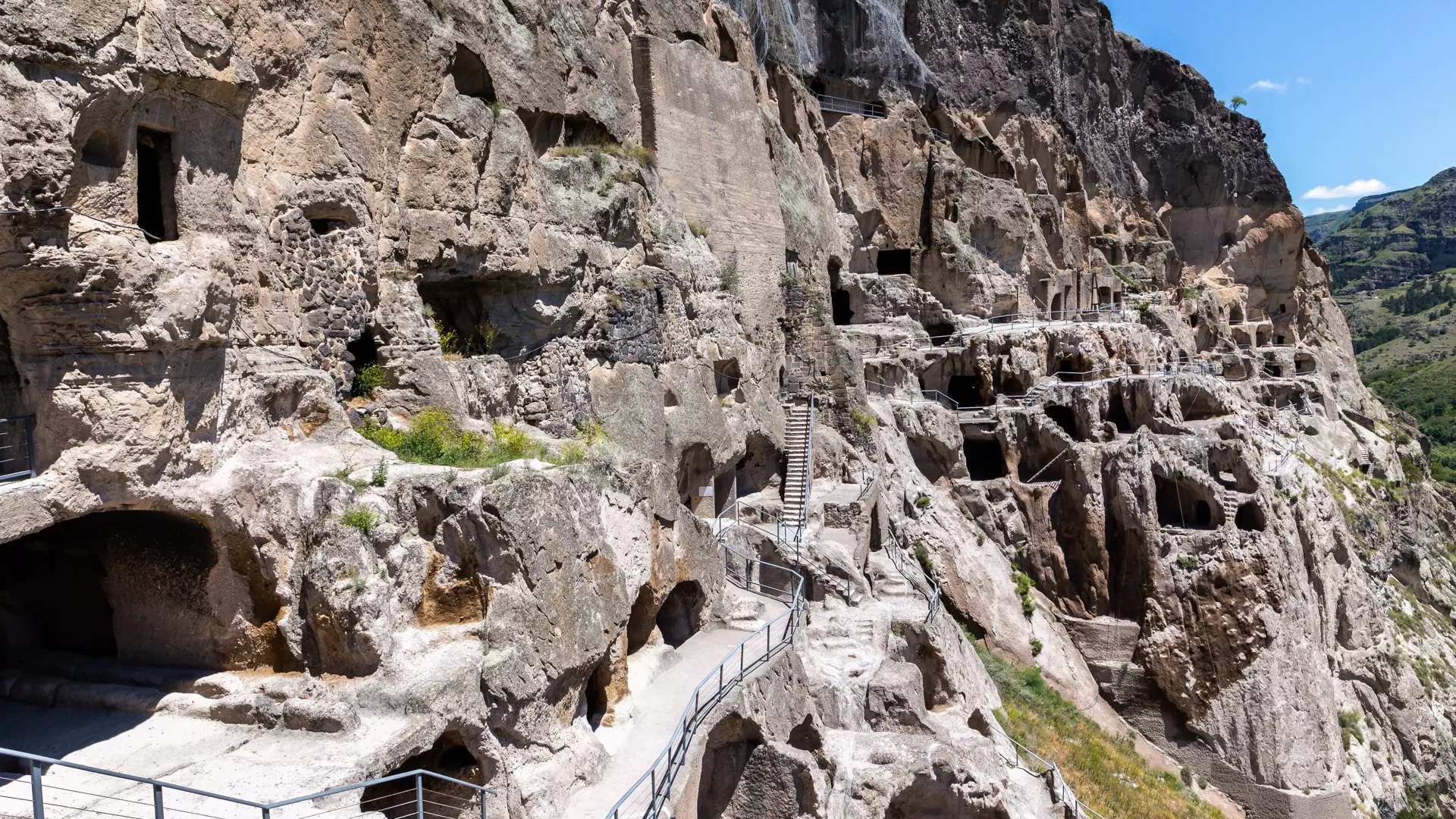 Samtskhe-Javakheti Region is home to the medieval rock-hewn monastic complex known as Vardzia. The name of Vardzia is connected with the legend of Queen Tamar. As it goes, Tamar got lost in the caves while playing, and once she heard people looking for her, she answered: "I'm here, uncle!" (in Georgian: Ak var, dzia!). That's why this place was named Vardzia. According to another legend, 365 rooms were carved out in Vardzia so that the enemy could not find the whereabouts of Queen Tamar.
Vardzia played a significant role in the political and cultural life of the country. The multilevel complex included tunnels, churches, cellars, water pipes and other developed infrastructure elements.
Shiomghvime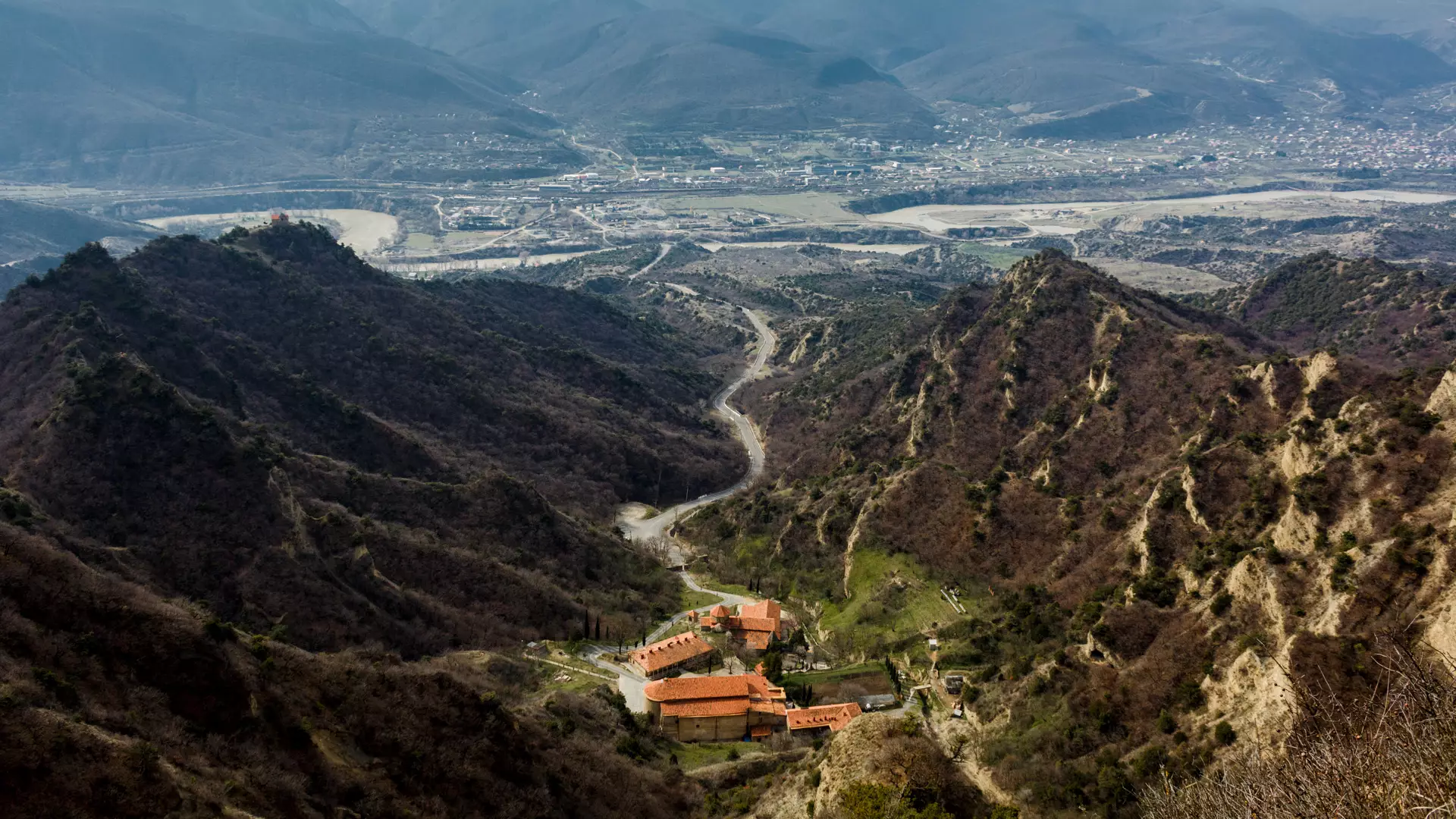 Shiomghvime is a medieval monastic complex in Georgia, founded by one of the 13 Assyrian preachers, Shio, in the second half of the 6th century. It is located in Mtskheta Municipality, on the left bank of Mtkvari River.
As told by a legend, Shio spent the last years of his life in a dark and deep cave and, as per his will, was buried there. In the 11th century, a cave church was built in Shiomghvime, which later joined the Church of John the Baptist. The latter is half buried in the ground. Additionally, there are rock-hewn caves near the monastery where monks once resided and where locals sought safety during an enemy attack. From a cultural and religious standpoint, Shiomghvime is among Georgia's most significant architectural structures.
Bethlemi Cave
Another cave, which is an immovable cultural monument of national significance, is Bethlemi located on the slope of Kazbegi Mountain, at approximately 4,100 meters above sea level. Due to the height, one has to climb there using an iron chain. Monks have resided in the cave since the 6th century. The inspiration for Ilia Chavchavadze's poem "Gandegili" originated from Bethlemi Cave. It is worth noting that the Museum of Local Lore in Stepantsminda Village preserves the Bethlemi door forged with iron plates, a copper chandelier, church inventory, and various coins. There are frescoes on the wall of Bethlemi Cave, and fragments of its inscription date back to the 10th -11th centuries.
No list can fully capture the magnificent locations that nature and mankind have crafted in this tiny area. There is undoubtedly a unique underground location in every part of Georgia holding numerous secrets.