Alpinism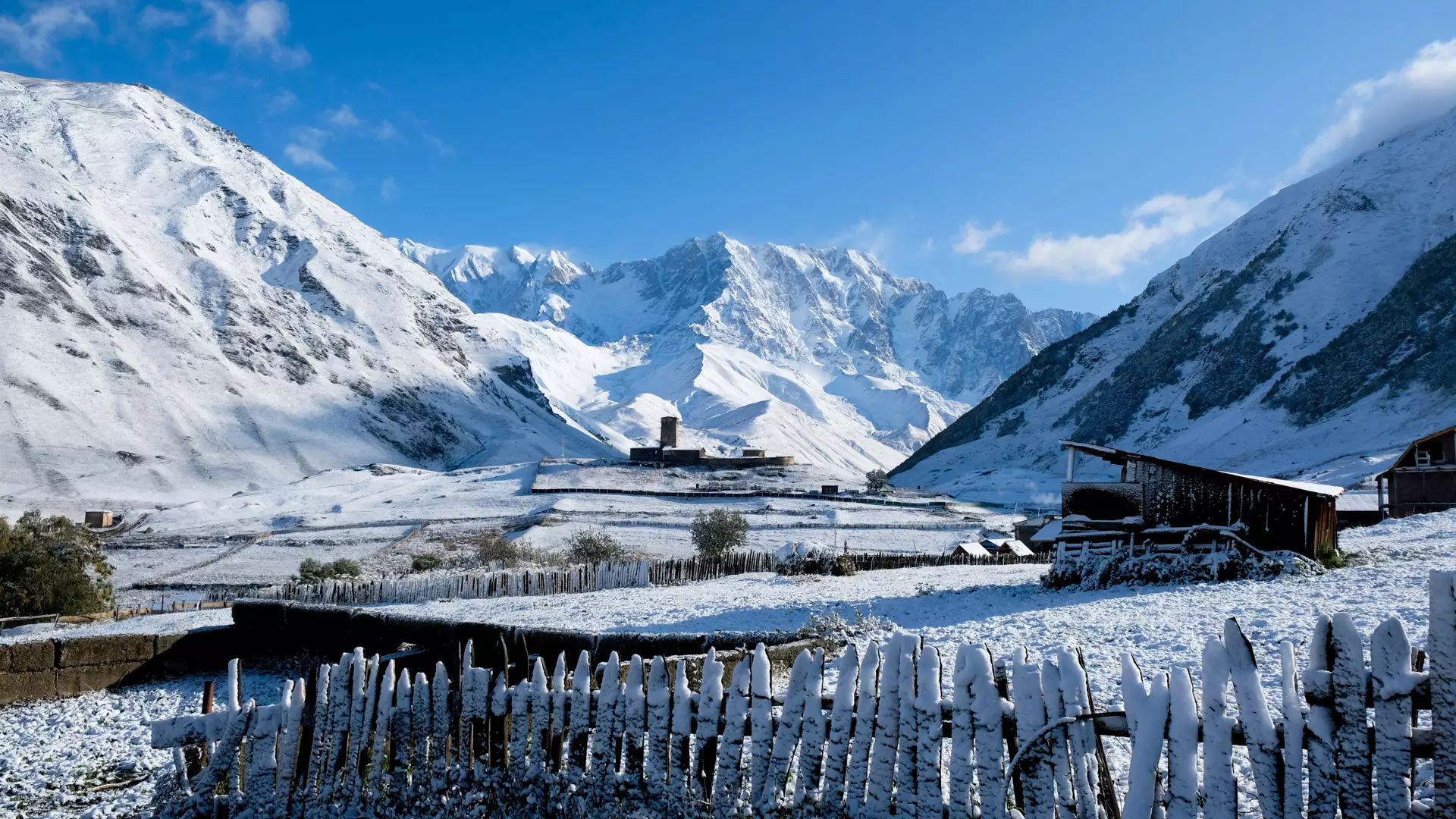 There are many mountain peaks in Georgia for experienced alpinists:
In Svaneti, the path that takes you to Ushba is one of the most difficult in Europe. Options for mountain climbing in Ushba include
Shkhara is the highest mountain peak in Georgia at 5,203 meters above sea level;

Tetnuldi stands at 4,852 meters;

Laila stands at 4,008 meters.
Kazbegi has the Queen of the gorge and the Mkinvartsveri glacier, at 5,054 meters above sea level.
Beginners and experienced climbers can conquer mountain peaks with professional guides.
For instance, in summer, you can climb Chaukhi's seven peaks from Kazbegi. Then you can go through the pedestrian path in Roshka village in Khevsureti.
Heliski, Catski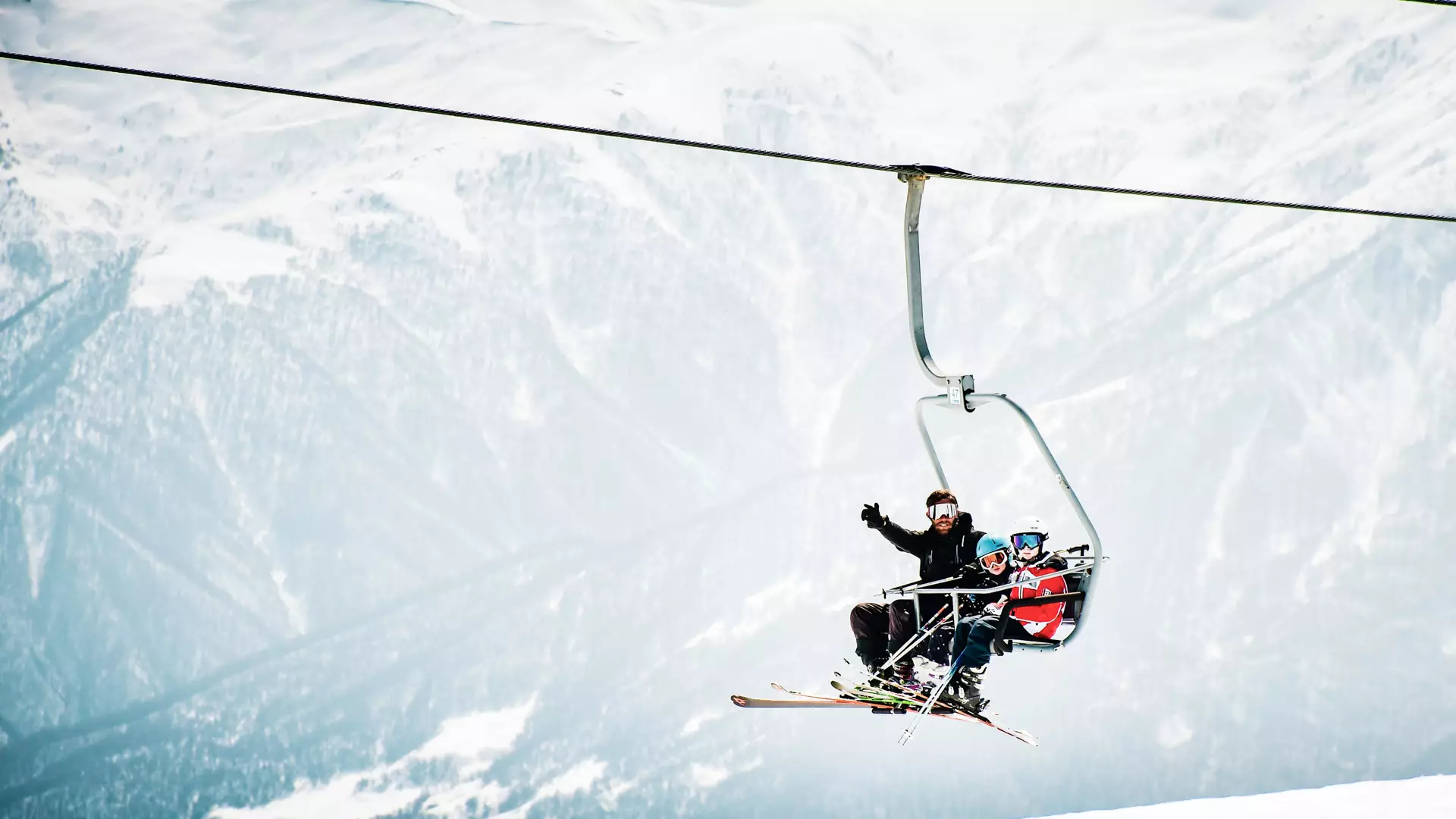 In winter, go skiing on slopes or backcountry skiing.
There are unlimited opportunities for heliskiing in Gudauri, Svaneti, Bakhmaro, and Goderdzi. In Bakhmaro and Godzerdzi you can also try catskiing (guided backcountry skiing via snowcat).
For snowmobile lovers, take the road from Bakuriani to Tabatskuri and enjoy driving a snowmobile on frozen Tabatskuri lake. In Tabatskuri village, local families will host you.
Mountain and ski resorts offer top-level skiing slopes for both, beginners and professionals. Georgia offers ski tours at Bakhmaro and Goderdzi resorts.
Paragliding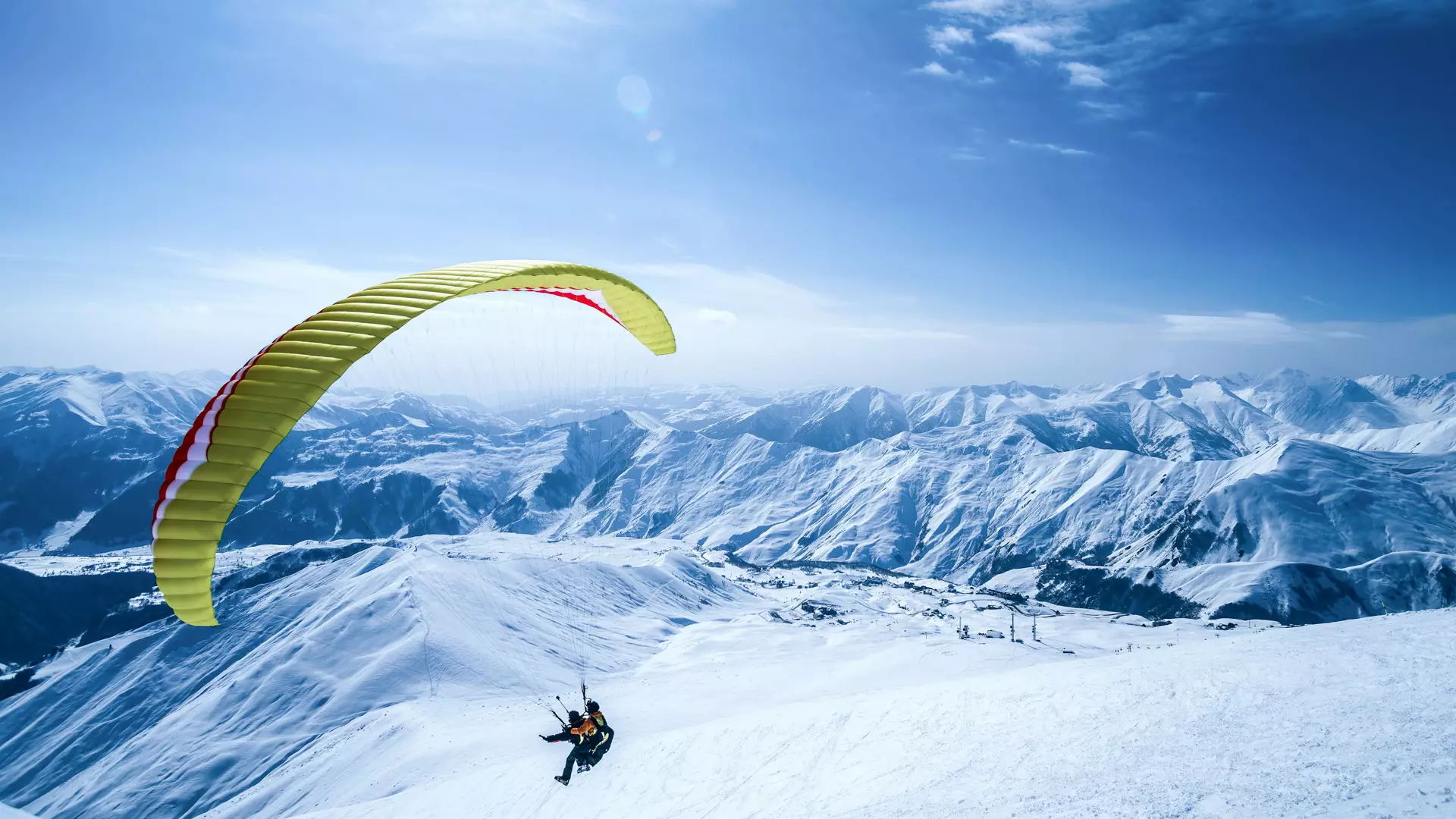 Paragliding is offered on both the slopes of the North Caucasus and near the Black Sea.
The minimum weight requirement is 30 kg and the maximum is 220 kg.
At all locations, paragliding is adapted for disabled people. Minors can fly with parental consent.
The best locations for cycling adventures
The diverse landscape of Georgia with its mild climate creates excellent conditions for cycling tours at any time of the year, including winter, if there's no snow.
There are great routes for downhill or free descent cycling in different regions, for instance:
In Svaneti, take an SUV to get to the starting point at Koruldi Lakes. Go up the cable cars to bike along Hatsvali and Zuruldi mountains. In Resort Gudauri, use the cable car to head up to the start of the bike route. In Tusheti, the most beautiful road is the Tusheti-Oreti Lake and Nakaicho Pass. The Mitarbi Gorge route takes you from Bakuriani Resort to Tsaghveri Resort.
Rafting and Kayaking tours
The fast-flowing rivers of Georgia are ideal for a rafting adventure. Inexperienced people can try it if they are over 18 years old. Swimming is not a mandatory skill.
The rafting season in Georgia starts in April and ends in September on the following rivers:
Rioni River in Racha, where rafting is possible in different sections with different difficulty levels. River difficulties are between categories III-V, depending on the season.

Tskhenistskali River in Lower Svaneti has a category IV difficulty, so experience is necessary.

Aragvi of Pshavi River has a category III difficulty.

Mtkvari River has a category II-III difficulty. Mtkvari has no dangerous sections.

Aragvi of Pasanauri has a category II-III difficulty.
Rafting season in Georgia is from April-September, depending on location and climate.
Kayaking is also a popular adventure and each route has different sections of difficulty.
Take a kayaking tour with local kayakers or get the necessary route information before you go on your way. Kayaking requires experience and is only allowed for those over 18 years old.
Kayaking season in Georgia is from April-November.
Canyoning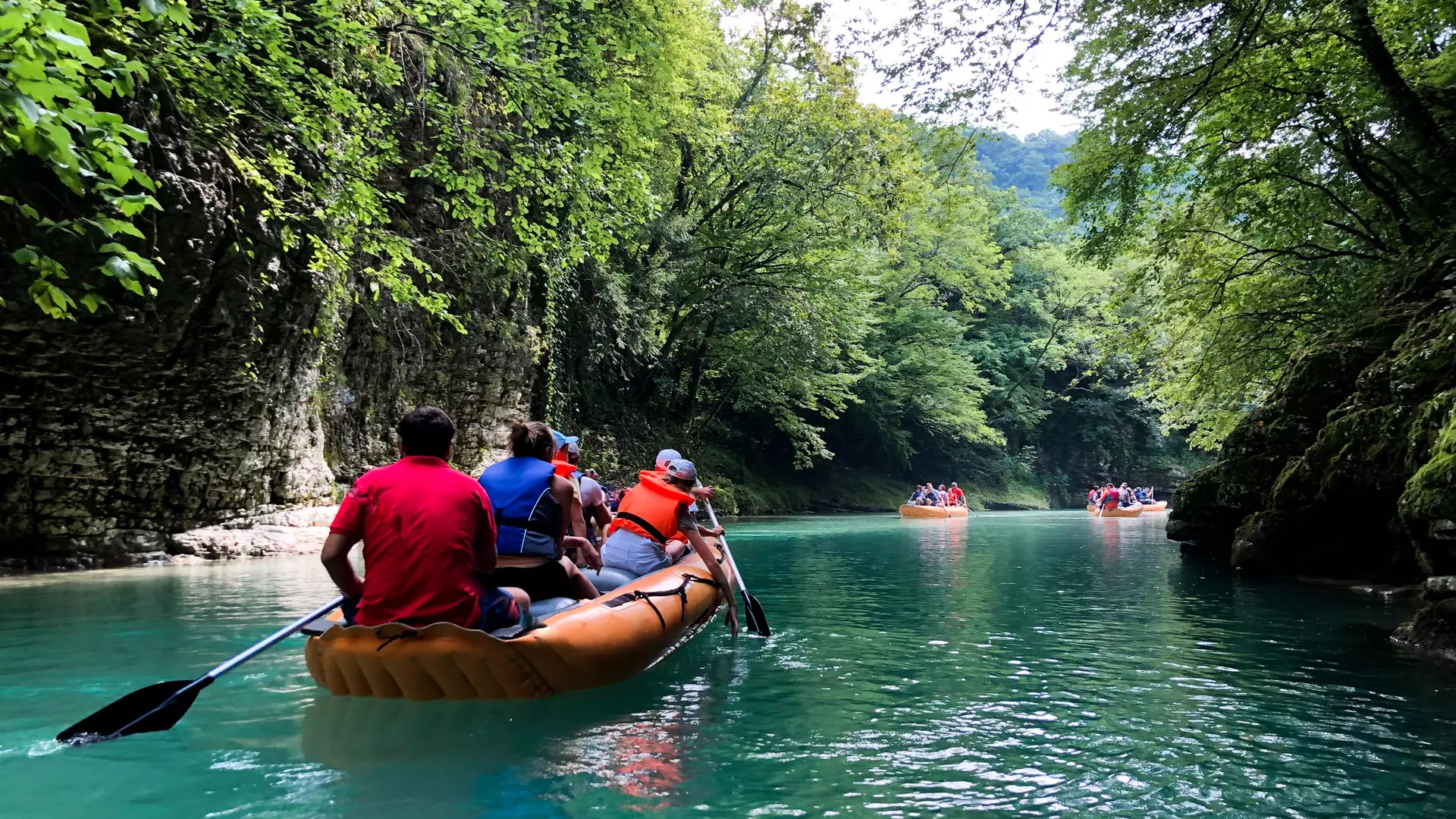 In summer, when the average temperature exceeds +25 degrees C, traverse canyons for a wild adventure.
You don't need any preparation or special skills for this and anyone from the age of 10 can safely try the route. For canyoning, choose from the Dzmuisi canyon in the Imereti region, the Shkmeri canyon in Racha, Uchkho and Sopho canyons in Adjara, and the Tkhopra canyon in Samegrelo.
Off-roading tours in Georgia
The mountainous landscape of Georgia creates an excellent opportunity to go off-roading.
If you have a properly equipped SUV, plan the tour from June to September. The best off-roading routes include
Tusheti - one of the ten most difficult roads in the world passes through here. The villages are 1,800 to 2,400 meters above sea level. The view is spectacular and the landscape is quite difficult.

From Samtskhe-Javakheti to Adjara – on the Goderdzi pass, observe the alpine botanical garden, spend a night in exotic alpine villages, and arrive at Batumi seaside from the alpine zone.

In Khevsureti – travel on the highest driving pass in Georgia, the Arkhoti pass, at 3,100 meters above sea level.

In Vashlovani protected area – Pass through semi-desert, steppe, sparse forests, and leafy and grove forests, and you'll realize that there's no other landscape like Vashlovani.
Hiking tours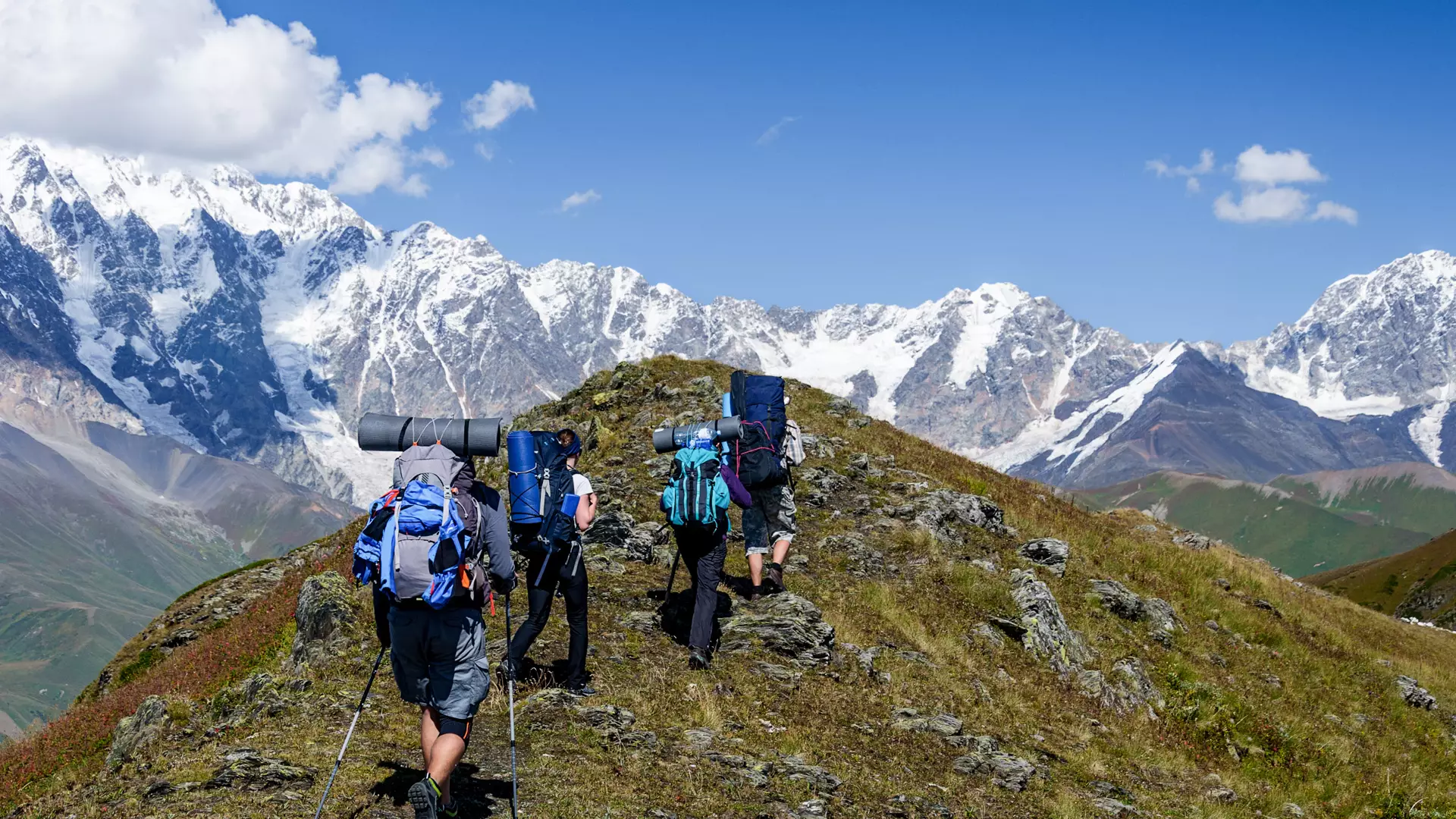 The Georgian landscape is a great discovery for hiking lovers. Plan both hiking and horse-riding tours.
The routes that take you from one region to another are ideal for hiking. Explore nature reserves, natural monuments, and fascinating villages where you can find guesthouses, restaurants, and camping sites.
Examples of some great hiking routes include
Start in Stepantsminda and travel through the northeast of the country (Kazbegi, Khevsureti, and Tusheti) and end in Omalo.

Upper Svaneti, Lower Svaneti, and Racha are connected by passes, and in one tour, you can visit two completely different regions in the northwest of the country.