Winter Celebrations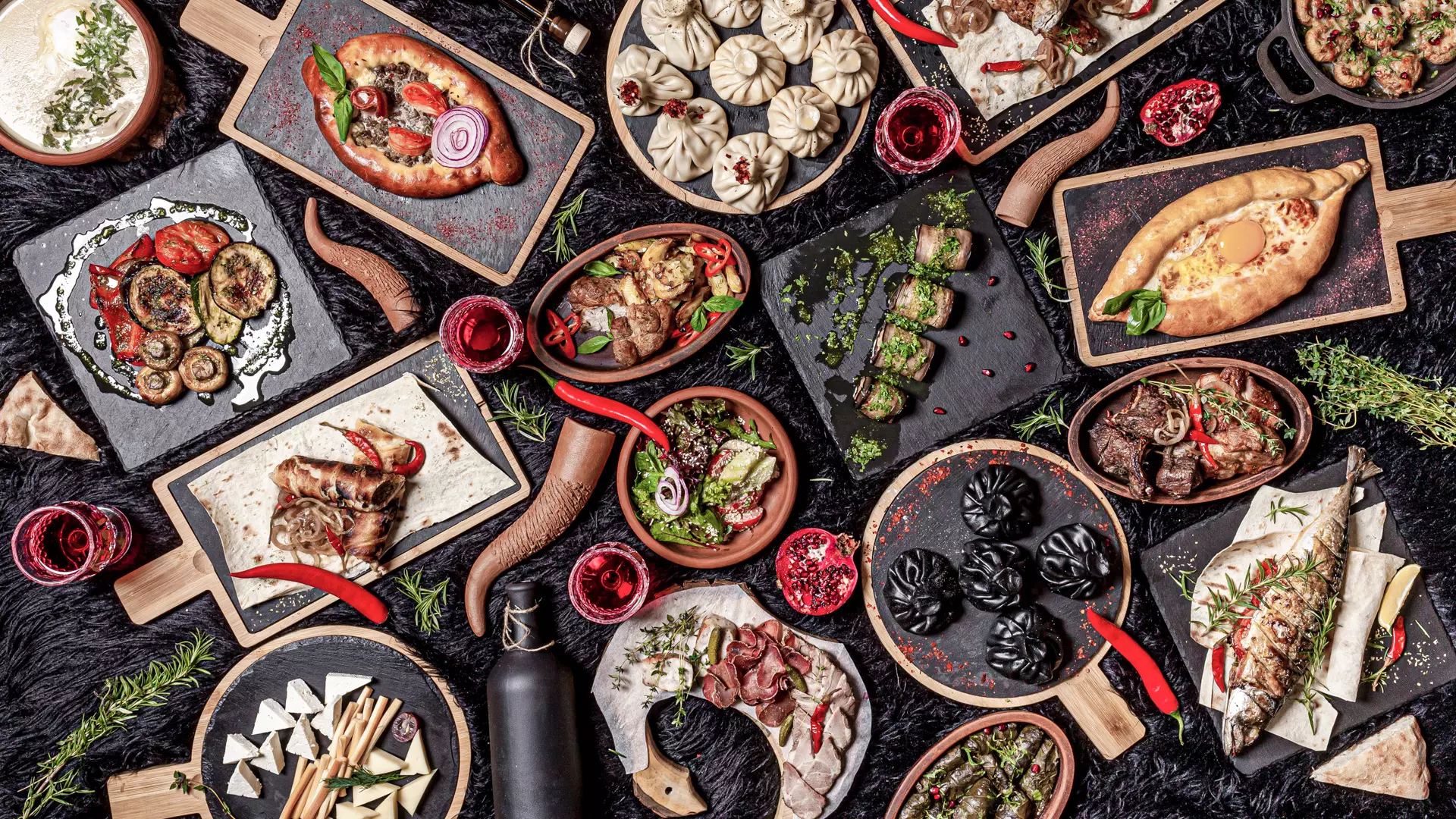 The New Year is a fun and joyful holiday in almost all parts of the world. However, it's rare to encounter as much diversity in holiday traditions, delicious cuisine, exotic wines, traditional dances, and polyphonic folklore as you will see in Georgia.
Enjoy delicious traditional cuisine such as
Shoti flatbread baked in a special "tone" oven;

Cured or fried pork and chicken;

Satsivi or Baje (special cold sauces made with spices and walnuts; can be used as a sauce for chicken, fish, mushrooms or turkey);

The famous khachapuri (flatbread with cheese filling) and bean bread lobiani;

Mtsvadi barbecue and Khinkali dumplings;

Pkhaleuli (vegan pate made with boiled greens, veggies, and walnuts or other nuts);

Churchkhela (traditional Georgian dried candy stick made with nuts and boiled grape juice)

Georgian wine;

Gozinaki - traditional Georgian candy eaten only during Christmas and New Year made with chopped nuts and honey mixed and boiled together in a pan. When it cools down it's cut into small squares or cubes. This dish is the main event at the New Year's dinner.
Feel like you're part of a real fairytale by adding dazzling Georgian dancing and the traditional holiday song "Mravaljamieri" (or literally "live for a long time").
January 2nd is a very special day in Georgia – the day of Bedoba, or Destiny Day. As traditionally believed, how you spend this day will reflect how you spend the rest of the year. The key is to remember who was your New Year and Bedoba day "mekvle" (the first person that steps into your house). Keep them company, entertain them and feed them a hearty holiday meal, so in turn, you have a fun and prosperous year.
If you can't make it to Georgia on New Year's Day, don't worry, you haven't missed out on all the fun. The church still follows the Orthodox calendar, so Georgia celebrates the New Year twice. The second New Year in Georgia falls on the nights of January 13th and January 14th, called the "old" New Year's day (pretty intensely celebrated in certain regions, like Guria).
Experience the same bustle, joy, and celebration as on the real New Year's day, full of singing, dancing, and delicious food. However, if you want to make it even more special, celebrate the Old New Year in Guria or Samegrelo and attend the Kalanda holiday. Along with Basila (ritual bread baked only for New Year's day) and crescent-shaped egg pie, enjoy Gurian Krimanchuli (high-pitched polyphonic yodeling where multiple singers harmonize at the same time) performed only in Guria and share the indigenous Georgian traditions of these two regions.
If you want to celebrate a different kind of Christmas, on January 7th, attend the "Nekresoba" in Shilda village in Kvareli municipality. Taste the famous Kakhetian "Mtsvadi" barbecue and, most importantly, drink the best wines in the world.
Georgia is a land famous for its hospitality, amazing traditions, fun, and joyous atmosphere.
Skiing Adventures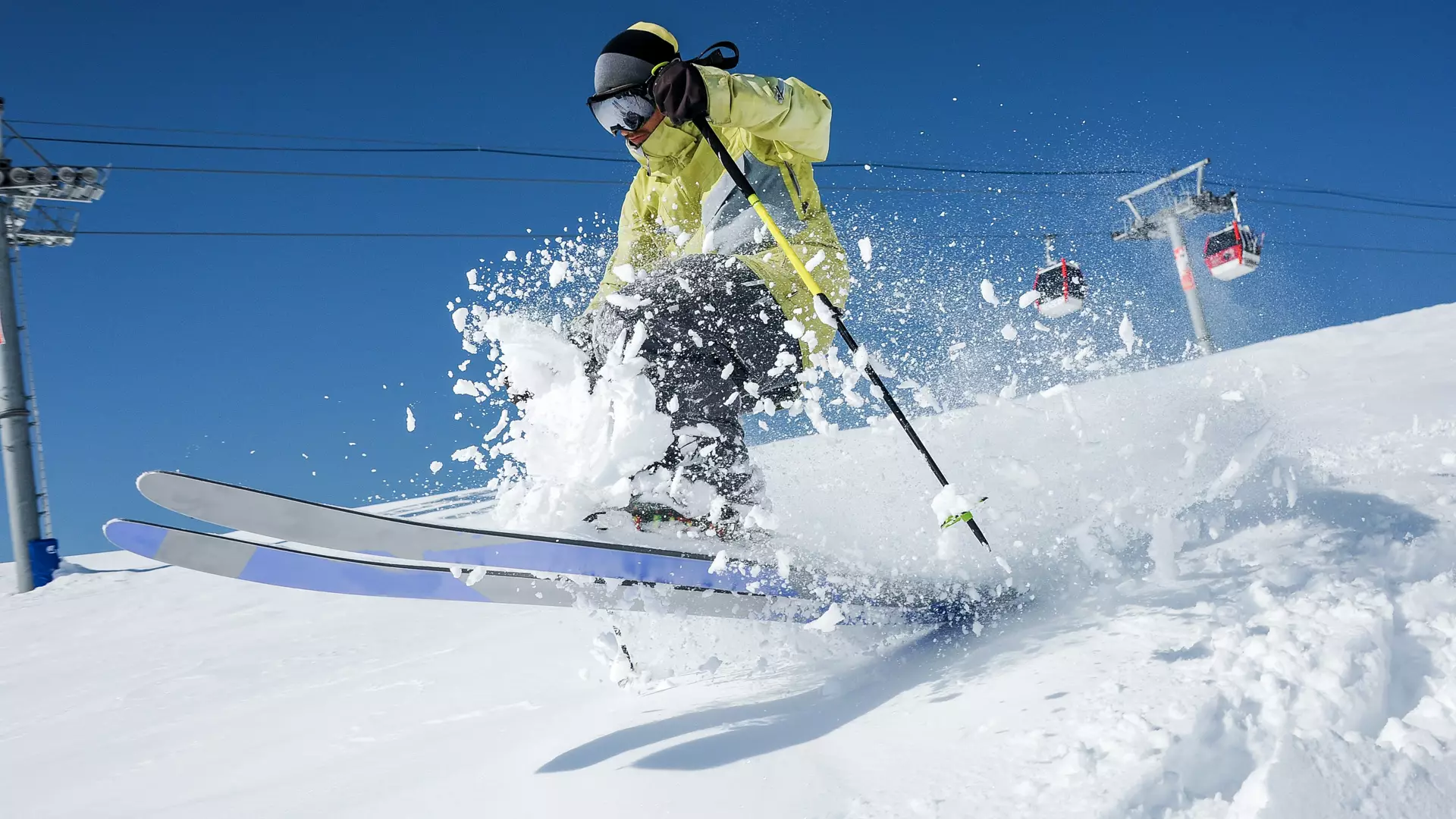 Winter holidays in Georgia do not only equal delicious feasts. If you are an extreme sports fanatic, Georgia is paradise on earth.
Did you know that Georgia has the best winter resorts in Transcaucasia? There are five mountain-ski resorts in four different regions of the country, differing in size, opening seasons, quality of snow, unforgettable landscapes, and great infrastructure.
If you are a fan of skiing but don't have a lot of time on your hands, ski at the Gudauri ski resort in the Kazbegi municipality, just 120 kilometers from Tbilisi, 2,200 meters above sea level. Infrastructure-wise, it's a great winter resort with hotels, cafes, and restaurants. However, the main asset of Gudauri is the 14 European-styled cable cars.
The first station is 1,993 meters and the last is 3,276 meters above sea level. Skiers of all levels can enjoy the 70 kilometers of Gudauri ski slopes.
If you have spare time, visit Svaneti, one of the most outstanding and exotic corners of Georgia. At this time of the year, the towers stand like soldiers in the harsh weather conditions, and the mountainous landscapes in Svaneti administrative center Mestia, appear even more haunting and mysterious.
In addition to amazing sights, exotic cuisine, and unusual traditions, the ski resorts are a delight for extreme sports fans. All the more so if you like to ski off-piste, since the Tetnuldi ski resort is on the freeride world map. In February 2022, the qualifying round of the Freeride World Tour was held in Tetnuldi with the continuation of hosting the annual event.
Tetnuldi, with its peak at 4,852 meters high, can be climbed to a height of 3,160 meters with five modern cable cars. From there, you can free-ride at 2,260 or 1,300 meters directly to the villages or the doors of private hotels. Tetnuldi allows ski touring enthusiasts to climb up quite high and slide down on ungroomed snow. While skiing on the glacier's slope, look to the top of the mountain for an amazing view of the Caucasus.
The second resort of Mestia - Hatsvali is an incomparable place for "Forest Free Ride" or skiing in the forest in ungroomed snow. There are 5,495-meter-long ski slopes in total that skiers of any level can enjoy. Although, skiing in the ungroomed snow of a spruce forest in Hatsvali has a special charm. From here, you can see the Ushba massif and almost all the peaks of the Caucasus.
Mestia resorts and the Gudauri resort, are the best places for a newer winter activity - heliskiing. Book a tour and descend as many times as you want from the highest peaks of the Caucasus through different daily routes. If you wish to extend your heliskiing holidays, heliskiing tours are available at other resorts.
Goderdzi resort will surprise you with different natural landscapes and ski slopes than in Svaneti and Gudauri. Enjoy the beautiful views of the Black Sea and ski in the alpine zone or through dense coniferous forests and villages. 109 km from Batumi, and 252 km from Tbilisi through Zarzma, 2,025 meters above sea level, there are shorter ski slopes. Everyone from beginners to professional skiers can descend the Goderdzi mountains.
Keep in mind that you must have a certified guide accompany you during ski or heliski tours. A single payment system for cable cars in the resorts of Georgia, meaning you can use the cable car in Mestia with a ticket purchased at the Gudauri office, and so on.
If you are looking for another special place, you can go for winter activities in the Bakuriani, a mountain-climatic resort in Borjomi municipality. There is a variety of ski slopes and a wide selection of entertaining activities. The resort has hosted the stages of the Skitour World Cup and the Snowboard Cross World Cup.
Enjoy the coniferous nature and the wonderfully fresh air and go sledding, skate in the ice rink, wander through the forest on a donkey, or ride a horse, or snowmobile. The best snowmobiling tours go through the Bakuriani-Tabatskuri route, where you go to Tabatskuri frozen lake.
Bakhmaro awaits skiing, ski touring, catskiing, and guided backcountry skiing lovers. Watch the magical sunsets from atop the mountains and hills of Guria.
This list of winter activities could go on forever, but it's more than enough to be convinced to visit Georgia in the winter. Winter is not as cold and harsh as in other countries, so you can use your holidays not only for sports but also to visit unique historical sites, wander through the forests and take a walk on frozen lakes.