Mtatsminda and the Funicular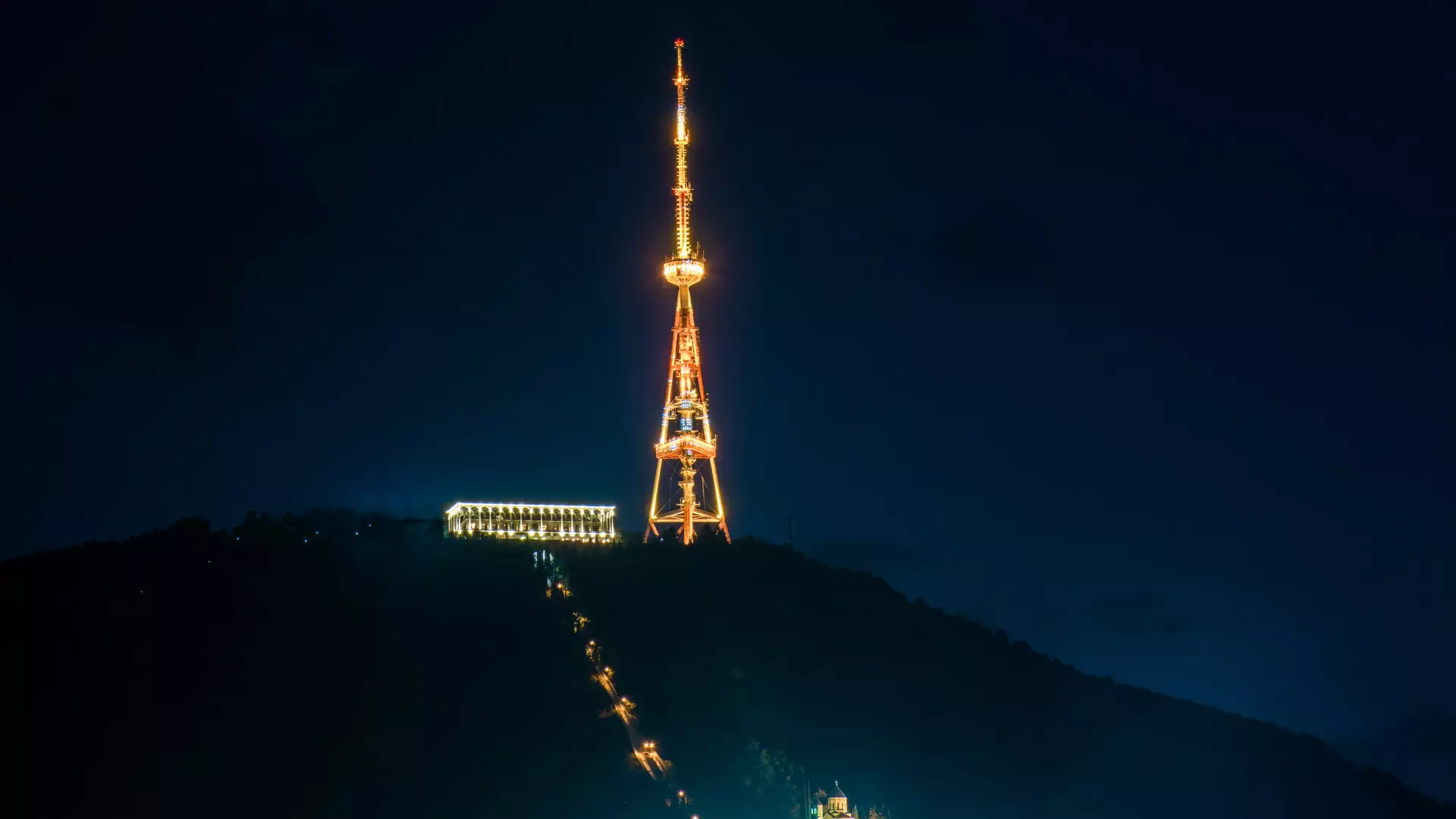 Start your trip to Tbilisi, the capital of Georgia, founded 1,500 years ago by King Vakhtang Gorgasali. You can see the equestrian monument to the King, with his right arm raised in command, standing atop Metekhi Cliff and looking out over Tbilisi. Mtatsminda and the TV tower (called the Spindle) can be seen from nearly every area of the city.
Take the funicular up to Mtatsminda Park, an exceptional place for relaxation and entertainment. There are rides for children and teenagers, like quadricycles, trampolines, carousels, and the gigantic Ferris wheel, where you can see Tbilisi from an even higher vantage point. The restaurant at Mtatsminda Park, with its wide-veranda postmodern architecture, offers delicious cuisine.
Visit the Botanical Garden with its rose bushes, violets, various species of trees, gazebos, bridges, fountains, and avenues. There are many kinds of tours offered including, bike tours, scientific tours, tours for children, and more. There is not just beautiful nature, endemic flora, and flora from different regions of the world, and intellectual and entertaining sights to see at the Botanical Garden; There is also a zipline and a rock-climbing wall for extreme sports enthusiasts. Visit the museum café and enjoy a delicious lunch.
There are many parks and gardens in Tbilisi, such as Vake Park, Mushtaidi, Mziuri, Deda Ena Park, Kikvidze Park and the park of Gldani, Aleksander's Garden, and Expo Georgia. Each of them has its charm, with abundant greenery and walking paths. We recommend Deda Ena Park, Mziuri, Gldani Park, Vake Park, and Mushtaidi Garden for children to have fun.
In Mushtaidi, along with many children's rides, there is a real, nearly 100-year-old train on a real railway with a platform and bell.
Once you're in Rike Park, don't forget to take a ride in a hot air balloon and enjoy the panoramic view of the city while feeling like Phileas Fogg and Passepartout any time of the day or night, so long as the wind doesn't stop you.
Three cable cars pass through different routes of Tbilisi, and both have a practical and sightseeing purpose. You can go from Rike Park to the pier and take a raft or an electric boat down Mtkvari.
And also, just a piece of information about transportation and resting places. Indeed, Tbilisi is not a seaside city, but it does have a large reservoir called Tbilisi Sia that has its beach, yacht club, and maritime-like entertainment. Take a ride on a yacht and watch how the sky-blue surface of the sea ripples in the wind.
The Tbilisi Zoo will soon be one hundred years old. Nearly two hundred species of world fauna live there. The zoo is in the center of the city, with attractions for children to enjoy, so you won't leave those enclosures for a long time.
There is also a working circus and a marionette theater and a theater for adolescents in Tbilisi. The dolls create a fascinating world and their show, despite the language barrier, is often interesting to everyone.
Before we head westward, you have to go see Kakheti. Visit Sighnaghi and Telavi. Nadikvari Park is a place for the whole family in Telavi. The environmentally clean area, beautiful nature, gorgeous parks, terraces, and resting and sporting spaces will be fun and make for the best vacation.
Western Georgia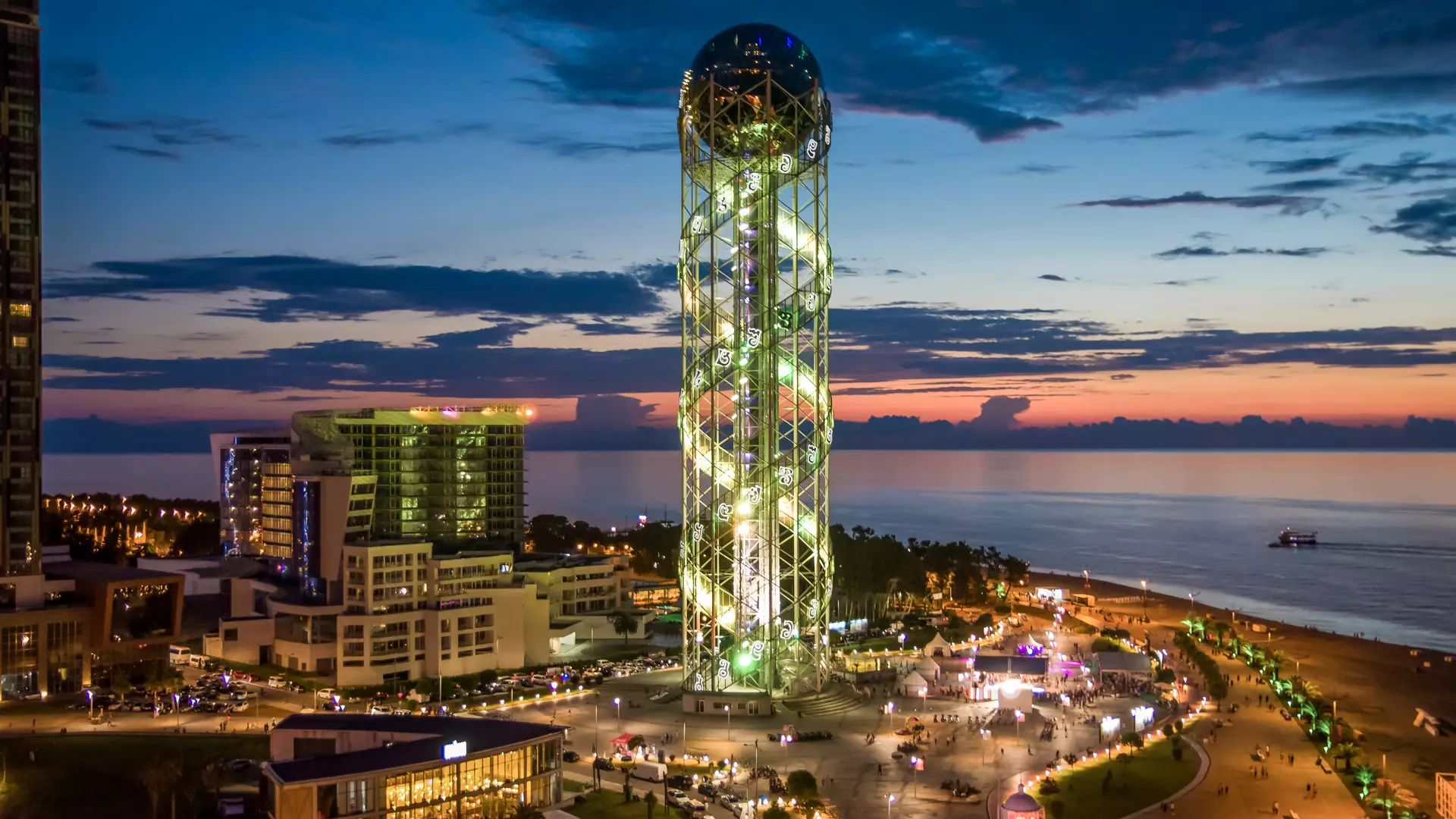 There is not any less opportunity for family fun and relaxation in western Georgia. If you are in Kutaisi, climb up Gabashvili Hill. At the park laid out there, there are numerous places for taking a walk, rides, and beautiful restaurants to grab a bite to eat. From the hill, you will have a spectacular view of Kutaisi. You can also enjoy that view from the cable car, one of the fastest and most interesting ways to get up the hill.
In Kutaisi, you can see the Botanical Garden, with unique plants and a shrine carved into a tree, the historical bridges of the city, one of which is the oldest in the South Caucasus, and another one which was designed in France, especially for the city and then brought there. Visit the Kutaisi Puppet Theater and the museums, which there are quite a few of in the city, and, trust me, you will be very happy. There is a lot more to see in Kutaisi, but it is now time for us to make our way to the sea.
Before you get to Batumi in Ajara, make sure you pass through Tsitsinatela Park in Shekvetili. In this massive place located on the seaside of Guria, there is bowling, go-karts, rides, a fun house, musical fountains, and many other attractions that guarantee you will have a good time.
Right there in Shekvetili is also Miniature Park, where you can see all the important historical and cultural monuments of Georgia in miniature. Perhaps you won't be able to travel through all of Georgia, but after leaving that park, you will be able to comfortably say that you are familiar with all the major sights of our country.
On top of that, there is also the Musicians Park in Shekvetili. Statues of famous musicians from around the world stand in that amazing place, and if you get close to them, they will start playing their famous hits and compositions.
Don't leave Shekvetili without going to see the Dendrological Park. This unique park laid out over 60 hectares, is full of endemic Georgian and exotic world plants and animals are outstanding for its development and is a unique location on the Black Sea and even the whole region.
In Ajara, both the sea and the mountains are at your disposal, with family relaxation guaranteed. Go for a walk along the boulevard of Batumi, along the seashore, or rent a bike, quadbike, or tricycle. At night the fountains of Batumi Boulevard, lit up by colorful lights, put on a 3-D laser show with music, creating an illusion of dancing water.
The Park of Wonders is in the center of Batumi. While you're walking around, stop at the statue of Ali and Nino, a statue representing love. Watch as the two statues pass through each other multiple times, a rather emotional sight for people of any age.
The Astronomical Clock Tower is an architectural wonder. The clock gives you a lot of information using a special mechanism, like the location of the sun, the moon, constellations, and the planets, the sunrise and sunset, the age of the moon, and its path around the Earth. If you have not already seen that kind of clock in Prague, then it is waiting for you to see it for the first time in Batumi. A board that sits in front of the clock gives directions on how to use the astronomical clock.
When you take the elevator high up in the Alphabetic Tower, you will see an extraordinary view of the Black Sea and the surrounding mountains before you. However, if you take the nearly three-kilometer-long cable car from the center of Batumi to Anuria Mountain, you will see a view of the sea and mountain that is both contrastive and harmonious. At the end of the trip, have Adjaran khachapuri and other Ajaran specialties at a local restaurant.
Visit the Dolphinarium to see the spectacular dolphin show and the experience to relate to amazing sea mammals. The Batumi dolphins are well-trained and contact with them is not dangerous.
Don't forget about the museums, especially the ethnographic ones!
Georgian Resorts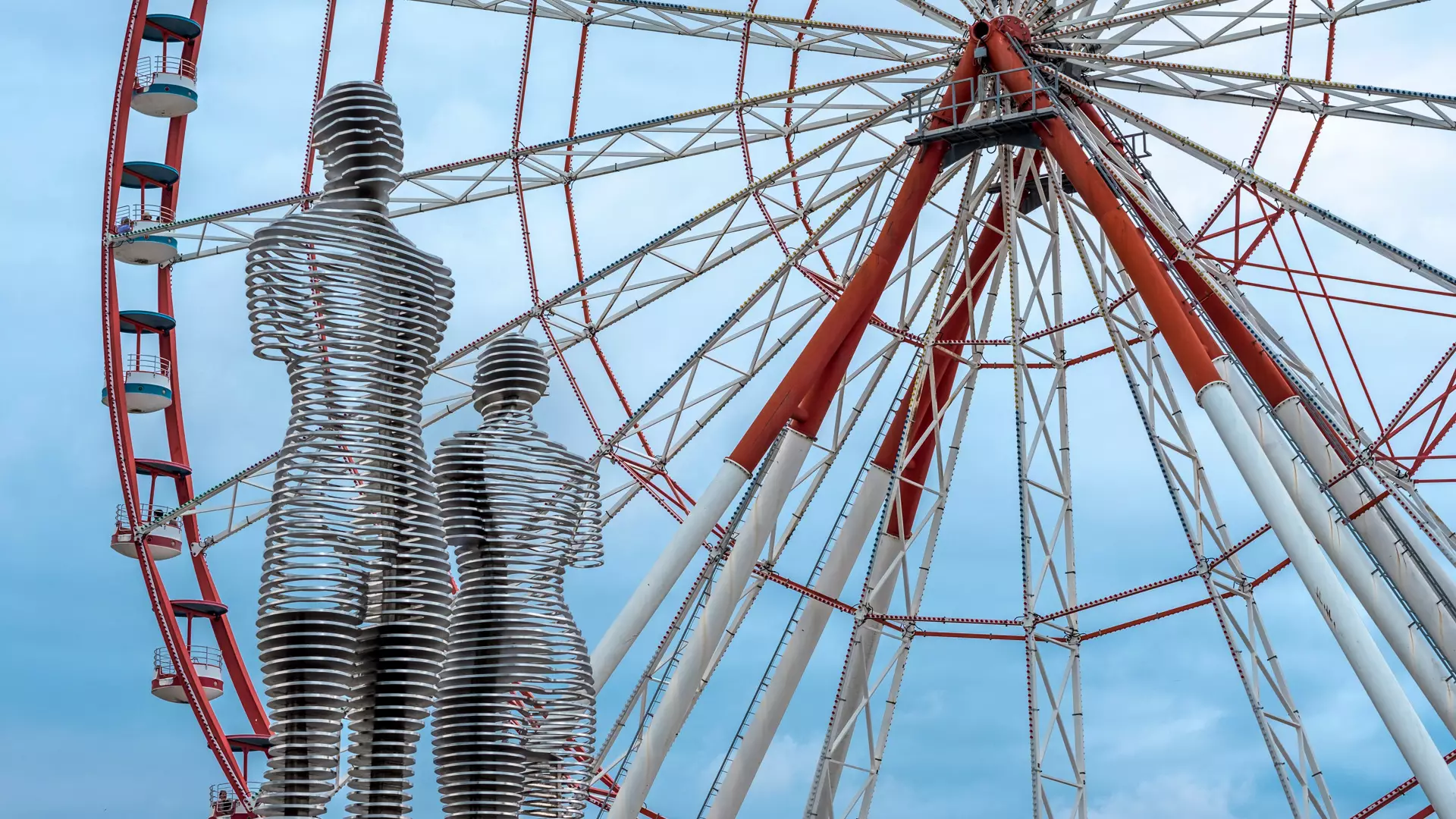 The best places to vacation with your kids, especially in winter, are amazing Bakuriani and Mountain Resort Gudauri, where your kids can learn how to ski or snowboard. If you don't have any equipment with you, don't worry, you can rent or buy them right on the spot.
If snow sports aren't a preference, then go hiking and have a picnic at one of the many beautiful spots. The climatic seaside and mountain resorts, with their unpolluted environments and kid-friendly infrastructure, are ideal for relaxing with your family.